Brits Down Under: Watkins makes NRL bow, Bateman's big game & Widdop loses on return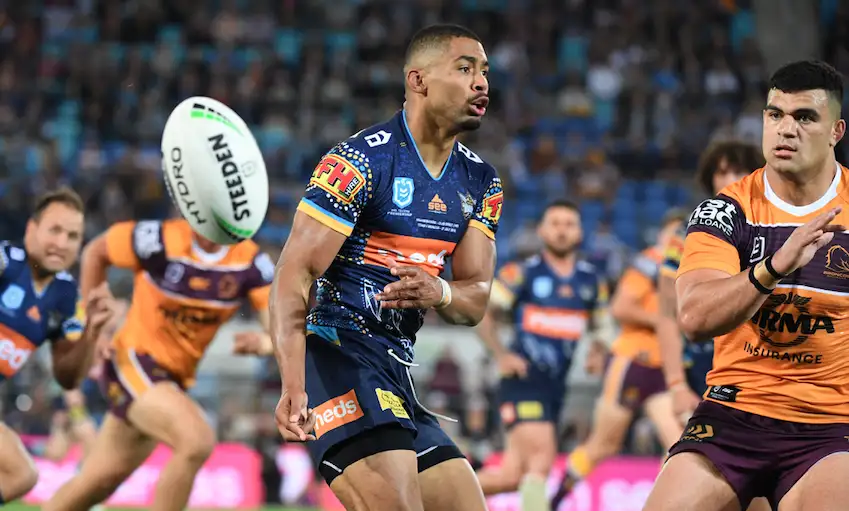 We take a closer look into the performances and stats of the British legion in round 19 of the NRL. 
Kallum Watkins
After a tumultuous ending to his Leeds career, Watkins was cleared to play his first game for Gold Coast on the weekend against Brisbane. It might not have been the debut that the England international was hoping for though as the Titans had no answer for a vastly improved Brisbane side that ran in six tries in a 34-12 win. Gold Coast's chances of being awarded the wooden spoon are more than a distinct possibility now.
The former Leeds man had a steady showing stats-wise to begin his NRL career, running for 105 metres and making 20 tackles in the process but it was not enough for the Titans to come away with a pivotal win. As we get closer to the end of the season and the start of NRL finals, the Titans have it all to do if they want to avoid receiving the wooden spoon. The addition of Watkins at centre provides a huge boost to an  attacking threat that has been way off this season but the 28-year-old will need to quickly adjust to this new set up alongside the likes of Tyrone Roberts, AJ Brimson and Dale Copley if his new team want to avoid that dreaded last place.
John Bateman
It was business as usual for the 25-year-old as the electric second-rower put forth an epic performance in an otherwise complete game for the Green Machine. In a 30-18 win for the Raiders against the Panthers, Bateman was up to his old tricks, leading the way for Canberra in metres made with 131 and his ability to burst through tackles was on display throughout the game. The former Bradford and Wigan star's engine has always been positively noted and his seven tackle busts and 68 metres after contact more than justified this. A huge attacking display was topped off by a try that showed great instinct and determination as Bateman calmly collected a loose ball before spinning and barging his way through the Penrith pack to seal the win for Ricky Stuart's men.
The men in lime green move on to face the New Zealand Warriors next and are now level on points with the Roosters in fourth.
James Graham
A heartbreaking loss to the Rabbitohs this weekend was Graham's second game back since returning from a broken leg. Before his injury, the 33-year-old was a beacon of consistency and hard work in a strong running St George Illawarra forward line and he is still proving to be a force. However, despite the stability that Graham can bring, the same cannot be said for the Dragons' backline though as Paul McGregor's men cannot seem to find any luck when it comes to finding the two points.
In his last two games since his recovery, Graham's Dragons have further slipped outside the top eight after back-to-back losses to Penrith and South Sydney. An NRL finals spot is slipping from their grasp with not long left of the regular season.
The veteran showed no ill-effects though as his stats suggest he has picked up where he left off. Over the course of the last two games, the prop has made an accumulative 81 tackles and 152 metres, putting forth a great deal of work in the process. The question still remains as to whether St George Illawarra's backs can achieve a similar kind of consistency.
Elliott Whitehead
In the Raiders' impressive win over the Panthers, Whitehead was able to make his presence felt in a try scoring effort as Canberra continued their winning ways and further cemented their place within the top four. The 29-year-old produced a great deal of power and skill to barge his way through into the corner for the Raiders' second try of the game.
Once again, Canberra's defence displayed its full strength and determination as at one point they defended eight consecutive sets from the Panthers in another gutsy showing. The back-rower's consistency over the course of the season has gone a long way in seeing the Raiders become flat out contenders this season with a greatly improved core of players. In their win over Penrith, the former Bradford and Catalans man did what he so often does in both attack and defence, making 84 metres from 10 carries alongside the fourth most tackles by a Canberra player with 26. The England international again still stands as Canberra's top tackler this season with 556.
Gareth Widdop
After being sidelined since round three due to a shoulder injury, the 30-year-old made his long-awaited return for the Dragons at stand-off. However, it was not to be the return that Widdop may have hoped for as St George Illawarra lost to the Rabbitohs in the most dramatic of circumstances. After Widdop showed a great deal composure with a sideline penalty that put his side up 16-14 with a minute to go, the Rabbitohs hit straight back with a miracle try on the final siren from Campbell Graham to snatch the win.
The loss condemned the Dragons to a fourth straight defeat which sees them in 14th place on the ladder with only six wins and 14 points to their name. They now sit five points adrift of eighth place with a spot in the NRL finals hanging by the thinest thread. Now that Widdop has returned to action, coach Paul McGregor needs the likes of Widdop, Corey Norman and Ben Hunt to find the connection they so desperately need to get the team back to winning ways.
Josh Hodgson
A gritty amount of defensive work from Canberra was spearheaded by this man and it has become an all too familiar site on the 29-year-old's part this year.
In a big Raiders win, Hodgson led the way in tackles by a member of the Green Machine with 35. This went alongside another try assist for the dynamic dummy half that took his tally for the season to nine, leading all Canberra play in that category this year. The Raiders now look to be a side back to full strength as most of their noteworthy injuries have subsided along with their Origin stars back in the mix. Now, if that core group consisting of Hodgson, Bateman, Whitehead, Charnze Nicoll-Kolkstad and Jack Wighton can continue their impressive ways then Stuart's men could be the ones to watch out for come the post season.
Tom Burgess
Even though Sam Burgess missed out again this week, his brother Tom did make his own return from injury in a thriller of a game against St George Illawarra. Throughout the season, the 26-year-old has been a monster in the front-row, soaking up a great amount of metres for his Souths side. It was to be a similar case here as Burgess made 127 metres from 13 carries alongside 23 tackles to his name.
The Rabbitohs sit two points clear in second and have now reduced the gap at the top to four points after Melbourne suffered a dramatic loss to Manly. Now, with the impending return of their influential captain Sam Burgess from shoulder surgery plus an infection, Wayne Bennett's men could be set for a big run towards the NRL finals.
Watch NRL and live stream every NRL game to keep up with how the Burgess boys, John Bateman, Ryan Sutton, Elliott Whitehead, James Graham and all the others are getting on Down Under.
More on site
Steve Price backs Blake Austin's England call-up
The good, the bad & the ugly: Wembley beckons, racial abuse & squeamish injury
Warrington preparations hit by travellers; Limoux and Albi bring in recruits from Down Under
Championship forward handed two-match ban
Women's open-age match in Wales takes place for first time ever