Sky Sports duo heap praise on Hull KR's 'very proud' boss Willie Peters who has 'transformed their mentality'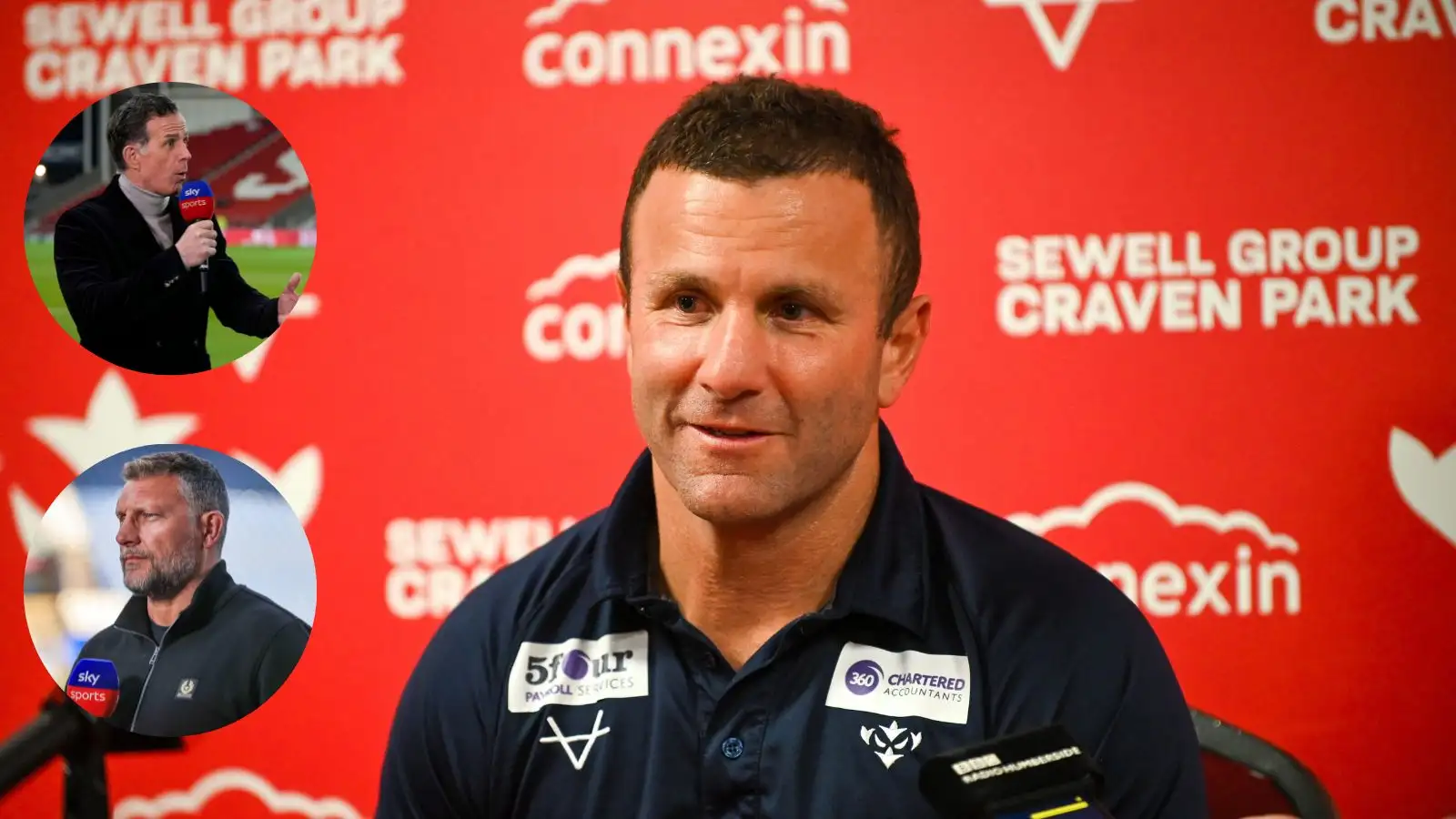 Praise was high for Hull KR boss Willie Peters from the Sky Sports pundits after he guided them to a huge win at Wakefield Trinity to secure home advantage in the play-offs.
The Robins had won all four of their previous games before the trip to Belle Vue to cement their spot in the top six, and set up another showdown with the Leigh Leopards side who dramatically broke their hearts in August's Challenge Cup final.
Crucially though, those four wins – including one against the Leopards – also brought about the opportunity to leapfrog Adrian Lam's men into 4th, and in turn snatch the right to host next Friday's knockout tie at the eleventh hour.
KR did just that, taking advantage of Leigh's narrow defeat to League Leaders' Shield winners Wigan Warriors and running riot at Wakefield, 56-12 winners to claim that 4th spot on points difference.
Sky pundits relishing crunch clash between Hull KR and Leigh Leopards
On what turned out to be a pulsating final night of regular season action, Sky based themselves at the Leigh Sports Village, watching Wigan clinch top spot and in turn the Leopards slip to 5th after a second half which included a highly controversial disallowed try from KR's 2024 recruit Oliver Gildart.
Post-match, they confirmed they would be the ones to show the play-off clash between the Robins and Leigh, with pundit pairing Barrie McDermott and Phil Clarke both eager to see how it pans out. As well as their Wembley showdown, the two clubs have already faced off three times in Super League in 2023, with Lam's men twice victorious but KR thumping them last time out.
Leeds Rhinos legend McDermott said: "Holy moly have we got a treat in store for everybody, I cannot wait. Willie Peters has really transformed Hull KR's mentality, and I keep talking about mentality because I'm all about emotions and feelings.
"I'm getting that positive feeling oozing from Willie Peters, and (assistant coach) Danny McGuire of course. I'm feeling the emotion."
Clarke also likes the look of the Robins, adding: "He (Peters) likes them to be an 80-minute team, and it's been a great season so far for Hull KR. They've nilled three teams throughout the season, you have go back to the mid-80's for the last time they were in a top division and they did that.
"Hull FC at Easter, the (Huddersfield) Giants and Salford (Red Devils) last week. That shows that they're defending well, which is one of the things we've all spoken about tonight. You have to defend well when you get into the play-offs, and if they can start finding some points like they have tonight, they're onto a winning combination. They'll need to do just that next week.
"I know Leigh have a sense of injustice right now thinking about that video referee try, I get the sense that Derek Beaumont and the team here feel they've been hard done by. If anything, that just makes them extra dangerous."
Willie Peters 'very proud' of Hull KR after snatching home advantage
KR were much-fancied heading to Wakefield, who had seen their relegation confirmed a week prior at the hands of Leigh, who executed another golden point win.
Peters saw his side clawed back to 18-12 at Belle Vue, and that's how it remained until Brad Schneider's try, their first of the second half. They ran in another six tries to get that points difference up, and the boss saluted the travelling fans with a fist pump as they found out the news of Leigh's result, appearing to come via a phone call to one of his backroom team.
Speaking to Sky reporter Danika Priim post-match, he said: "That was the plan, to wear Wakefield down early and then hopefully try to score some points late. When it got to 18-12, I thought we needed to pull ourselves together, and we did that extremely well. Once we lifted the tempo, I thought we looked at our sharpest.
"I think it's huge. We obviously love playing at home, you only have to look at the crowd that we've got here supporting us tonight. We'll have a full house next week, and you've got to celebrate the little wins along the way. I think this is one of those, we've put ourselves in a position now where we can hopefully be there at the end in three games' time.
"I know it's cliché, but we've got a game next week at home against Leigh which I'm really grateful for, and the players have done the club very proud tonight."
READ NEXT: Super League play-offs confirmed; Final standings, Who plays who, road to Old Trafford becomes clearer