Five things: Record-breaking Leigh, Tony Smith's secret and Salford refunds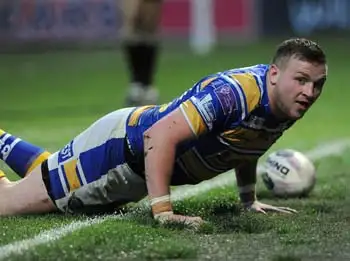 One – Record breakers
Congratulations first of all to Leigh Centurions, who smashed champions Sheffield 54-12 to land a club record 15th successive victory.
Nine more tries in a season that is threatening to turn into a one-sided procession in the Championship saw the Centurions home.
Coach Paul Rowley started with nothing three years ago and has since made incredible progress.
It surely can't be long before a Super League club comes knocking – unless he can take Leigh there in the meantime.
Two – Life on Mars
Leigh might be going great guns, but there's always an opposite end of the spectrum – and watching Hull doesn't get any easier.
At times it feels they last looked like scoring was when Paul Cooke was running around.
It's seven years since they finished any higher than sixth and, while there have been two Challenge Cup final appearances, a succession of players have contributed to an attack that has never got above average.
To top it all, they haven't won away for nine months and now face four more matches on the road before they return to the KC in early July.
The good news? Next up is London Broncos – who even Hull will fancy their chances against.
Lee Radford said: "We've not been winning at home either so there's no difference in the venue. You've got to get two points even if you're playing on Mars."
Three – On a scale of one to…
Bizarre exchange of the week goes to Brian McDermott and Yorkshire Evening Post writer Peter Smith after Leeds' 20-6 win.
Smith asked: "On a scale of one to 10, how disappointed were you by Hull's try?"
"On a scale of one to 10?"
"Ten being suicidal, one being not the slightest bit bothered."
"I don't think I'll ever be suicidal, and I don't think I'll ever not be bothered, so it's probably not one and it's not going to be 10. So in actual fact it's only a scale of two to nine, isn't it?"
"On a scale of two to nine then…"
"I don't know. It was a knock-on. The ball was projected down the field and somebody else caught it. It was a knock-on."
Somehow the conversation later tailed on to rat poison, but we were lost by then.
On a scale of one to 10, we reckon this was about a five…
Four – Refunds, anyone?
Sometimes you don't get what you pay for – and Marwan Koukash must now know that more than anyone.
A 25-4 defeat against Wigan was the Reds' latest reverse, leaving Shaun Wane with the look of a proud father.
Wane said: "They're only babies. You look at that team, and look at the salary cap spend compared to Salford and that we nearly nilled them – I'm so proud.
"I've every faith in all the kids, they know that and that's why they come in and perform like that. I'm a proud Wiganer tonight."
Five – Striding towards victory
Have we just discovered the secret behind Tony Smith's decade of coaching success?
Ninety minutes before kick-off at Wakefield and Smith cuts a lone figure walking the length of the pitch at Belle Vue.
The theory is unconfirmed, but Warrington regulars in the press box believe he's counting his steps to measure the pitch – an idea that is strengthened when he stops under the posts for a moment, then measures out six strides from try line to dead-ball line.
Three hours later and Warrington were 36-4 winners, with Ben Currie stealing the show.
Smith said: "Ben was terrific. He played in three different positions and I don't know which one he played best.
"He's exciting and I hope he continues to improve because he could go a long, long way."
—
Thoughts on the weekend's action? Drop them in the comments box below.
Follow Neil Barraclough on Twitter @neilbarraclough