Tom van Vollenhoven: The South African speedster who became a legend at St Helens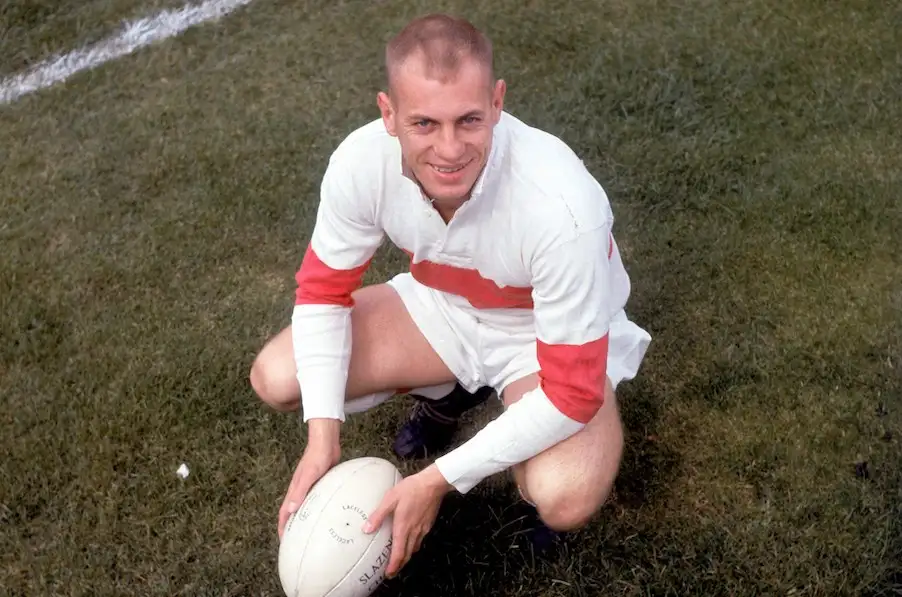 We have seen some prolific try scorers in the history of the game – none more so than South African speedster Tom van Vollenhoven.
The quintet of Brian Bevan, Billy Boston, Ellery Hanley, Martin Offiah and Clive Sullivan all come to mind when you think of try scorers and when their collective tally nearly reaches 2,500 tries, it gives you an idea of how great their try scoring prowess was.
However, there is another name that we can add to this list and that is St Helens legend Tom van Vollenhoven. The South African's total number of career tries would take the tally of the five mentioned above to near 2,900. So in tribute to man himself, we take an in depth look into the career of man they called Vollies.
Born in Bethlehem, South Africa, van Vollenhoven started his career in rugby union and even played for the South African national side against the British Lions in 1955. Even in his younger years, the talent was there for all to see as he scored a hat-trick against a touring Lions squad. However, rugby league would come calling and after being scouted for the 13-a-side code, he made his way over to England after signing for St Helens in 1957.
The Saints already boasted plenty of star talent in the likes of Alex Murphy, Vince Karalius and Austin Rhodes so the addition of the young and quick van Vollenhoven was a major plus. It was not exactly the best of starts though as on his debut against Leeds he would make a costly mistake and in return gifted the West Yorkshire side a try. However, the disappointment wouldn't last long as van Vollenhoven showed what he could bring to the Saints set up after scoring a well-worked debut try and he gave the Knowsley Road faithful something to shout about. In the same season, his speed and profound try scoring ability continued to be on show as he equalled a club record for most tries in a single game with six against Wakefield and he went on to score 45 tries in his first 34 appearances. Those electric performances even inspired other South Africans such as Jan Prinsloo to make the journey over and try their hand in rugby league. The Pretoria-born winger went on to form an exciting but brief partnership between 1958-61 with van Vollenhoven, scoring 70 tries in 89 appearances.
Throughout the 1950s and 1960s, rugby league in Britain was certainly a tough, vicious and brutal affair and for Van Vollenhoven, who was adjusting to that very nature of the game, to make the impact he did in those first three seasons was even more special. To help with that, he also had a tough and physical centre in Duggie Greenall, a player who was a great provider but also someone who was seen as a hard man as he provided the perfect cover and distribution for Vollies to light up the rugby league stage.
By the 1958-59 season, he was already beginning to show exactly what kind of talent he was after being instrumental in the Saints' RFL Championship winning season. Over the course of the campaign, he scored a record 62 tries after beating Alf Ellaby's previous feat of 50.
Another brilliant year was defined by a spectacular hat-trick in their Grand Final victory against Hunslet. The first of the three tries went down in history as one of the greatest rugby league tries ever as van Vollenhoven made a scintillating run down the touchline while beating a series of defenders before scoring right under the posts. The only negative aspect about the entire moment is that there is no video footage to celebrate it now.
By 1961, he had tasted his first of sip of Challenge Cup glory after the Saints defeated arch rivals Wigan 12-6 and, again, his name was amongst the try scorers as he scored a stunning length of the field try in front of a 95,000 attendance at Wembley. The success would not stop there though as by 1966, he was once more part of a Challenge Cup winning side as St Helens once again saw off Wigan in a 21-2 victory.
The 1960s also saw St Helens go on to dominate the Lancashire county in both the RFL Lancashire League and Lancashire Cup, with van Vollenhoven's try scoring brilliance proving a constant threat once more. Between 1960-69, Saints won four Lancashire League titles and seven straight Lancashire Cups, with the former Springbok scoring in four straight Cup finals between 1960-63. The South African speedster became one of the star players of the game during that time as he continued to adapt and bring an all-round skill set with not just his agility and finishing ability but also his great worth ethic in defence.
In 1962, the Red V brought in another South African export in Len Kileen and in Kileen and van Vollenhoven, they had one of the most dynamic and fearsome winger duos in the British game, albeit for a brief time. On the right-hand side, they had the quickness and impeccable finishing ability of van Vollenhoven and on the left they had Killeen, whose goal kicking and nifty try scoring made him a match winner in his own right. Despite the partnership only lasting between 1962-67, the pair together were a devastating combination that proved to be integral to the Saints' four trophy season in 1966 and inter-county success.
After plenty of remarkable years in the British game, injuries eventually took their toll and by 1968, van Vollenhoven called time on a prolific and successful career. In the end, he had made 409 appearances for St Helens while scoring a staggering 392 tries in the process. In his 12 years at the club, he was a part of two RFL Championship winning sides, two Challenge Cup wins, four Lancashire League triumphs and six Lancashire Cup victories. There is no question though that his legacy still lives on – his exploits are still spoken of today and by the year 2000, he was even inducted into the Rugby League Hall of Fame.
It does not take just sheer speed to be a successful winger but more a combination of a quick turn of pace, footwork and great defensive coverage and van Vollenhoven was able to bring all this into his style of play.
The Saints legend may not have possessed say the power of Boston, but his sheer speed and footwork made him the ultimate try scoring machine. Even though he may not have possessed similar physical attributes to his Wigan rival, he was still stronger than he appeared to be, and this showed as he was able to adapt to the rugby league code brilliantly.
Over the years, it would not be just be his quickness that made him one of the best but the fact he was able to develop into an all-round superstar and his sharpness in defence. In those 12 years at Saints, he finished with less than 20 tries in a season on only two occasions. In the end, van Vollenhoven was a diamond amongst a golden generation of wingers and will go down as one of the finest wingers the game has ever seen.
Watch our Last Tackle podcast, featuring a guest, every week. SUBSCRIBE to Love Rugby League on YouTube.
Listen to The Final Hooter podcast, featuring exclusive interviews, every week. SUBSCRIBE to Love Rugby League on Apple Podcasts.