Robert Hicks should not have been appointed for Wembley, reiterates Eamonn McManus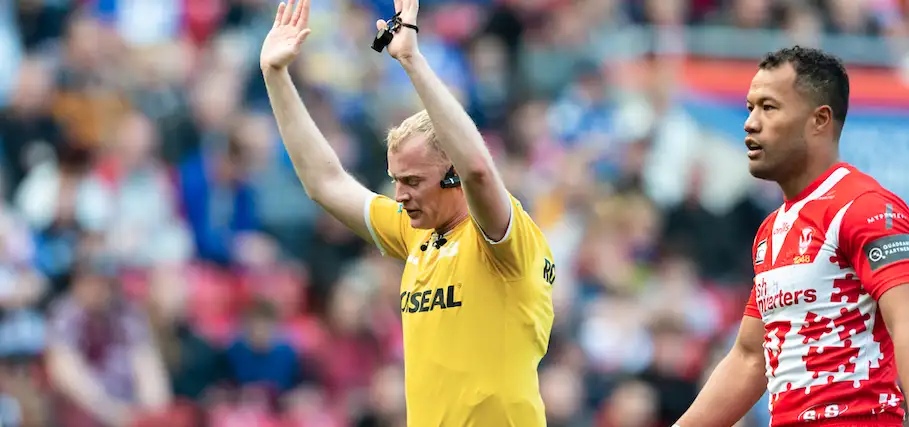 St Helens chairman Eamonn McManus insists Robert Hicks should not have been appointed to referee the Challenge Cup final because of what happened the week before.
The week before St Helens were defeated 18-4 by rivals Warrington in the Challenge Cup final, Hicks and Warrington chief executive Karl Fitzpatrick met with a Wolves supporter who made death threats towards Hicks via social media.
The meeting with the spectator took place at the Halliwell Jones Stadium and Hicks later featured on ITV's Granada Reports as he spoke out on the abuse he suffered.
In a second article from McManus, he said: "I was very clearly making the point [in the first article] that Robert Hicks had been placed in an invidious position due to recent death threats from a Warrington fan and his subsequent close dealings with that fan and the Warrington club in the period leading up to the Challenge Cup Final.
"He also appeared voluntarily on an ITV interview shortly before the game to explain this experience in some detail to express how upset he and his family had been by this.
"It is impossible to assess to what extent he had been emotionally affected by this during his high profile dealings with Warrington and their fan. For that reason he should not have been appointed in such a high pressure and demanding and game in which Warrington were a participating club.
"Perceptions of even handedness and impartiality are as important as reality. This can be no more so than in the instance of refereeing where integrity and the perception of integrity is paramount. No other professional sport would have made such an appointment given these prior disturbing events and facts."
---
More on site
Newcastle Knights appoint Adam O'Brien as new head coach
Penrith Panthers re-sign Fiji international
RFL criticise "inaccurate" article by Eamonn McManus
League 1 round-up: Wright inspires Newcastle, Whitehaven still top & Workington clinch play-off spot