Justin Holbrook's future in his own hands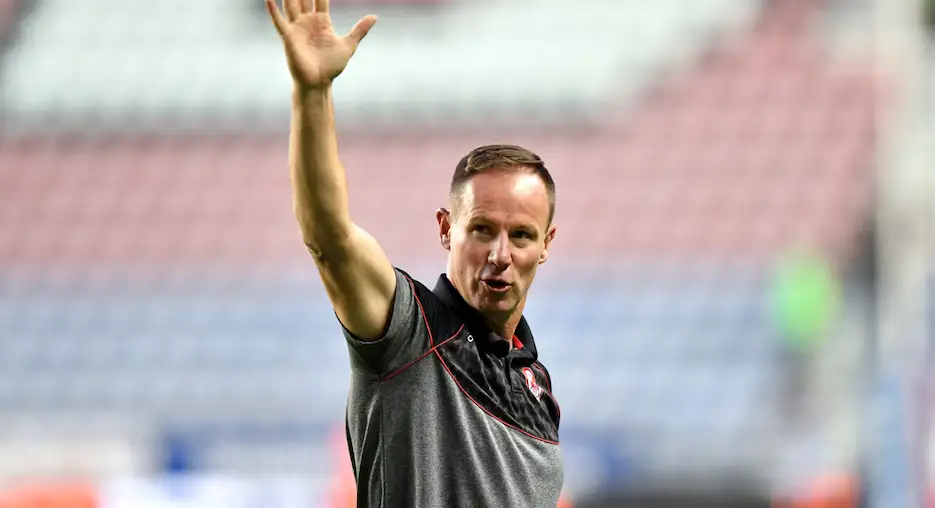 St Helens chief executive Mike Rush said Justin Holbrook's future is completely up to the Saints coach. 
Holbrook, 43, is out-of-contract with Challenge Cup semi-finalists and Super League leaders Saints at the end of the season.
The Australian has been linked with a switch to the NRL with Gold Coast Titans or Canterbury Bulldogs.
Speaking to BBC Radio Merseyside, Rush said: "We don't need to sell him a dream, he's living it with us, and that makes it challenging for him.
"What he does next is his decision. He's got an 80% win rate in Super League so he's going to attract attention so when a job comes up, he's naturally going to be linked to it.
"He loves it here, he has a great relationship with his staff. He gets on really well with myself, the chairman and the board so it's hard to leave something hat you're very fond of and happy with and he's said that.
"But if, suddenly, a big NRL club comes then I'd be surprised if he didn't listen but there has to be a timeframe for when all this comes to an end."
More on site
Kyle Flanagan signs for Sydney Roosters
Brits Down Under: Hall on the ball, Hodgson shines & Whitehead the tackling machine 
The good, the bad & the ugly: West Wales make history, Warrington poor form & Toronto boos
French round-up: Signings at Villeneuve and Lezignan; structure of lower divisions confirmed