Eamonn McManus: We've got to look at every way of reducing costs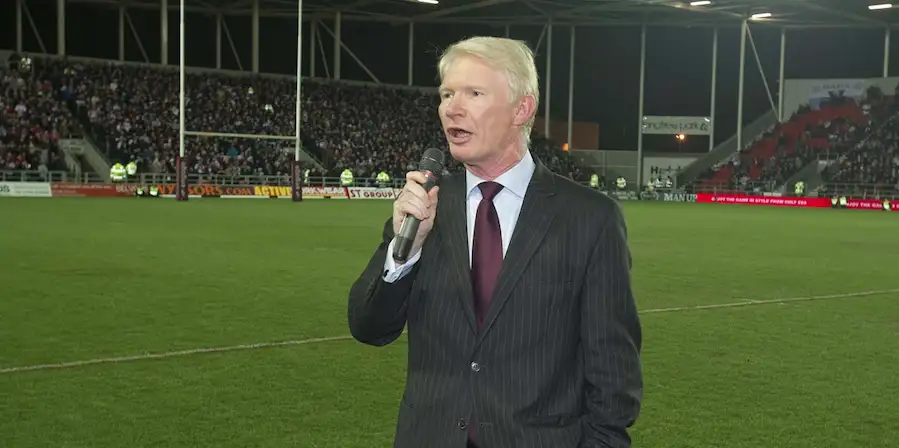 St Helens chairman Eamonn McManus says the sport has to look at every way of cutting costs – and believes playing multiple games at one venue could be done.
All levels of rugby league in the UK has been suspended since March 16 due to the coronavirus pandemic. The government has stated in its latest briefing that sport could return behind closed doors from June 1 – but no date has yet been given by the RFL.
Saints boss McManus believes playing games in a Magic Weekend style format could be the right way for the sport to minimise costs.
He told The Saints Podcast: "If I were a betting man I would have thought it should be feasible by July and then the real $64m question is when are crowds back, because to us that is much more important than getting the game back behind closed doors – that's where the majority of our income derives and it's critical for us for that to happen at a point in time.
"That is a much more difficult question because of the social distancing rules, so it depends on when they are eased, in what form they are eased in various sectors and industries – but probably the last thing to come back will be mass gatherings.
"A degree of flexibility has to be shown here both in terms of the timings and the format – whether it's individual games or a certain number of games at a particular stadium on a particular day – whereby you have got three games at one stadium or three games at another – to reduce travelling, to enable the medical protocol to be more readily observed and to reduce costs. We've got to look at every way of reducing costs.
"It's open and practical dialogue in terms of player welfare first and foremost, and finances in getting the games back on TV in the first instance.
"It'll be great to see rugby league on TV again even if it is initially behind closed doors because it means the first step on the road to recovery."
🗣️ The Saints Podcast EP3: Eamonn McManus 🎙️@stuartpykesport sits down with our Chairman for a virtual chat to talk the government @TheRFL funding and what the future may look like for the Club and the game as a whole.

Watch in FULL on Saints TV 👇

📺 https://t.co/FpxoAm2KjE pic.twitter.com/9QyBNLdwhB

— St.Helens R.F.C. (@Saints1890) May 11, 2020
Watch our Last Tackle podcast, featuring a guest, every week. SUBSCRIBE to Love Rugby League on YouTube.
Listen to The Final Hooter podcast, featuring exclusive interviews, every week. 
SUBSCRIBE
 to Love Rugby League on Apple Podcasts.
---
More on site
Throwback: When Wendell Sailor nearly joined Wigan
My Set of Six: with Wayne Godwin featuring Terry Newton & representing town of Castleford