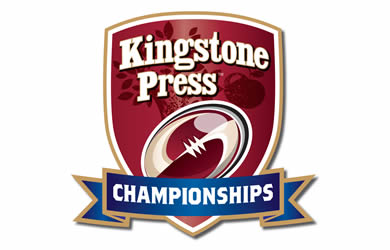 Kingstone Press Championships Performance of the Week – Barrow Raiders
Barrow Raiders climbed off the bottom of the Kingstone Press Championship table as coach Bobbie Goulding made a successful return to playing.
Goulding, 42, played for the first time in nine years. He helped his side beat Rochdale Hornets 38-18 and move above Swinton Lions at the bottom.
Goulding said: "I thought my forwards were outstanding and really laid the foundations.
"The two boys we signed from Salford, Michael Platt and Jason Walton, were unbelievable.
"Now we need to keep our feet on the ground and be consistent.
"We need to go on a run like Whitehaven and Keighley have been doing."
Kingstone Press Try of the Week – Ryan Brierley (Leigh Centurions)
Leigh Centurions scrum-half Ryan Brierley finished a set play in fine style to register his side's fourth try in a 28-16 victory over Workington Town.
Centurions coach Paul Rowley said: "It was a move we've done many times. We need to be nice and intricate around the ruck, with three tight passes creating space and Brierley supporting up the middle.
"When it's executed well it's a pretty special try. It takes a lot of skill and a lot of teamwork. The move started about 60 metres out, and Ryan had 40 metres to go to score. It was good to watch."
Kingstone Press Championship Team of the Week
1 Tom Carr (Whitehaven)
2 Scott Turner (Sheffield Eagles)
3 Tom Armstrong (Leigh Centurions)
4 Jessie Joe Parker (Whitehaven)
5 Ben Blackmore (Batley Bulldogs)
6 Carl Forber (Workington Town)
7 Anthony Thackeray (Dewsbury Rams)
8 Jordan Hand (Whitehaven)
9 Andy Ellis (Featherstone Rovers)
10 Tony Tonks (Halifax)
11 Jason Walton (Barrow Raiders)
12 Liam Kent (Doncaster)
13 Sam Barlow (Leigh Centurions)
Kingstone Press Championship One Team of the Week
1 Louis Sheriff (Gateshead Thunder)
2 Mo Agoro (Oldham)
3 Jimmy Watson (Hunslet Hawks)
5 Lee Mapals (Gateshead Thunder)
6 Matty Beharrell (Gateshead Thunder)
7 Ben White (Gloucestershire All Golds)
8 Teli Pelo (London Skolars)
9 Connor Farrer (South Wales Scorpions)
10 Jack Francis (Gloucestershire All Golds)
11 John Oakes (Hunslet Hawks)
12 Danny Langtree (Oldham)
13 Eddie Mbaraga (Hemel Stags)