WATCH: One of the best acrobatic try finishes you will ever see from the French Cup final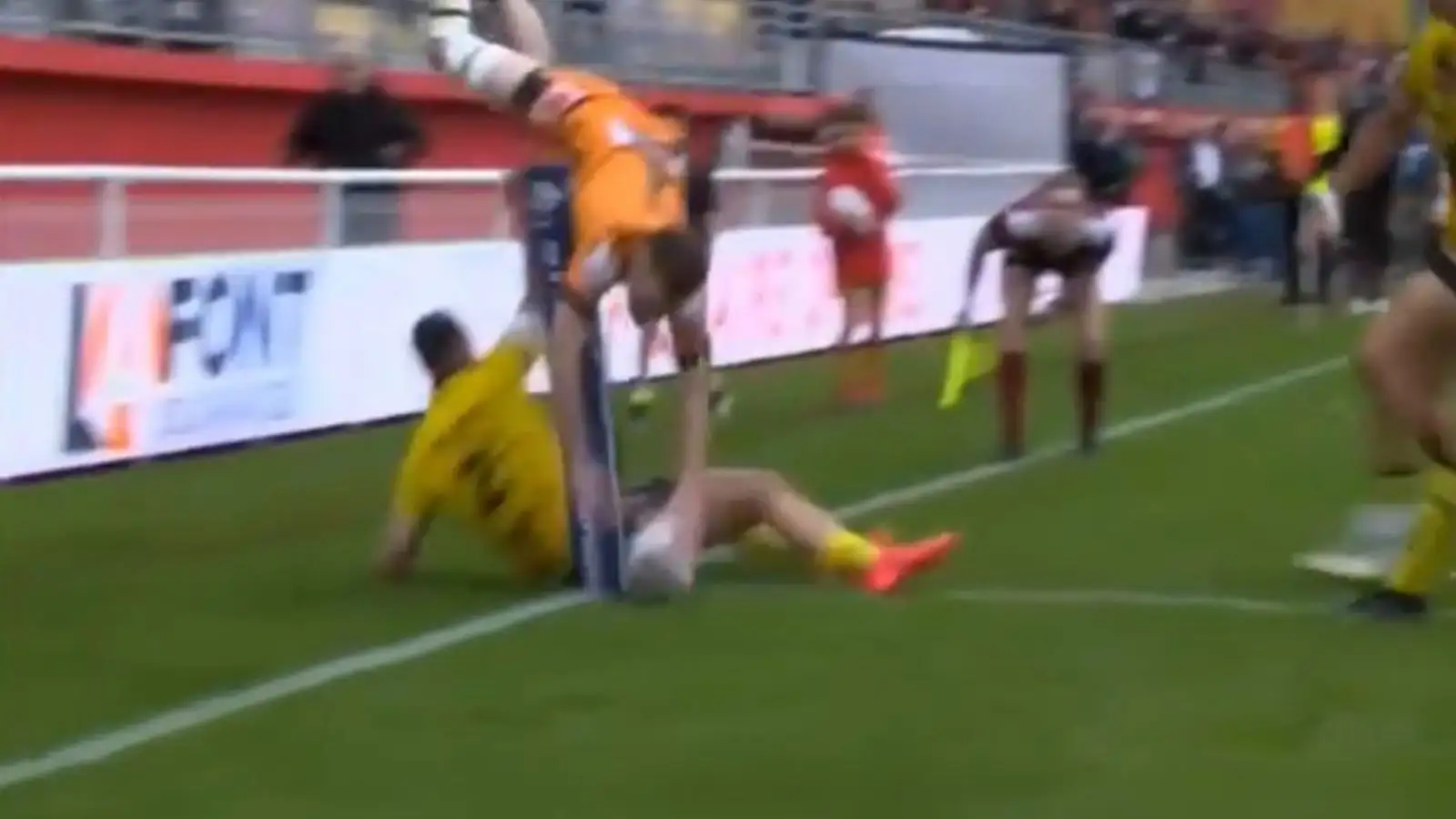 Albi winger Julien Cancé can count himself unlucky to be on the losing side in the French Cup final after scoring from one of the greatest try finishes ever.
Albi went down to a 38-12 defeat against the impressive Carcassonne in the Lord Derby Coupe de France Final in front of more than 4,000 fans at the Stade Gilbert Brutus in Perpignan on Saturday afternoon.
Cancé was on the losing side in the end, but he can be forever proud of the acrobatic try he scored in the corner where he somehow managed to get the ball down despite the pressure of several Carcassonne defenders.
The final was broadcast live by viàOccitanie and it was available to watch in the UK and France.
There were a couple of familiar faces in the Carcassonne and Albi teams. Former Catalans, Wigan and Salford star Morgan Escare started the match at full-back for the Canaries, with ex-Toulouse man Bastien Canet starting in the front-row.
For Albi, ex-Hull, Toronto and Barrow maverick Hakim Miloudi played at full-back for the Tigers.
Tony Gigot, who played in Super League for Catalans, Toronto, Wakefield and Toulouse, played in the hooker role for Albi.
Carcassonne: Escare; A Escamilla, Bouregba, Albert, Gambaro; Herrero, Obeirne; Boyer, Artiga, Canet, Serulevu, Mulhall, M Khedimi. Subs: Drodrolagi, B Escamilla, Dauliac, Alberola. 18th man: Soubeyras, R Khedimi.
Albi: Miloudi; Pedrero, Guinguet, Tailhades, Cance; Wall, Gigot; Rodrigues, S Cook, Diakhate, Dupuy, Goffin, Bernard. Subs: Liauzun, Puech, J Cook, Mazars. 18th man: Hellec. 19th man: Lardot.
Attendance: 4,109
FRENCH ELITE: France star Morgan Escare in 'come and get me' plea
Want to watch the French Cup final back in full?
If you missed the chance to watch it live, then don't worry. viàOccitanie have uploaded the full game on their website for supporters to go back and enjoy.
To watch the French Cup final back, simply click the aforementioned links or follow the link in the tweet below.
Le replay de la finale de la coupe de France Lord Derby 2023 de #RugbyXIII @FFRXIII est disponible sur https://t.co/HbZwLlZUbz.https://t.co/nUXMuYlesv

— viàOccitanie (@viaOccitanieTV) April 23, 2023
Big crowd in Perpignan
It was great to see so many fans in attendance at the Stade Gilbert Brutus, including Catalan Media, a good friend of Love Rugby League.
It's good to see rugby league alive and well in France. Long may it continue.
Incredible atmosphere at the Brutus yesterday… we're used to Catalan carnivals but this was very, very French.
Wonderful people from @CarcassonneXIII and @sitearlxiii for the @FFRXIII Cup final.
💙🤍❤️🏆 pic.twitter.com/uT3mBv23bg

— Catalan Media 🇨🇵 (@catalanmedia) April 23, 2023
READ NEXT: French Elite players put their hands up for Super League moves