Tonga head coach Kristian Woolf to 'wait and see' on his future with milestone in sight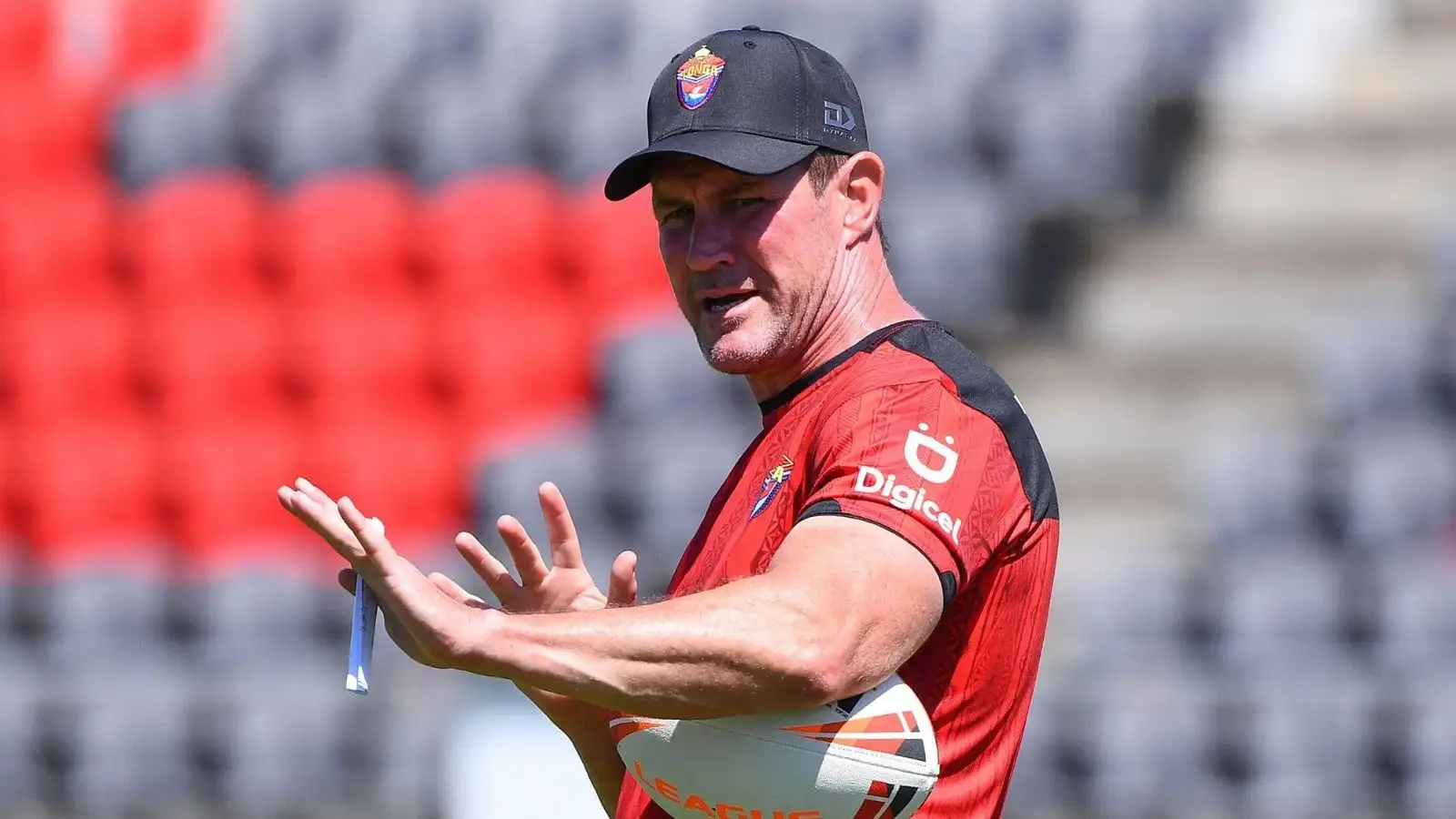 Kristian Woolf could reach the landmark of 10 years at the Tonga helm in 2024, though he admits there's no guarantees that will happen with a question mark still hanging over his future.
48-year-old Woolf took charge of 'Mate Ma'a Tonga' back in 2014, and has overseen their previous two World Cup campaigns, beaten in the semi-finals by England in 2017 and by Samoa at the quarter-final stage this time last year.
In that time, he's also briefly headed up NRL outfit Newcastle Knights as well as spending three years in the St Helens hotseat, a Super League champion in each of those seasons as well as a Challenge Cup winner in 2021.
Now, Woolf is back in the NRL as assistant to former England head coach Wayne Bennett at the Dolphins, and has been juggling his duties there alongside those relating to the Pacific nation.
Tonga boss Kristian Woolf says he'll 'wait and see' on his future
He saw Tonga beaten 24-6 by England in Leeds yesterday, the conclusion of a historic test series which has seen them lose all three clashes with Shaun Wane's side.
And post-match, when asked about his future, he responded: "I've got to wait and see, there are a lot of things to consider there.
"Have I got the passion? Yeah I have. You go through different groups and it took us a long time to get to 2017. There was a lot of players and a lot of camps and a lot of things that we knew we had to improve to get to 2017.
"If you look at 2017, 2018 and 2019, we had a really stable group – a hardened, experienced group, but they were stable – the majority of those teams were very similar teams in every series or game we played.
"Covid hurt us a bit, that three-year break, and a few of our guys who were stalwarts at that stage became a bit older and a new group came in.
"What I'm trying to say is that if every group is going to be as good as this group that we had on this tour, then you enjoy it, you want to be a part of it. I've loved everything about this tour and this group, and it makes you want to be involved again.
"As I said before, we might not have got the results but I'm extremely proud of how this group have carried themselves and I'm sure if you talk to every motel, they'll tell you how much they love our players because of the way they've carried themselves.
"I've definitely still got the passion. In 12 months time, I'll be coaching in the NRL and I've got to figure out and see where it fits and what fits. There's a lot of things that depends on as well, and what the calendar is and what games are scheduled is a big part of that."
READ NEXT: England's proposed test series against Samoa up in the air with Tonga also in talks to face Pacific neighbours in 2024