The referee drain: does rugby league have a match officials crisis?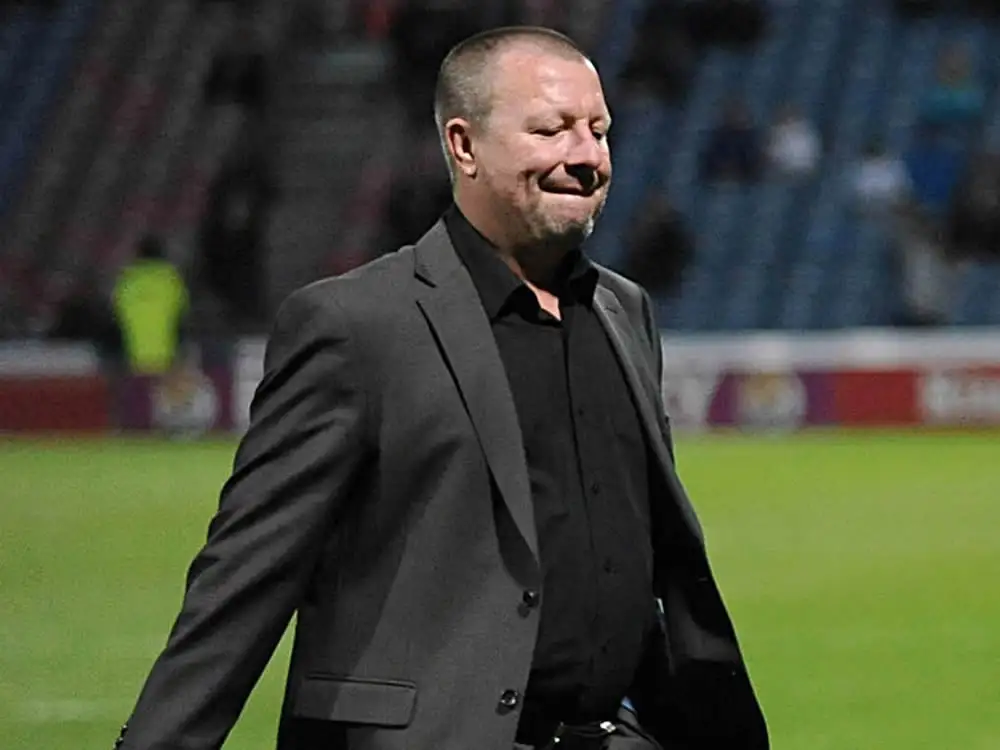 Who'd be a referee?
Or perhaps the question is, who would remain a referee?
Since the start of Steve Ganson's tenure as the RFL's head of match officials in 2016, having previously been acting head after the departure of Jon Sharp in June 2015, there have been no fewer than 18 departures – including nine referees and nine coaches.
Phil Bentham, whose resignation was confirmed on Monday, is the most experienced departure since Richard Silverwood quit in 2016, following an internal investigation that resulted in an employment tribunal.
But in between those exits, a number of promising, young officials have waved goodbye to the sport too.
Referee departures
Of the 20 officials to have refereed a Super League game since 2015 – not including Australian Matt Cecchin who oversaw Wigan's match with Hull Down Under in 2018 – only half remain active.
Joe Cobb retired in 2017 at the age of just 30, barely 18 months after becoming a full-time match official, amidst allegations he was being bullied by a senior member of staff.
Former Royal Marine Jack Smith impressed when he burst on to the scene in 2016, becoming a full-time match official later that year, but by April 2017 he had already stepped down – although he remains active as a part-time referee, and was recently enlisted as an ambassador for a project targeted at armed forces veterans becoming match officials.
Greg Dolan was announced as going full-time, alongside Tim Grant, at the end of 2018, but hasn't officiated a Super League game since July 2019.
Following the decision of George Stokes to quit in 2016, not long after colleague Matt Thomason had done the same, there were calls for the RFL to act on the abuse of match officials.
Stokes called the RFL "the least professional organisation in the world", telling the Daily Express that complaints about homophobia had been brushed under the carpet.
Thomason said: "It's such a shame because we both loved doing what we were doing but the politics made it impossible."
Later that year, Sam Ansell quit just seven months after being appointed to the full-time team.
Another full-time appointment that year was Chris Campbell, who went from full-time referee to then acting as Ganson's deputy, before departing the RFL some time last year.
That raised concerns from Super League coaches, who had been dealing with Campbell in Ganson's absence last season due to an unspecified medical issue that had resulted in the RFL granting him an extended period of leave in October.
There was some controversy too at the beginning of 2020, when top referee Ben Thaler was suspended for seven weeks after an anonymous letter accused him of making an offensive remark to another official.
Ganson's back-office team
The RFL say they are recruiting for two roles within the match officials' back office department, which has been decimated in recent months.
Match officials coaches manager, Steve Presley, has retired while a number of conditioners and other coaches have departed in recent years, including former Hull and Harlequins forward Mike Burnett.
With only a handful of experienced referees left, it remains to be seen just where they can find coaches with the appropriate experience to nurture the next generation of match officials.
Ganson is well-respected by many in the game, having served as a top flight official of more than 400 matches.
His experience and attention to detail is none more evident than in the weekly video sessions of officials, where he refers regularly to the three Ps – policy, procedure and processes – as this behind the scenes look at the match officials department by Gareth Walker in The Mirror highlighted a couple of years ago.
The current referee pool
There are currently eight full-time match officials – James Child, Tom Grant, Marcus Griffiths, Robert Hicks, Chris Kendall, Scott Mikalauskas, Liam Moore and Ben Thaler – while a ninth, Cumbrian Gareth Hewer, is the only other name on the elite list for refereeing Super League games.
Of those, Thaler is the longest serving, having been appointed in 2015, and both he and Hicks turn 40 this year.
Along with Child and Kendall, they are the only active officials to referee more than 100 Super League matches.
Earlier this year, Hicks, Kendall and Moore were appointed to the newly formed Elite International Match Officials Panel, and will all officiate at the 2021 World Cup.
Other match officials, Cameron Worsley and John McMullen, hold administration roles in the RFL in the Operations Department and as National Clubs Manager respectively.
According to RFL data from March 2020, there are 22 referees – including Hewer and Jack Smith – on the so-called select list (Grade 1), which covers Championship and League 1 games.
There are more than 50 touch judges on the elite list for the Super League and a further 37 on the list to touch judge in the second and third tiers.
Under that is the emerging list (Grade 2) for academy and scholarship games, and then the entry list (Grade 3) which covers the National Conference League.
Top referees in Super League
As of the end of 2020, a total of 12 officials have been referee for more than 100 Super League matches.
Richard Silverwood – 414
Ben Thaler – 382
Steve Ganson – 375
Phil Bentham – 324
James Child – 288
Robert Hicks – 261
Ian Smith – 252
Karl Kirkpatrick – 221
Russell Smith – 216
Ashley Klein – 151
Thierry Alibert – 128
Chris Kendall – 118
What can be done?
It's a problem not exclusive to just rugby league. Social media in particular has increased the scrutiny of every single decision, piling immense unfair pressure on the humans in the middle who have to make decisions at a split second.
The advent of VAR in football has heightened this even further, especially when even video analysis results in what some people perceive to be incorrect decisions.
One passionate advocate of officiating on social media is former Super League referee Ian Smith, who last season was a guest on our podcast (below), talking about the abuse he received as an official, why he quit and what it's like being a full-time referee.
That pressure, as well as the sheer workload required to be a top flight referee, coupled with a relatively average annual salary could be reasons for the increased turnover of officials.
Some former referees have also questioned whether the environment is managed appropriately, and if it's a consequence of doing things on the cheap.
Many of the laws of rugby league can be objective – what looks a knock on to one person, may not to another. Some decisions are clearly more obvious than others, but when making a decision in a split second, mistakes will naturally happen.
Considering all of this, it's hard to make an argument for anybody to become a referee.
But ultimately, without them, there isn't a game.
How to become a rugby league match official?
The RFL are actively on the lookout for people to take up officiating, and there are a number of upcoming courses.
Saturday 6th March 2021 – hosted by Huddersfield & Bradford – Contact: becciwhiteley@gmail.com
Wednesday 17th March 2021 – hosted by Midlands, North East & South – Contact: Michael.smaill@rfl.co.uk
Tuesday 30th March 2021 – hosted by Barrow and Cumbria – Contact: terry.rugby@outlook.com
Email morecruitment@rfl.co.uk or call 0113 8239178 for more information and updates on upcoming Match Officials courses.
Four Rugby League referees societies – Barrow and District in Cumbria, Leeds representing West Yorkshire, Wigan for Lancashire and Cheshire, and the Southern Rugby League Referees Society also encompassing the Midlands – recently received around £15,000 in World Cup legacy funding to enable them to increase participation and raise the standard of officiating.