The 13 Welsh greats nominated for the Cardiff Bay statues
A panel of experts has chosen 13 nominees for the new rugby league statues at Cardiff Bay.
Here, courtesy of the Rugby Codebreakers, is a detailed break down of the Cardiff Bay Rugby League Giants XIII and each of their stories.
To register your vote, please visit – www.rugbycodebreakers.co.uk
BILLY BOSTON
Born on 6 August, 1934 in Angelina Street, he went to South Church Street School and played for Cardiff Schools, Boys Clubs of Wales, Wales Youth, the CIACS and Neath in rugby union. He signed for Wigan RL while still a teenager for £3,000. It was a good deal for Wigan as Billy went on to score 478 tries in 487 matches for them, helping them to win the six Challenge Cup finals they reached in his 15 seasons at the club. He also scored twice in their 1960 Championship final victory to earn Wigan their first title in eight years, and picked up two Lancashire League and one Lancashire Cup winners medals. He won the World Cup with Great Britain and played 31 times for the Lions, becoming their first black tourist in Australia. He is in the Rugby League and Wigan Halls of Fame, on the Welsh Sports Hall of Fame's 'Roll of Honour' and was made MBE for his services to sport. He also has a statue dedicated to him at Wigan and is included on the Rugby League statue at Wembley Stadium.
DENNIS BROWN
Born on 24 September, 1944, Dennis lived in Loudoun Square and went to South Church Street School. He served in the Royal Marines and played rugby union for Devonport Services, Devon and the Royal Navy in the Inter-Services Championship at Twickenham. He joined Widnes, scoring 94 tries in 173 games between 1965 and 1975. He won a Wales Rugby League cap in 1969.
GERALD CORDLE
Born in North Church Street on 29 September, 1960, he went to St Mary the Virgin School, where he learned to play football, and then Bishop of Llandaff. He didn't play rugby until he was 19, starting in the Butetown team. He then had a trial at Glamorgan Wanderers before Cardiff came calling. He scored 166 tries in 194 games for the Blue & Blacks, winning three of the four WRU Challenge Cup finals in which he played for them. After eight years at the Arms Park he joined Bradford Northern in 1989 and went on to play 132 games for the Yorkshire club, scoring 77 tries. He helped them to win the Yorkshire Cup in 1989, scoring twice in the final, and the 1991 Regal Trophy final, when they lost to Widnes. He won eight caps for Wales and played once for Great Britain.

JOE CORSI
Born into a rugby playing family of Italian immigrants in July, 1894, Joe lived in Adam Street and Sandon Street, in Adamsdown. He became a big hit in rugby league as a try scoring wing, playing for Rochdale and then Oldham. He played with his brother, Louis, in the 1922 Challenge Cup win by Rochdale against Hull. At Oldham he played 150 games and played in three successive Challenge Cup finals – 1924, 1925 and 1926 – winning in 1925. He won his one and only Welsh RL cap against England in 1923. In his first four seasons at Oldham he was leading try scorer with 30 in 1923-4, 27 in 1924-5, 23 in 1925-6 and 23 again in 1926-7. He missed the 1928 Cup final, but is included in the Oldham RL Hall of Fame.

COLIN DIXON
Born in Loudoun Square in December, 1943, Colin attended South Church Street School and graduated from Cardiff Youth to Halifax in 1961, signing on as a 17-year-old. With Johnny Freeman he helped Halifax win the Championship title for the first time in 57 years in 1964 and became club captain in 1967 and 1968. He won the first of his Wales and Great Britain caps in the 1968-69 season, when he moved on to Salford for a then world record fee of £15,000. He played in eight major finals at Salford, wining the Lancashire Cup in 1972 and the BBC Floodlit Trophy in 1975. Salford also won the League Championship in 1974 and 1976. He became the coach at Salford before heading for one final season to Hull Kingston Rovers, where he won the Premiership title and reached the Yorkshire Cup final. On the international stage, he marked his Wales debut with a try and the man of the match award in a win over England in 1968. He won 16 caps for Wales, including the 1975 World Cup, and made 14 appearances for Great Britain and was included in the 1972 World Cup winning squad. He scored 177 tries in 738 first-class matches. He is in the Halifax RL Hall of Fame.
ROY FRANCIS
Born in Cardiff in 1919, but raised in Brynmawr, Roy turned professional with Wigan while still a teenager. He would go on to score 229 tries in 356 games in a career that saw him also play for Barrow, Warrington, Hull and Dewsbury. He became the first black player to represent Great Britain and the first black coach in professional sport in the UK. He guested appearances for Dewsbury throughout the war and featured in three successive Championship finals as Eddie Waring's side beat Bradford and Halifax, but then lost to Wigan in 1944. He returned to Barrow after the war and won international honours for both Great Britain and Wales. He won five caps for Wales and scored a vital try in a famous 13-10 win over England in the 1946 European Championship. He marked his GB debut against New Zealand with two tries in a 25-9 triumph at Bradford in 1947. He was overlooked for the 1946 Great Britain Ashes tour to Australia, excluded for political reasons as the organisers feared it may cause problems due to Australia's infamous bar on non-white people. He joined Warrington in 1948 and featured in their defeat by Huddersfield in the 1949 Championship Final. He then moved to Hull, where he became player-coach. Under his expert guidance Hull won the Championship in 1956 and 1958 and also reached the Challenge Cup final at Wembley in 1959 and 1960. He left Hull in 1963 to join Leeds, who topped the Rugby League table in 1967 and 1968, won the Yorkshire League in 1966 and 1968, reached the Yorkshire Cup final in 1965 and famously won the 1968 Challenge Cup final. He revolutionised the way the game was played with his expansive style and was one of the first coaches in any sport to introduce video analysis and many other innovations that are now standard at all professional sports clubs. He coached North Sydney, in Australia, for two seasons, sparking a coaching revolution which was to revitalise the Aussie game and make their national team all-but unbeatable over the next three decades. He left Australia in 1971, once again due to prejudice, and returned to Hull to become their team manager from 1971 to 1973. He later won a Premiership title back at Leeds during the 1974–75 season, before finishing his extraordinary coaching career with Bradford Northern from 1975.

JOHNNY FREEMAN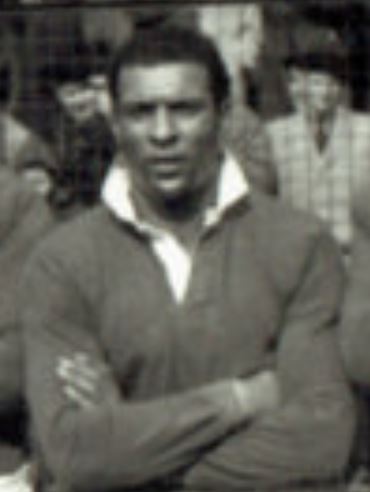 Born in the heart of Tiger Bay in Sophia Street in 1934, Johnny went to South Church Street School where he was in the same team as Billy Boston and his cousin, Joe Erskine. He played with them both at the CIACS before joining Halifax in December, 1954. Over 13 seasons he scored 291 tries in 398 first-class matches. He helped Halifax beat New Zealand in 1955 with a 50-yard try. He played in the 1956 Championship Final against Hull and also played in the Challenge Cup Final defeat to St Helens at Wembley. In the 1956-57 season he scored a hat-trick of tries against Billy Boston in a 25-9 defeat of Wigan and notched 38 tries in the first 20 games of the season. A bad injury at Christmas that season not only cost him a place on the 1958 tour to Australia, but also put him out of the game for a year. In 1963-64 he helped Halifax win the Yorkshire Challenge Cup and the Eastern Championship and then the Rugby League Championship the next season. He appeared in another Championship final in 1966. There were few Welsh internationals during his time at Halifax, so he only played once for his country. He died in Butetown in June, 2017, having returned to live in his hometown. He still holds the Halifax club records of 48 tries in 45 games in 1956-57 and 290 tries in his career.
GUS RISMAN
The son of Russian immigrants who settled in Tiger Bay, Gus was born on 23 March, 1911, in Sophia Street and went to South Church Street School. His parents ran a boarding house and then moved to Barry to run a cafe when Gus was 11. He became one of the greatest rugby players produced by Wales, captaining the 15-a-side team in War Time internationals despite being a rugby league legend. The statistics of his rugby league career are staggering and he is a member of the Rugby League and Workington Halls of Fame and is on the Welsh Sports Hall of Fame 'Roll of Honour'. He has a street named after him in Salford and Workington and is on the Rugby League statue at Wembley Stadium. Between 1929 and 1954 he scored 4,052 points in 873 games for Salford and Workington Town. He also played in 36 Test matches for Great Britain, playing in five Ashes winning series, and won 18 Welsh caps. He won four Rugby League Championships, went to Wembley for the Challenge Cup final three times, picked up five Lancashire League titles and three Lancashire Cup winners medals. He was captain of the Workington Town team that won the Challenge Cup at 41.

CLIVE SULLIVAN
Born in Splott on 9 April, 1943, Clive became the first black captain of any Great Britain side and led his country to the 1972 Rugby League World Cup title, scoring a try in each of his side's four games in the tournament, including a length-of-the-field effort against Australia that earned a 10-10 draw to clinch the trophy. He joined the Army from school and had rugby league trials in his late teens. He eventually joined Hull and went on to play 352 games for the club, scoring 250 tries. He then switched to Hull Kingston Rovers and added 118 tries in 213 games. He won the Challenge Cup with both clubs. He made his full Great Britain debut in 1966-67 and marked it by scoring the winning try against France in the last minute. He also featured in the 1968 World Cup series in Australia and captained Wales at the 1975 World Cup. He won 17 caps for Great Britain. In 1974, he was honoured with an MBE and he is on the Welsh Sports Hall of Fame 'Roll of Honour'. The main road into Hull was named 'Clive Sullivan Way' in his honour.
JIM SULLIVAN
Born in Elaine Street, Splott, on 2 December, 1903, Jim's father was a butcher from Ireland. He went to St Alban's School and played rugby union for Cardiff at 16. By 17 he had played for the Barbarians and played in a Welsh Trial. He joined Wigan and won the first of his then Welsh record 26 rugby league caps eight days after his 18th birthday. His final appearance came at 36 and he led his country 18 times. His Wigan debut came against Widnes in August, 1921, and by the time he had hung up his boots in February, 1946, he had scored 6,001 points in 922 first-class games. He won four Rugby League Championship finals, the Challenge Cup twice and the Lancashire Cup three times. He played 25 Tests for Great Britain, three for England and six for Other Nationalities. In his 60 international appearances he scored 329 points. He coached Wigan between 1946 and 1952, guiding them to two Challenge Cup wins at Wembley, six successive Lancashire Cups and three Northern League Championship finals. He switched to St Helens at the start of the 1952-53 season and immediately steered them to the League Championship title in 1953 and to their first Wembley triumph a year later. He is in the Rugby League, Wigan and St Helens Halls of Fame and is included on the Welsh Sports Hall of Fame 'Roll of Honour'.
FRANK WHITCOMBE
Born on 28 May, 1913, Frank was one of 10 children who lived at 52, Wedmore Street, Grangetown. His father, Frederick Whitcombe, was a blacksmith's striker in the Dry Docks by day and a prize fighter in bare-knuckle boxing in Tiger Bay by night. He went to Ninian Park Council School and after leaving at 14 he worked for McNeill's The Coal. He had a final Welsh trial at rugby union and played for Cardiff, London Welsh and the Army before heading North. He joined Broughton Rovers in 1931 and made 123 appearances for them before joining Bradford Northern in 1938 for a then record fee of £850. He went on to make a further 331 appearances for them over a decade of service. At Northern he played in five Challenge Cup Finals, including three on the trot at Wembley. He was a winner in 1944, 1947 and 1949. Although Northern lost in 1948, he picked up the Lance Todd Award as the player of the match – the first time it had been presented to a player on the losing side. He won three of his five Championship Play-Off Finals (1940, 41, 45) and all four Yorkshire Cup Finals (1941, 42, 46, 49). He also won three Yorkshire League titles (1940, 41, 48). He won 14 Welsh caps and toured Australia with the famous 1946 Great Britain 'Indomitables' team, playing more games than any other player.  Captained by Gus Risman, GB won the series 2-0 with one game drawn, making them the only British side not to suffer defeat in an Ashes series down under.

WILLIAM 'WAX' WILLIAMS
Born in 1879 in the Westgate Inn on Frances Street, 'Wax' played in 58 games for Cardiff RFC between 1898-1902 before heading North in June, 1902, to join Halifax. He won the Challenge Cup twice, in 1903 and 1904, and also helped his club win the First Division title in the 1902-03 season. He also played in the side that lost in the 1905 Yorkshire Cup final.
DAVE WILLICOMBE
Born in Hannah Street, Butetown, in 1951, his family moved across Cardiff to Fairwater. He learned his rugby at St Illtyd's and played for Cardiff Schools and the CIACS before signing for Halifax as an 18-year-old. He found himself playing alongside fellow Tiger Bay imports, Terry Michael and Johnny Freeman, at Halifax. He won the first two of his 13 Welsh caps while he was at Halifax and the rest from Wigan. He also played in three Tests for Great Britain and went on the 1974 tour to Australia and New Zealand, featuring in the 20-0 win over the Kiwis in Auckland. He won the Lancashire Cup with Wigan and was ranked as one of the best centres in the world at either code.
To register your vote, please visit – www.rugbycodebreakers.co.uk