St Helens boss Paul Wellens pays tribute to retiring stalwart and former teammate Louie McCarthy-Scarsbrook: 'He's going to be really difficult to replace'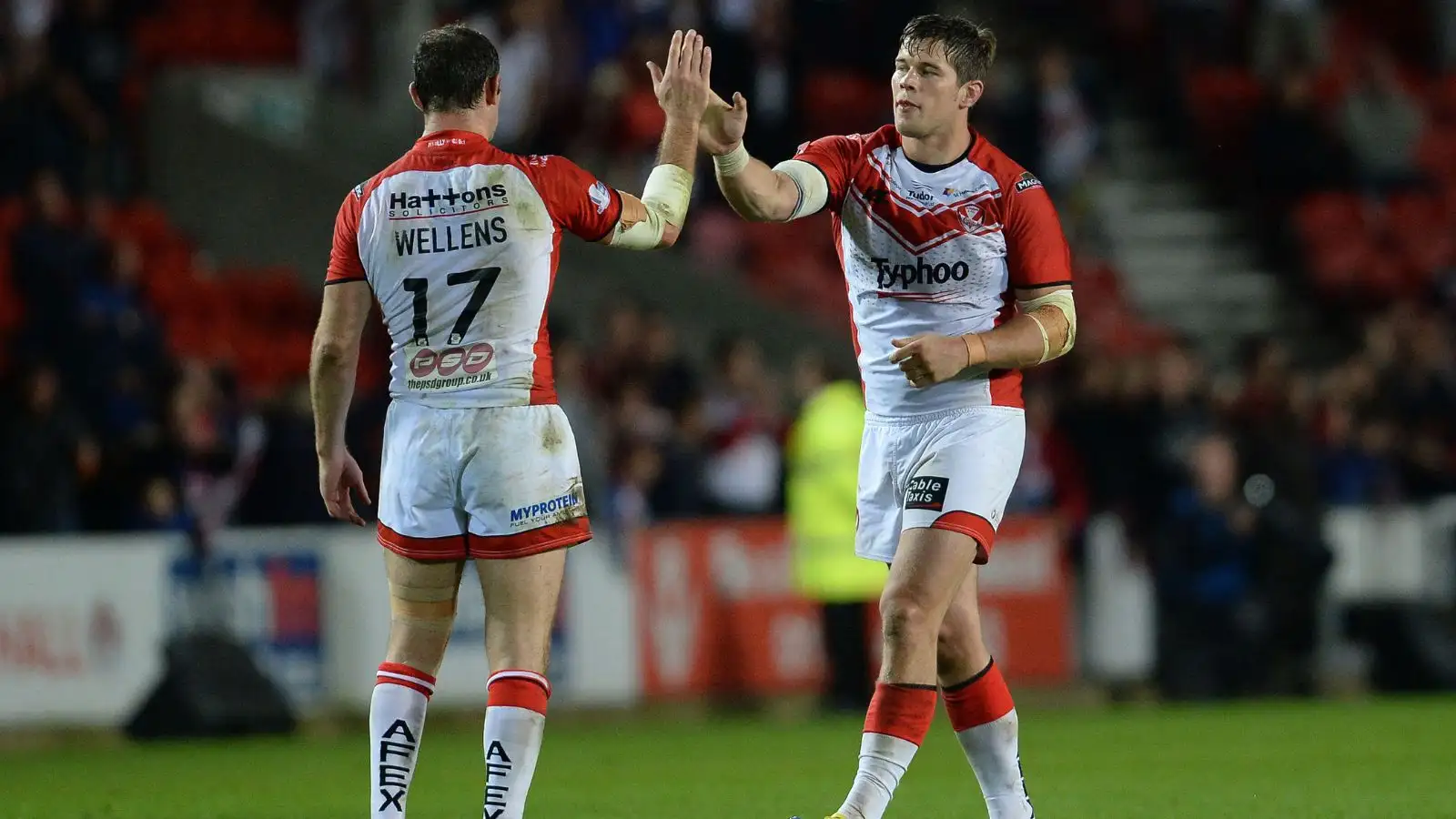 When Londoner Louie McCarthy-Scarsbrook first walked through the doors at St Helens in 2011, he thought he'd only be spending a few years up north. 13 seasons later, as he prepares to bow out of the game, former teammate turned head coach Paul Wellens says his replacement has huge shoes to fill, both as a character and a player.
McCarthy-Scarsbrook's decision to retire at the end of 2023 was confirmed by the club last night. Having spent such a long time on Merseyside, he has no plans to leave the area, and will take up a role in the local Fire Service next summer.
Wellens played alongside the prop for five years before retiring himself, winning the 2014 Grand Final together with victory over bitter rivals Wigan Warriors at Old Trafford. The perfect ending for the forward – and still very much a possibility – would be to do the exact same again this year.
The boss paid tribute to the comedic cockney he and the rest of the locals have taken to their hearts over the last 12 years since he arrived from Harlequins.
St Helens coach Paul Wellens leads praise of retiring stalwart Louie McCarthy-Scarsbrook
Under embargo, Saints revealed the news to the media on Tuesday afternoon's pre-match press call looking ahead to tomorrow night's home game against Hull FC.
Asked to say a few words on LMS, Wellens spoke from the heart, saying: "He's been incredible. Being a St Helens boy, I love it people come here from other places, and Louie is our local cockney.
"He's really took St Helens to his heart, not just the club but the town and the community. He does a lot of work within the town and with his partner on charities, so he's someone that's bought into everything that we're about.
"A wonderful person, he's got a wonderful family, and he's certainly going to be missed when he's no longer in and around the team day to day.
"Louie, with anybody who comes through the door, goes above and beyond to make them feel welcome here, feel a real part of the place. That's why he's going to be really difficult to replace."
Veteran forward bows out a club legend alongside James Roby
Even if Saints fail to make and win the Grand Final this year, McCarthy-Scarsbrook bows out having been a huge part of the club achieving unprecedented success in recent years.
Winning all four of the most recent Super League titles, a feat not achieved by anyone before, he also lifted the World Club Challenge trophy at the start of the season when the Red Vee defeated Penrith Panthers down under.
The 37-year-old will hang up his boots at the same time as another legend of the game in James Roby, with Wellens highlighting the importance those two still hold to his squad every single day.
He added: "Louie came to the club when we were playing out of Widnes for a season, and then we obviously moved into a new stadium.
"We had a couple of years where we weren't quite getting the results that we wanted, but Louie is the type of character that learns from his experiences and he's someone that has been pivotal to the success that we have had. I think that's because he's one of quite a few here who've seen it when it's not been quite as good as it has been in recent years.
"He's been a huge driver behind the culture and the standards that have made this team successful, but what Louie has an unbelievable ability to do is to bring some humour and really make the place a light-hearted environment. That's particularly important when things can be very serious a lot of the time.
"We talk about Louie the person, what a joker he is and how good it is to have him around the place, but what a player and what a competitor. He's such an athletic player, even to be doing what he's doing now at the age of 37.
"At the ripe old age of 37, alongside James, he's still leading the way in terms of professionalism and how to approach situations, how to show resilience, all the different qualities you need to show to have a long and successful career. Both Robes and Louie are great role models for any young player, or any player at that no matter how old they are."
READ NEXT: Class of 2023 – The Super League stars who will retire at the end of the season