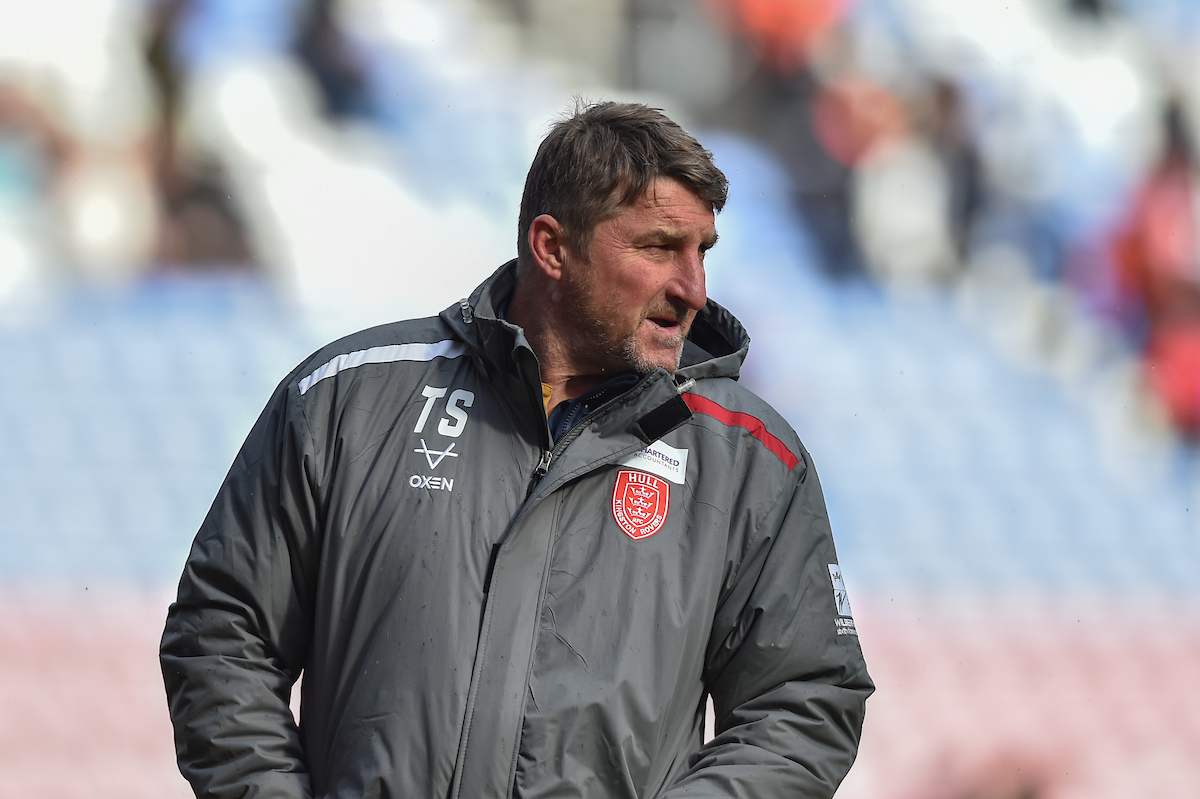 A wrap up of the latest news in rugby league.
What's on site
Wigan coach Adrian Lam says he is excited by the state of the club and remains positive for the future of the game.
Paper Talk: Behind closed doors realistic, Hansen wants expanded Super League & Hull's wage cut revealed.
Warrington fan James Messenger is our latest guest on My Set of Six. He talks Justin Hodges, Belle Vue and Warrington's 39-26 Challenge Cup semi-final win over Wigan back in 2009.
The National Conference League has been suspended for 2020 – but there will be a regionalised group of fixtures.
RFL chief executive Ralph Rimmer has highlighted the impact rugby league has made on working class communities.
What's in the papers
Rugby league clubs are the beating heart of their community and must survive, reports The Guardian.
Hull KR coach Tony Smith's warning – look after club owners or lose them, reports The Yorkshire Post.
Leeds legend Barrie McDermott says rugby league will follow football's lead, reports Yorkshire Evening Post.
Hull FC owner Adam Pearson's warning about behind closed doors Super League games, reports Hull Live.
Super League faces contract minefield if season goes into December, reports The Sun.
What's on social
Fair point…
How is getting paid less than 15k year to play at the highest level in the country acceptable? Robbery 🤯 https://t.co/fhJRt6B1Os

— George Williams (@George7Williams) April 27, 2020
We feel John Bateman's pain.
Me sat waiting for May 4th to be back in training with the lads like…..😫 pic.twitter.com/y0PvRBlNBI

— John Bateman (@johnbateman1) April 28, 2020
It seems a lot of people aren't happy with the '#RFL125' voting options.
There's no other way to put it, but this is a fucking disgrace. The top five player and coach lists were an abomination but at least could be passed off as opinion. This one is a shambles. Three of the five choices aren't even from Ashes series!!!! Who is producing this garbage? https://t.co/0tz2fP3Nb8

— RichdelaRiviere (@RichdelaRiviere) April 27, 2020
What's on TV/Radio
Former Super League and NRL forward Keith Mason is this week's guest on The Last Tackle. He talks about his switch to the NRL at 20 as well as his new rugby comic – Rugby Blood.
Super League's Out Of Your League podcast is back, featuring Jon Wilkin and Mark Flanagan.
Sky Sports' Golden Point podcast is available to download now.
Podcast: The Final Hooter #4 – featuring rugby league royalty Ellery Hanley.
The latest Forty20 LIVE podcast is out now.
The latest 5 Live Rugby League Podcast is out now, hosted by Dave Woods.
Birthdays
Former Wakefield, Castleford and Sheffield hooker Richard Goddard turns 46 today.
Also celebrating; Leeds hooker Brad Dwyer (27), Doncaster prop Russ Spiers (29) and Sydney Roosters hooker Craig Garvey (27).
Trivia
Lewis Jones holds the record for most points in a rugby league season, with 496 (36t, 194g) for Leeds in the 1956-57 campaign.
Watch our Last Tackle podcast, featuring a guest, every week. SUBSCRIBE to Love Rugby League on YouTube.
Listen to The Final Hooter podcast, featuring exclusive interviews, every week. 
SUBSCRIBE
 to Love Rugby League on Apple Podcasts.