Rugby league star turned fireman: Adam Higson enjoying life after league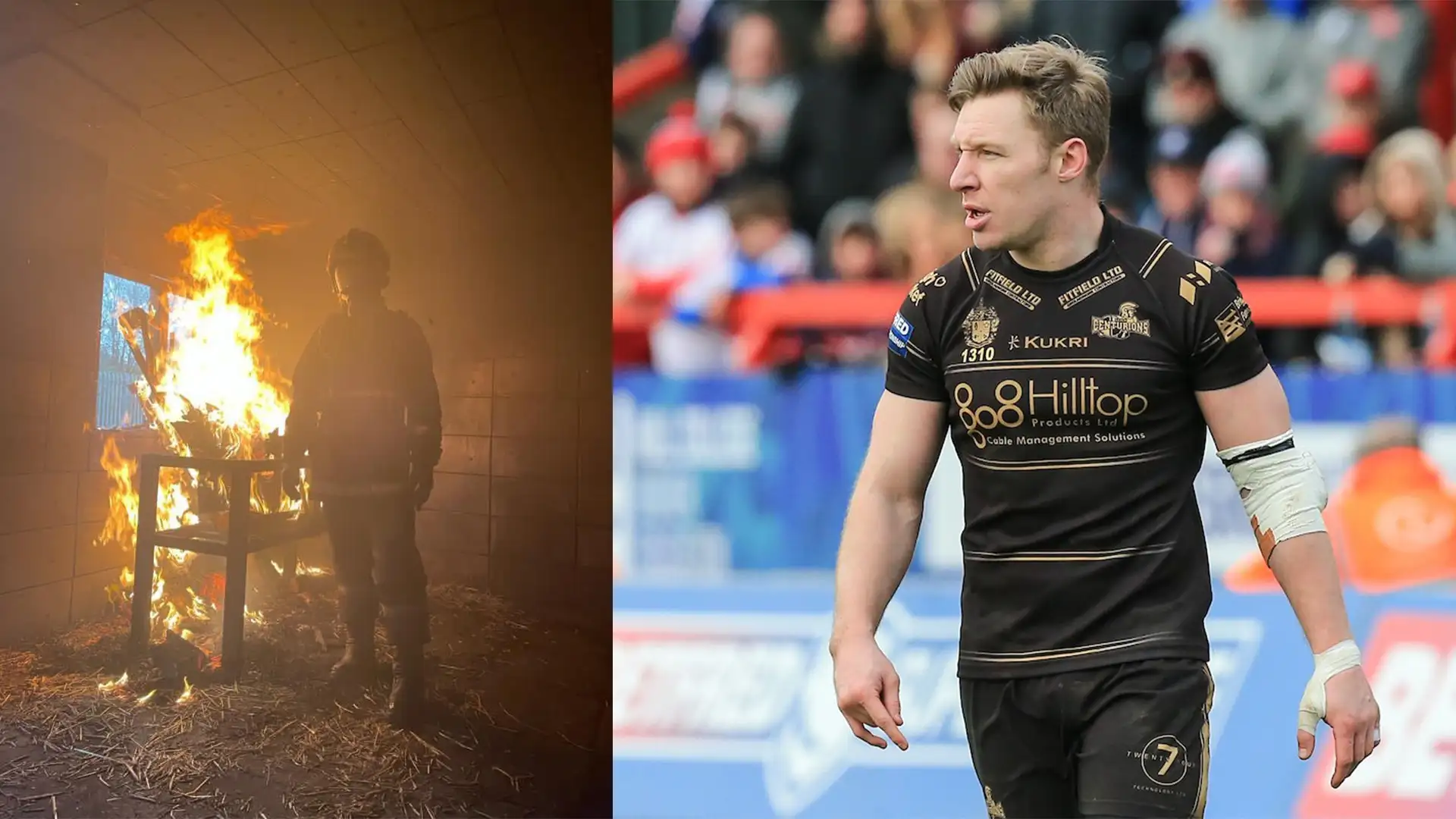 Former Leigh favourite Adam Higson is enjoying life after rugby after joining the fire service.
The 33-year-old winger made 165 appearances for hometown club Leigh between 2009-20, scoring 75 tries as well as impressing in spells with Swinton and Toronto Wolfpack.
But last year Higson, who has also got qualifications in bricklaying and personal training, made the tough decision to hang up his boots early after his application to join the fire service was successful.
He said: "I was thinking about life after rugby at the time and I spoke to other people who told me to make sure I've got something in line and the fire service was always something I've wanted to do.
"It was a case of if I apply and if I get into the fire service, then brilliant and if not, then I'd just keep applying until I do. Luckily enough I got in first time.
"I was honest with John Duffy at Leigh and he was really good with me to be honest. He told me to just keep him posted with what's going on and I just had to let him know that I'd got in and was going through the process of the applications, interviews and everything else.
"I would've been quite happy to finish that season off last year and hang my boots up and finish on my terms but not many people get to do that. I was enjoying the start of last season with all the lads and it was just unfortunate that COVID happened and I started in the fire service so I couldn't play full-time. I wasn't really interested in playing part-time anywhere else other than at Leigh.
"The idea was that if I got into the fire service then I'd give the coaching staff my work schedule so they'd know when I could and couldn't train and play and that we would just work around it. I wasn't interested in doing that anywhere else other than at Leigh, so that was my idea.
"I've had a good time playing. I've enjoyed my time at Leigh and I'm happy with what I've done, so I've got no regrets."
Higson was on a night shift when the Centurions faced rivals Wigan in their return to Super League last Friday.
He and his work mates watched the game on the TV, and Higson says he enjoyed watching on as supporter of Leigh.
He continued: "I think that was what made me realise I made the right decision.
"I've not missed pre-season, I still speak to some of the lads now and as much as it is good getting fit, it is never nice and pre-season is really hard work.
"I thought when the game started was when I'd really miss it but I was working nights and I was sat there with all the lads, we had it on Sky TV while having dinner and a brew watching it and I enjoyed doing that, sitting down and appreciating the game.
"I was surprised with how invested I was in it to be fair. I really wanted the boys to do well and I was shouting for them – but I didn't wish I was playing, so that tells me I've made the right choice. I don't miss that feeling, especially waking up sore the day after.
"To step away from it, you appreciate how good it is at the time but you always start to appreciate that life is really good after rugby as well."
Higson, who helped Leigh win promotion to Super League in 2016, scored a total of 97 tries in 198 career appearances.
Subscribe to The Final Hooter on Apple Podcasts and get involved with the free-to-play Fantasy Rugby League 2021.
Rugby League Nostalgia is here! Get involved with Love Rugby League's new group on Facebook to share all your rugby league nostalgia and celebrate the rich heritage of our sport.