2021 Rankings: Top try and points scorers in Super League, Championship and League 1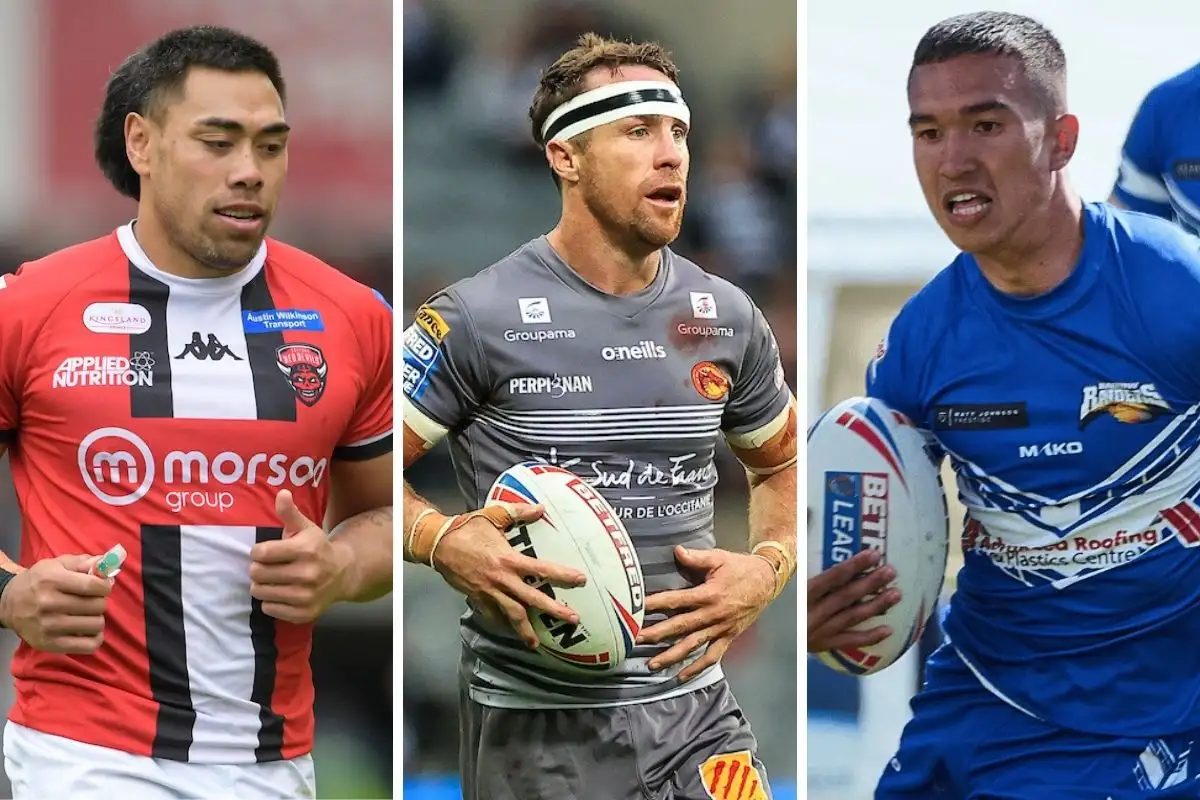 Salford winger Ken Sio finished the regular Super League season as the competition's top try scorer with 19 to his name.
Warrington's Castleford-bound centre Jake Mamo came second with 16, with Hull KR winger Ryan Hall in third with 15.
Catalans' goal-kicking half-back James Maloney sits at the top of the points scoring charts with 227 to his name.
In the Championship, Featherstone winger Gareth Gale is leading the way for tries with 27, one try in front of his team-mate Craig Hall in second.
North Wales Crusaders winger Rob Massam and Barrow speedster Tee Ritson finished joint top of the League 1 try charts with 22, six tries in front of Workington's Brad Holroyd in third.
Super League Tries
1 Ken Sio (Salford Red Devils) 19
2 Jake Mamo (Warrington Wolves) 16
3 Ryan Hall (Hull Kingston Rovers) 15
4 = Tom Davies (Catalans Dragons) 14
Fouad Yaha (Catalans Dragons) 14
Super League Goals
1 James Maloney (Catalans Dragons) 101
2 Rhyse Martin (Leeds Rhinos) 83
3 Mason Lino (Wakefield Trinity) 75
4 Lachlan Coote (St Helens) 72
5 Stefan Ratchford (Warrington Wolves) 71
Super League Points
1 James Maloney (Catalans Dragons) 227
2 Rhyse Martin (Leeds Rhinos) 178
3 Lachlan Coote (St Helens) 172
4 Mason Lino (Wakefield Trinity) 171
5 Stefan Ratchford (Warrington Wolves) 146
Championship Tries
1 Gareth Gale (Featherstone Rovers) 27
2 Craig Hall (Featherstone Rovers) 26
3 Abbas Miski (London Broncos) 18
4 Deon Cross (Widnes Vikings) 17
5 = Fa'amanu Brown (Featherstone Rovers) 15
Gideon Boafo (London Broncos) 15
Lachlan Walmsley (Whitehaven) 15
Championship Goals
1 Craig Hall (Featherstone Rovers) 85
2 Chris Hankinson (London Broncos) 79
3 Lachlan Walmsley (Whitehaven) 71
4 Mark Kheirallah (Toulouse Olympique) 66
5 Kieran Dixon (York City Knights) 59
Championship Points
1 Craig Hall (Featherstone Rovers) 274
2 Lachlan Walmsley (Whitehaven) 202
3 Chris Hankinson (London Broncos) 198
4 Kieran Dixon (York City Knights) 162
5 Mark Kheirallah (Toulouse Olympique) 152
League One Tries
1 = Theerapol Ritson (Barrow Raiders) 22
Rob Massam (North Wales Crusaders) 22
3 Brad Holroyd (Workington Town) 16
4 Matty Chrimes (Hunslet) 14
5 = Jack Miller (Keighley Cougars) 12
Brenden Santi (Keighley Cougars) 12
League One Goals
1 Jack Miller (Keighley Cougars) 96
2 Carl Forber (Workington Town) 67
3 Tommy Johnson (North Wales Crusaders) 61
4 Matty Beharrell (Doncaster) 55
5 Dan Coates (Coventry Bears) 54
League One Points
1 Jack Miller (Keighley Cougars) 240
2 Tommy Johnson (North Wales Crusaders) 158
3 Carl Forber (Workington Town) 154
4 Matty Beharrell (Doncaster) 147
5 Dan Coates (Coventry Bears) 141
Thanks to RFL statistician Dan Spencer