Life after League: Eorl Crabtree Q&A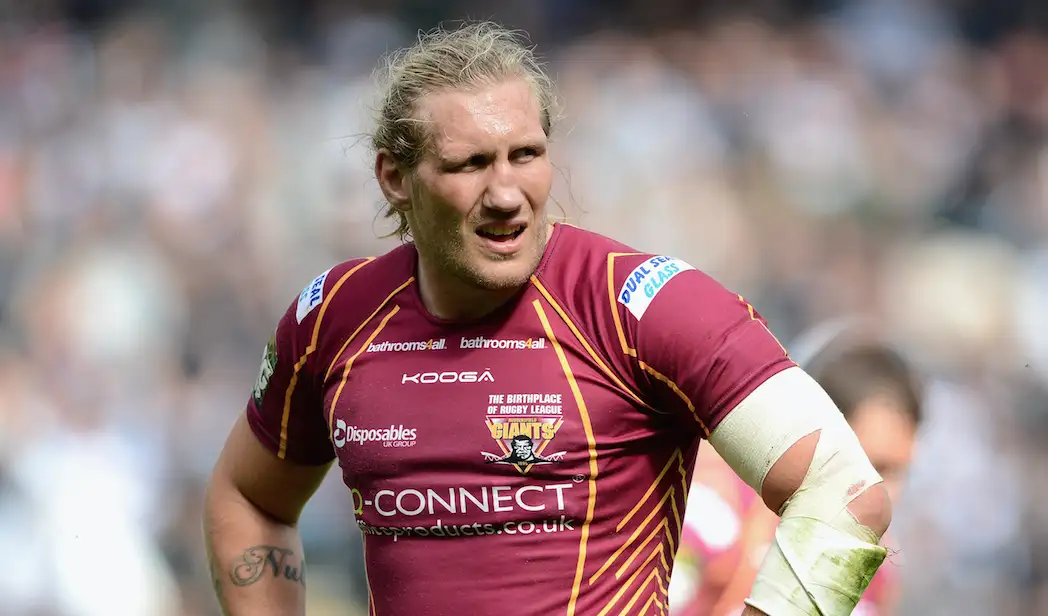 We caught up with former Super League star Eorl Crabtree to see how life after league is treating him.
The Huddersfield legend made his Giants debut in 2001 after signing with the side at the age of just 17 and went on to be a part of the team for his entire 18-year long career.
The big prop, nephew to Wrestling superstar Big Daddy, went on to make 423 appearances for the club. He won the League Leader's Shield in 2013 and is a two-time Challenge Cup finalist.
Crabtree, once a Super League Dream Team prop in 2014, also appeared for England on representative level and became the first Giants player in the Super League era to be presented with a place in the Huddersfield Rugby League Hall of Fame.
He announced his retirement from the sport in November 2016 and was soon appointed the club's Ambassador, a role he still has to this day.
We caught up with Eorl to discuss life away from the playing field…
Eorl, what were your career highlights across your long and successful playing days?
"The ones that stand out at the back of my mind are Challenge Cup games in 2006 and 2009 against Warrington and St Helens. The biggest game I've ever played in my career is one of the Four Nations games at the John Smith's Stadium against New Zealand. I started that game and played well and went to the final and it was also our first final. We played Leeds Rhinos at Odsal in 2006 in the semi-finals and weren't expected to win. We were the underdogs and won 30-12. It was a great game and our first time to the final."
How does it feel to be one of the handful of players that stayed at one club?
"I always wanted to play for Huddersfield. I decided not to move and it's not something I worry about at night, I sleep quite well knowing I played for my hometown for 18 years and played over 400 games. It means a lot more than chasing a trophy, so I try to do the best I could by the club. I want to see the club succeed and be successful and that's why I'm still here."
Do you have any regrets from your time as a player?
"I don't have one regret. It's quite easy to say that I should have done things differently, like going to different clubs and playing for England more times. I'm very fortunate and privileged to have been a sportsperson for 18 years. It's almost like I offend people when I say this, but I don't miss playing one bit. I enjoyed being a part of it but I found it very tough. After a few years off, I now feel amazing and in the best shape I've been in for years and I could play tomorrow. I love the sport and it's a novelty to be able to watch it and enjoy it from a fans perspective. I want to see it keep growing and progressing. I'd love to be a part of it off the field."
How tough was the decision to retire?
"It was a decision out of my hands to be honest. Rick Stone didn't see me in the salary cap in the future and restrictions saw me step aside so I needed to make a big decision; do I retire or move somewhere else for a year or two or do I finish at Huddersfield and carry on working with them? I still believe I could have carried on a year or two but it gave me an opportunity to carry on my future a bit more. I knew it was coming to end, I just didn't want it to right then because I could have carried on but it was perfect opportunity for me to start thinking about the rest of my life. Another 30 years of my working life, I enjoyed it and it was a good decision in the end."
What career path did you decide to take once you had retired?
"It's a strange one. Most rugby players get to the end of their career and don't know what is out there. As a player you're in a rugby league bubble and it's very difficult to gage what you can and can't do. There are a lot of attributes but in the outside world they can adapt skills and these skills are transferable. I spent a lot of time working for different people, like the BBC, and I learnt a lot. I'm now a club ambassador for Huddersfield. I do a lot; talk to people in boxes, engage new fans and get to them to our games and I have a coaching role. It's a very varied role and something I'm learning about at the moment. One day, I'll do something else.
"I'm an ambitious person. I have a long time left in work and I think do I see myself doing what I am doing forever? It won't mean I won't be at Huddersfield. I would love to be here for the rest of my working life and love to see the club progress but eventually I want a different role that's more structured and one that I will enjoy. I'm excited about the future."
We have seen you on BBC coverage, amongst other things. Could this be a possible career path in the future?
"I have loved working with the BBC and to work for the World Cup final was unbelievable. Work has dried up a little bit, especially Sky, as a lot of people have cemented their positions.
"There aren't many positions (in rugby league punditry) and not as much money like football. It's nice as a bit of pocket money but it's not enough to cover a mortgage. I can't rely on it and can't depend on it."
Lastly, what are your predictions for Huddersfield this season?
"If you had asked me three weeks ago I would have said fighting for relegation but we are now fighting for top eight. We have a new coach, players coming back from injury and I'm excited. It's a new brand of rugby, Chris' [Thorman] influence has been amazing and he has had conference calls over skype with Simon [Woolford] and for some reason it has been working. The lads are more positive and off the field and its looking good."