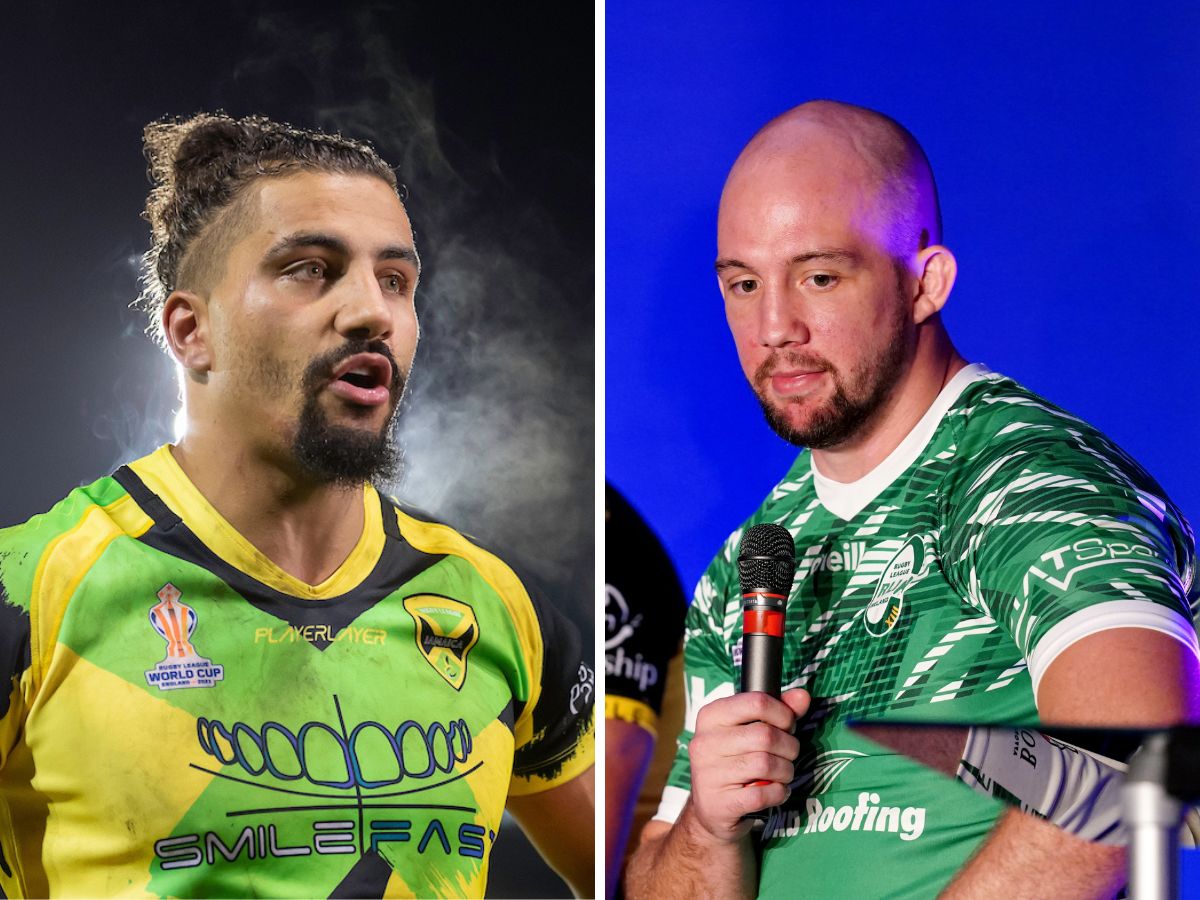 Everything you need to know – Jamaica v Ireland
Debutants Jamaica will play their first-ever game in a Rugby League World Cup on Sunday when they take on Ireland at Headingley.
The Reggae Warriors are in a group alongside Ireland, Lebanon and New Zealand for their first World Cup tournament.
Jamaica face a strong Ireland squad which is made up largely of NRL and Super League players. The Wolfhounds have a strong spine featuring Richie Myler (Leeds), Luke Keary (Sydney Roosters), Joe Keyes (Halifax) and Josh Cook (Canterbury Bulldogs).
Ged Corcoran's Ireland side are targeting the quarter-finals as a minimum this year.
Here's everything you need to know about the match…
Match details
Jamaica v Ireland
Date: Sunday, October 16
Kick-off time: 5pm
Venue: Headingley, Leeds
Group C
Jamaica v Ireland team news
Jamaica 19-man squad: 1 Ben Jones-Bishop, 2 Mo Agoro, 3 Joe Brown, 4 Jacob Ogden, 5 Alex Young, 6 James Woodburn-Hall, 7 Kieran Rush, 10 Michael Lawrence, 11 AJ Wallace, 13 Ashton Golding, 15 Jordan Andrade, 16 Keenen Tomlinson, 17 Aaron Jones-Bishop, 18 Abevia McDonald, 19 Bradley Ho, 20 Greg Johnson, 21 Ross Peltier, 22 Chevaughn Bailey, 24 Andrew Simpson.
Ireland 19-man squad: 1 Richie Myler, 3 Ed Chamberlain, 4 Toby King, 5 Innes Senior, 6 Luke Keary, 7 Joe Keyes, 8 Liam Byrne, 9 Josh Cook, 10 Jaimin Jolliffe, 11 James Bentley, 12 Frankie Halton, 13 George King, 14 James McDonnell, 15 Harry Rushton, 16 Brendan O'Hagan, 17 Dan Norman, 20 Louis Senior, 21 Ronan Michael, 22 James Hasson.
What the two camps are saying
Jamaica coach Romeo Monteith said: "The dream is now reality. It's a really good feeling that we are a few days away from the World Cup. It's a moment for the staff to savour and the people back on the island. It is a great time to be a supporter of Jamaica rugby league and international rugby league."
Ireland superstar Luke Keary said: "For Ireland Rugby League it is exciting times. Hopefully we'll get some boys who will pledge (their commitment) to Ireland; and that we'll get some boys coming through the Super League and NRL systems who want to come and play."
How can I watch the game on TV?
BBC Two, 4:30pm | BBC iPlayer
Every game across the men's, women's and wheelchair World Cup tournaments is being broadcast by the BBC.
The match will also be available to view on the BBC iPlayer, the BBC Sport website and the BBC Sport mobile app.
LIST: How to watch every Rugby League World Cup game on the BBC
Odds and predictions
Jamaica go in to the game as huge underdogs according to Planet Sport Bet, who have Ireland at 1/80 to come out on top.
If you fancy backing the outsiders, the Reggae Warriors are priced at 16/1 to taste in their first World Cup.
If Ireland are serious about making it out of the groups, then they need to be winning this one against the newcomers.
The Ireland squad is just too strong. I fancy the Wolfhounds to win the game comfortably, by at least 20 points.
More World Cup content
RLWC2021 – Scotland v Italy: Team news, how to watch on TV & predictions
Teacher, fighter & champion coach: Jason Taumalolo in awe of Kristian Woolf
Scotland unveil World Cup squad numbers in coolest way possible
FOLLOW: Keep up with all the latest on the Love Rugby League mobile app and podcast