French Elite Championship Grand Final to be played at Stade Ernest Wallon, Toulouse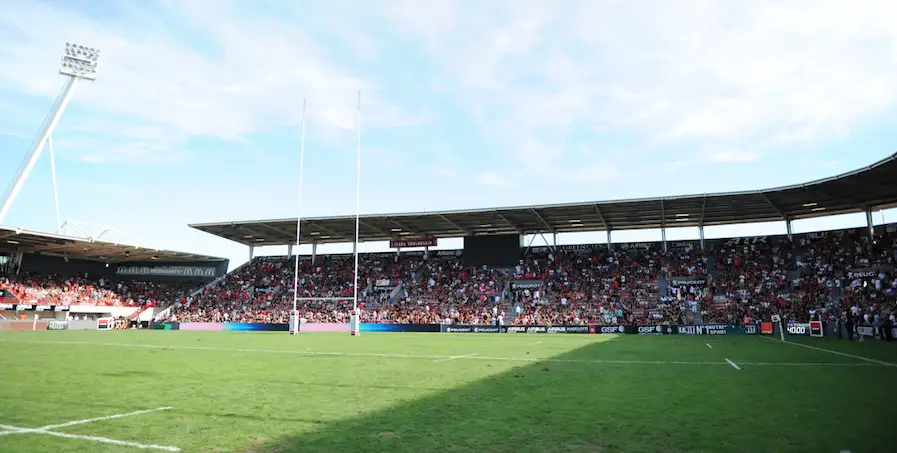 The Elite 1 Championship Grand Final will be held at Toulouse's 19,000-capacity Stade Ernest Wallon on Sunday June 20.
The regular season comes to an end in the next fortnight, and while the six teams in the play-offs are known, there are still positions to play for.
Bottom side St Gaudens have still got four games to play, and they will travel to Carcassonne for a midweek match on May 26. Their home game against Villeneuve will now be held on the weekend May 2930, with everyone else due a week off prior to the play-offs.
The first round of the play-offs, which sees 3rd play 6th and 4th play 5th, is on June 5/6, with the two winners going to play the teams that finished 1st and 2nd on the weekend of June 12/13.
Players will have to undertake two COVID antigen tests per week, to comply with health rules and protocol.
The latest on the pitch
The road to the Grand Final took on increased intrigue with the league results at the weekend, which saw top two Carcassonne and St Esteve both lose to play-off rivals.
Limoux handed Carcassonne their first home defeat of the season, winning 16-12 at Stade Albert Domec in a game that saw three yellow cards in the first half.
Tony Maurel's try and two Allan Torreilles goals put the Grizzlies 8-0 in front, but Carcassonne led 10-8 at the break thanks to Vincent Albert and Sophien Bitigri.
Zachary Santo's long-range try swung the game back in Limoux's favour and they held on to win.
Coach Maxime Greseque told TreizeMondial: "Congratulations to all my players who were able to go for this victory and win the derby. The group is in a good dynamic and we must continue to work hard together. All of the top six teams are very close to each other and anyone can beat anyone. The playoffs will be open and very close."
Avignon re-affirmed their status as contenders for Grand Final glory as they beat second-place St Esteve 38-30.
The Bisons will be one to avoid in the play-offs, and although they cannot finish in the top four, this result shows they are more than capable of winning away at any of their play-off opponents.
Although the loss of Tony Gigot to Toulouse is a blow, they led 18-6 at half time in this one thanks to Romain Pourret, Corentin Rey and Hugo de Monte.
They proved too strong for St Esteve in the second half, leading 38-12 at once stage, before the Catalans restored some pride late on, earning a defensive bonus point through Ugo Perez's late try.
Elsewhere, Albi cut loose in the second half to turn a 12-all half-time score into a 48-24 win over Toulouse.
Third-placed Lezignan got the better of Palau in a high scoring game, winning 40-30 to ensure they remain above Limoux in the table.
Injury blow
Leaders Carcassonne have been dealt a double injury blow, which rules Lucas Albert and Vavae Tuilagi out for the rest of the season.
Albert is due to join Toulouse in the Championship at the conclusion of the French season, and has had meniscus surgery, while rugby union convert Tuilagi has an arm injury.
Elite Championship Results
Carcassonne 12-16 Limoux
St Esteve 30-38 Avignon
Albi 48-24 Toulouse
St Gaudens P-P Villeneuve
Palau 30-40 Lezignan
Elite Championship Table
Elite Championship Fixtures
Weekend 15/16 May
Villeneuve v St Esteve
Toulouse v Carcassonne
Lezignan v Albi
Limoux v St Gaudens
Avignon v Palau
Weekend 22/23 May
Avignon v St Gaudens
Lezignan v St Esteve
Wednesday 26 May
Weekend 29/30 May
Weekend 5/6 June
Weekend 12/13 June
1st v 3rd/6th
2nd v 4th/5th
Sunday 20 June