Five things we learned this weekend: Tomkins is next England captain, Salford and more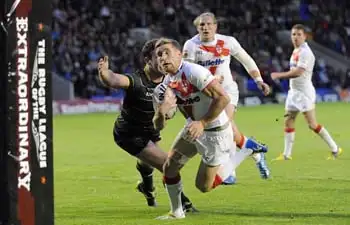 One – Sam Tomkins is England's next captain
Tomkins taking the armband for the second half of Friday's International Origin clash after Kevin Sinfield dislocated his thumb was a clear sign that when Sinfield relinquishes the role, it will be the Wigan (or New Zealand Warriors) ace that will take over. Steve McNamara's decision on his vice-captain is also another welcome indication that Tomkins' future is in rugby league and almost certainly the NRL, rather than joining his brother Joel in rugby union. McNamara's focus on long-term planning would have surely taken him to another candidate had Tomkins' future been in the 15-man code.
Two – Brian McClennan doesn't toe the party line
All the noises coming out of England were positive and upbeat.
"We were very happy," said Steve McNamara, while Kevin Sinfield insisted: "I'm really pleased." Even Sam Tomkins – "it was perfect preparation" – chipped in.
But someone forgot to give the script to Exiles coach McClennan, who was distinctly off-message with his assessment of whether he'd been impressed by McNamara's men.
"Not particularly," he said. "It was a pretty loose game in general and I don't think it was all that fast. I thought it was pretty slow."
Those comments could be classified as one of two things; sour grapes from a losing coach, or a worryingly honest appraisal of the national team just over four months from the start of the World Cup.
Take your pick.
Three – Sometimes it's better just to keep your mouth shut
Friday morning's announcement that Salford had been deducted two points for fielding 14 players shocked just about everybody. They had originally been fined £10,000 on May 8, but while an appeal hearing halved that fine, they also imposed a two-point penalty that drops the Reds to the foot of the Super League table. "We're extremely disappointed," said Marwan Koukash. "We feel we're being victimised."
It's easy to see why Salford might feel aggrieved, but it's also good to see the RFL finally showing some bite with their punishments. As for Koukash keeping his mouth shut – what on earth would we write about?
Four – South Yorkshire is guaranteed a finalist in the Northern Rail Cup
The semi-final derby between Doncaster and Sheffield, while Leigh and Batley meet in the other tie, guarantees three out of four clubs at the Northern Rail final day will come from outside the M62. London Skolars and North Wales Crusaders are already confirmed in the Northern Rail Bowl final.
Throw into that mix the possibility of Catalan reaching a second Challenge Cup final – the Dragons are currently third favourites for the sport's oldest trophy – and rugby league's slow and steady growth is there for all to see.
Five – North Wales Crusaders are not invincible
Speaking of slow and steady growth, huge congratulations to Hemel Stags for today's 18-10 victory over Clive Griffiths' previously unbeaten North Wales Crusaders. The Stags are a perfect model of what can be achieved given time, consistency and patience. Coach Troy Perkins deserves enormous credit and today's result only goes to strengthen the belief that their entry in Kingstone Press Championship One was the right decision.
Tell us what you learned this rugby league weekend in the comments box below.