England Wheelchair rugby star taking inspiration from Luke Gale and Nathan Cleary
It means everything for Tom Halliwell to be able to represent his home nation – and now his focus is on taking the 2021 World Cup by storm. 
The 21 year-old has earned 20 caps for England Wheelchair Rugby League since making his international debut against Wales in 2015.
He plays in the halves for the Leeds Rhinos Wheelchair team but playing the game that he loves didn't start out on two wheels for him.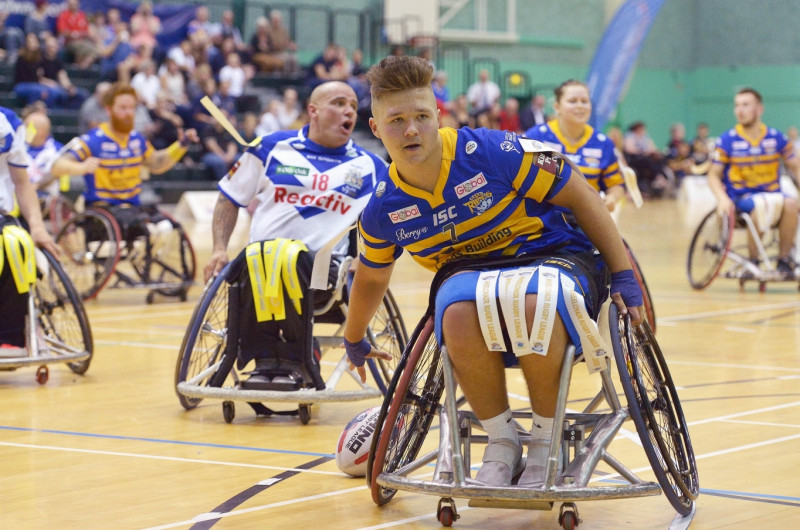 Halliwell said: "I first got into wheelchair rugby after suffering a broken leg whilst playing junior rugby for the Oulton Invaders around the age of 13.
"Luckily, I found the format and it allowed me to play whilst I was recovering from injury. My cousin, who started playing due to being visually impaired, invited me over for a wheelchair training session and I instantly fell in love with the game.
"I get inspiration from players such as Luke Gale and Nathan Cleary who both play in my position at the elite levels of the game.
"It is great to be able to watch how they play the game and learn some skills that are transferable into wheelchair rugby knowing that I can take that knowledge into training and into games.
"I have made plenty of memories representing England such as being the first team to beat France in their own backyard as well as captaining my country in the home nations success' against Wales and Scotland."
England Wheelchair's impressive Ashes campaign back in 2019 placed them as one of the top nations in the world, recording two convincing victories against the Australian Wheelaroos.
He added: "Getting the opportunity to play against countries and build rivalries with them like the elite do is something I love about the sport.
"Next year's World Cup looks set to be the most inclusive that the sport of Rugby League has ever seen and the prospect of taking part in it is mouthwatering.
"Winning the Ashes series has to be one of my favourite moments of my playing career so far and we can take a lot of confidence from that heading into next year.
"A World Cup win on home turf in 2021 would mean so much to everyone involved and it is our responsibility as players to make sure that it happens."