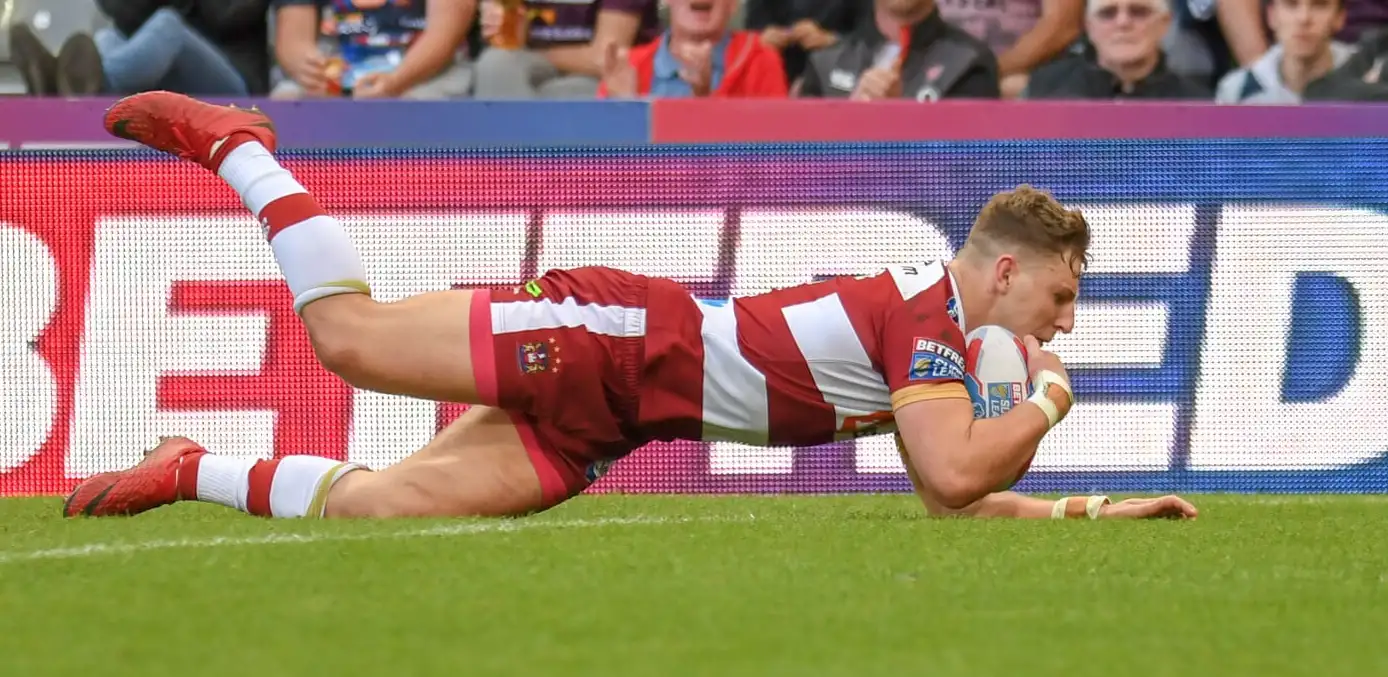 We did a Yorkshire Dream XIII earlier in the season, so this time we focus on a potential Lancashire Dream XIII… 
Full-back: Jonny Lomax
Residing from Higher End, Wigan, it is no question that Lomax is one of the most versatile players in Super League, capable of filling in a handful of positions from fullback to winger and even as a halfback. Lomax presents a constant danger for his ability to be quick off the mark and his versatility all in all makes him a huge threat. After returning from a series of injuries in 2016, Lomax has shown no signs of rustiness picking up right where he left off as well as finding a regular place in the England side.
Wing: Josh Charnley
The former Chorley Panther and Wigan St. Patrick alum has been an ever present offensive threat throughout his time in rugby league. He would showcase himself as a natural try scorer during his time at Wigan and to put this alongside an underestimated goal kicking ability, Charnley could be a top player for a Lancashire team for some time. Since making his return from Union and joining Warrington this year, Charnley has been a luxury that Wolves have very much needed and enjoyed, scoring 9 tries in 10 appearances for the Wire so far.
Centre: Kallum Watkins
The Rhinos captain may have a spent his entire professional career at Leeds but resides from Manchester and came through the ranks at Salford before joining the West Yorkshire club. At 27 years of age, it still feels as if Watkins has been around for an eternity but since coming back from injury in 2012, the star centre has pretty much been a mainstay for both club and country. A key and integral part of such a dominant Rhinos side in years gone, it would be nowhere near a far stretch into the imagination that he could mirror this at a county level as well.
Centre: Jordan Turner
After joining Salford's academy at the age of 14 from Oldham side Waterhead, Turner rose up through the ranks before making his professional debut for the Lancashire side in 2007. After successful stints with both Salford and Hull FC, Turner signed with the St. Helens in 2013, where he endured his best success to date, winning the Super League title in 2014. After a not so successful time with NRL side Canberra, Turner signed for Huddersfield in time for the start of the season, as he looks to be recapturing some of the red-hot form that made him one of the league's most sought-after players.
Wing: Liam Marshall
The 2017 breakout star has been nothing short of a sensation since making his debut for Wigan last season, thanks in large to some exceptional try-scoring exploits. A record standing at 33 tries in 32 games shows the talent that Wigan and quite possibly Lancashire have at their hands right now. Along with the opportunity to have both Charnley and Marshall on each wing as well presents an absolute lethal pairing to go along with two playmakers at centre.
Stand-off: George Williams
Another former Wigan St. Patricks alum has been a standout performer for Wigan over the last few seasons and the ever progressive five eighth has cemented as one of the Warriors most influential players. A great talent capable of unlocking the defence on a whim with his superb passing skills, make him one of the best stand offs in the league.
Scrum-half: Marc Sneyd
The Oldham born halfback has been one of the most accurate kickers in Super League over the last few seasons, while becoming instrumental in Hull FC's back to back Challenge Cup victories in 2016 and 2017. His unusual goal-kicking style is undeniably effective and has also earned him the Super League top gun award in back to back years.
Front-row: Chris Hill
Not the most prolific prop in Super League but even so is still one of the biggest figureheads in the Warrington set up since joining in 2012. The England international quickly established himself as an integral part of the Wolves side with a great engine and defensive output, making him tough to stop.
Hooker: Sam Powell
A very nimble and agile player capable at filling in at half back, came through the ranks of the Wigan academy and made his professional debut in 2012 for the Warriors. In 2016, Powell held down the hooker position on a regular basis putting in some great displays and would be named Player's Player of the Year as well for that season and since the departure of McIlorum, his game has gone from strength to strength.
Front-row: James Greenwood
The 27-year-old possesses all the traits necessary to be a high impact player both on the offensive and defensive side of the ball. A tough tackling and hard running player who can prove to be menace when representing that red rose of Lancashire.
Back-row: Matty Ashurst
Alongside Wakefield teammate Danny Kirmond in the second row, Ashurst has been a top defensive player for the Wildcats. Over the course of the season, the former Wigan St. Patricks product has shown that defensive prowess and stands as the West Yorkshire side's top tackler so far this season. Also, a match up between both Ashurst and Kirmond could be one worth noting.
Back-row: Liam Farrell
The three-time Super League winner has been a one of the Warriors most consistent and dependable forwards on both the attacking and defensive side for nearly a decade. The Wigan second rower is a born competitor and lining up alongside Ashurst could prove to be a difficult tandem to stop.
Loose forward – Sean O'Loughlin (C)
The 35-year-old has several accolades and accomplishments to his name and has proven time and again he is one of the modern Super League greats. A leader for club and country, who is most certainly a perfect fit for the Lancashire captaincy. A true workhorse who seemingly finds himself all over of the pitch, becoming a threat on both sides of the ball.
Interchange
Tom Davies
Stefan Ratchford
Jack Hughes
Joe Greenwood
Reserve
Jamie Ellis
Jake Bibby
Josh Jones