Chris Thorman: The Geordie that went to the NRL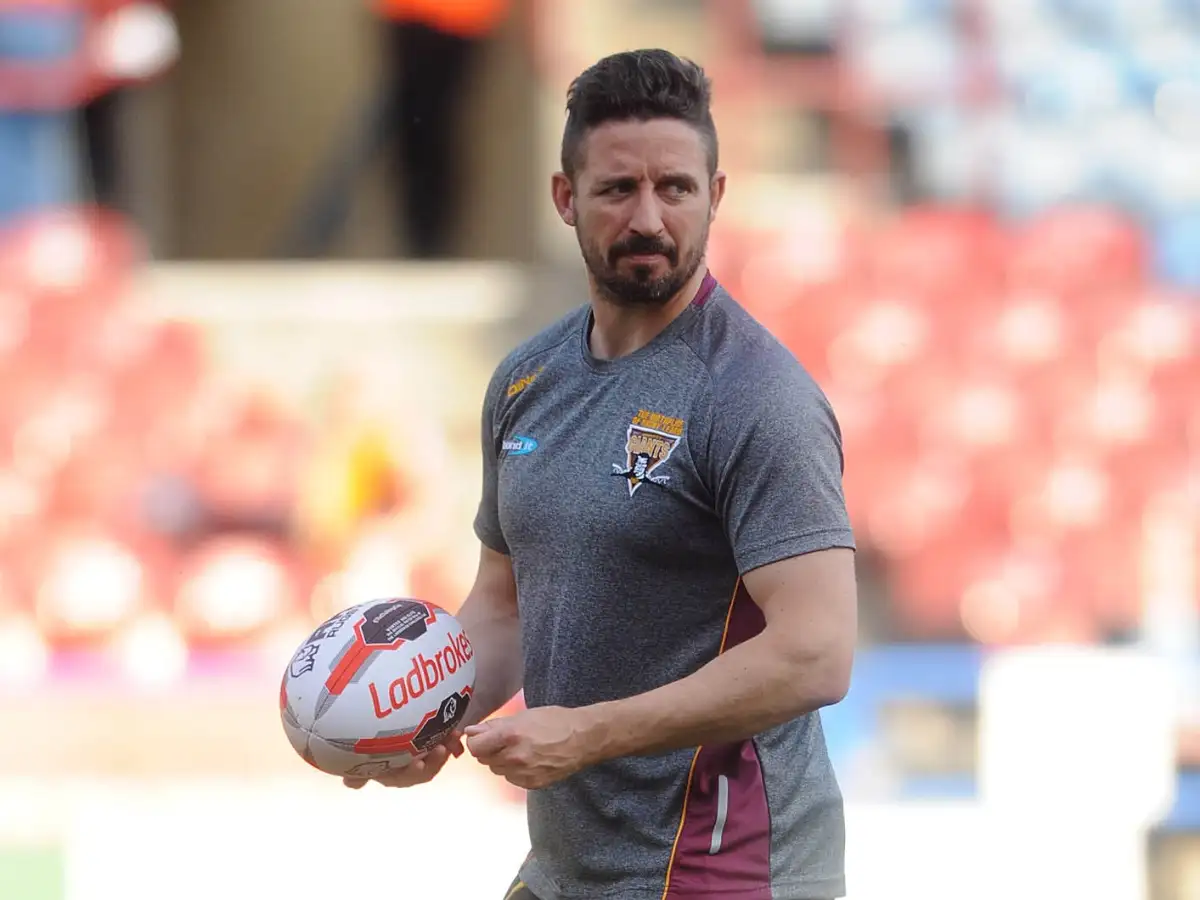 Chris Thorman is on the team bus to Widnes. His phone rings. It's an Australian number. Someone claiming to be Parramatta coach Brian Smith was on the other end.
The Geordie half-back, then 22, just happened to be sat next to Jim Dymock – a Kangaroos international who had joined London Broncos from Parramatta – and so put the call on loudspeaker.
"You're damn right it's Brian Smith, you better start talking nice," Dymock barked.
It was 2003, and Thorman had recently led Yorkshire to Origin glory against Lancashire with a man of the match performance, and was an ever-present in a star-studded London side that would go on to make the play-offs and in the train-on squad for the Great Britain side at the end of the year.
Smith had sought the advice of brother Tony, who was then at Leeds, about the brightest young players in the English game and wanted a half-back.
"He basically said 'would you be interested in coming to Parramatta?' It was a no brainer," Thorman recalled.
"Brian is a formidable bloke, a champion fella. I've probably only been scared of two people in my life – my old man and Brian. He's not a big bloke, but when he spoke, you listened.
"I was only 22 at the time and in hindsight, I probably went a little bit young, but you never know when opportunities are going to present themselves again.
The trouble was, Thorman, who came through at Sheffield and went with the club during the merger with Huddersfield, had already verbally agreed on a three-year deal at Hull
"The first thing I did was call (then Hull coach) Shaun McRae. He was brilliant. He's a really nice fella and he wanted me to sign for Hull, and although it hadn't been signed, we had a gentleman's agreement that it was done.
"From his point of view, he could have stopped me, but he didn't. He said he understood and that although he was disappointed, opportunities to go to the NRL don't happen very often.
"The way Shaun handled it was very professional and understanding, and my opinion of him went up considerably after that because he could have made it awkward, but he didn't."
Thorman would score 20 points as London thrashed Widnes 40-0 in their penultimate regular season game.
He was part of a London team that included the likes of the aforementioned Dymock, top try scorer Dennis Moran, fearsome forwards Steele Retchless, Bill Peden, Mat Toshack and Russell Bawden, as well as some of the brightest English talent like Thorman in Paul Sykes, Rob Purdham and Neil Budworth.
Their season would come to an end a fortnight later with a 24-6 defeat to St Helens in the play-offs at Knowsley Road, Thorman's last game before his big NRL move.
"I had a great time at London. I don't think we appreciated how good that squad was. We were tight nit, we had some great Australians and some of the best young players. We had a really good balance and a great camaraderie, which is so important in rugby league.
"Because we were in London, no one knew who we were, so we could socialise off-field comfortably and that helped.
"Once I'd finished the season with London, I prepared for the move. There was a bit of a visa issue and it took a bit longer than I thought, so I missed the first three or four weeks of pre-season, which wasn't significant but I was conscious of it.
"When I arrived, I was in the thick of it. I had a number of conversations with Brian about how he saw me fitting in the team. I played a few reserve grade games and then got my shot.
"Compared to London, it was chalk and cheese. Parramatta is such a great club with proper die hard fans. When you were playing well, you wouldn't have to buy a drink or pay for good because they loved you that much.
"But then on the opposite side of the coin, when things are going against you, you're scrutinised.
"I loved the lifestyle. It was brilliant, the weather, the training was more enjoyable because the weather was great.
"When I rocked up for pre-season as a pasty Geordie and it was 38 degrees, that was hard work! But I pride myself in my fitness.
"In the first conditioning session they pulled me out half way through and I didn't want to. But they were so ahead of the game from a strength and conditioning point of view. Rugby league has always been innovative and ahead of the curve when it comes to analysis.
"The analysis was unreal. Rugby league has always been innovative and ahead of the curve in that regard.
"So they pulled me out and sat me under you under a tree, you'd have two blokes fanning you with towels while you drank gatorade with a bag of ice on your head, and your team mates are glaring at you thinking how's he getting out of doing this, but because of the way they progress you to get you ready to play, you couldn't go straight in to it.
"My personality won the boys over in the end!"
From Wallsend to a Super League debut at 16 to the NRL. It was quite the rise for Thorman.
He had to wait until round 8 of the 2004 season for his Eels debut – earning him the heritage number 668 – starting at hooker in a 24-20 defeat to North Queensland Cowboys where the Eels had almost fought back from 20-0 down.
Thorman would start a further 10 games, all in the halves, missing just one of the last six games. He helped the side to emphatic wins over Cronulla (44-22) and New Zealand Warriors (48-18), scoring his only NRL try in an early meeting with the Warriors.
The Eels had a star-studded squad, including club stalwarts like Nathan Cayless, Nathan Hindmarsh and Daniel Wagon, as well as the likes of Jamie Lyon, Fuifui Moimoi and Dean Widders.
Adam Dykes was the first choice half-back, and Thorman found himself competing with Michael Witt, James Webster and even a young Tim Smith for a place in the team.
"I totally enjoyed my time there, it changed my attitude towards being a full-time rugby league player. It was next level. You had to be as professional as they come. The competition for places was ridiculous. You might get away with one bad game, but you wouldn't have two, because then you were back in reserve grade and you wouldn't play at all.
"There was an absolute production line of players waiting in the wings."
Although these days every NRL game is broadcast live, and you can watch them all in the UK through Watch NRL even when not on Sky Sports, it was different 16 years ago.
Thorman didn't know a great deal about Parramatta, and frustratingly too, his parents couldn't watch him play.
And in stark contrast to today, Thorman was one of only two British players in the competition at that time – the other was established international Adrian Morley, who was already an NRL winner with Sydney Roosters.
The Eels finished 12th out of 15 – above Manly, New Zealand Warriors and South Sydneys – falling four points short of the top eight play-offs.
Always a keen trainer, he did though bulk up to meet the demands of the NRL – which he partly puts down to Fuifui Moimoi.
"When you live in the same block of flats as Fuifui (Moimoi), you eat a lot more than normal!
"I became great friends with the likes of Nathan Hindmarsh, Daniel Wagon, Nathan Cayless etc, they're all great fellas and we're still in touch now.
"I went in there and they were phenomenal. The team was going through a transition, it was very consistent and I don't know why. You would probably have to ask Brian.
"We had a lot of good players but for some reason we didn't quite click. As a half-back, you're scrutinised the most when the team isn't playing well, but I was happy with my form for most of the time. I was only a young man.
"In hindsight, maybe I should have waited another couple of years before going over there, but you never know if the opportunity will come up again."
Thorman had signed a one-year deal with a one-year option, but had made the decision to return home to take up a four-year deal with Huddersfield from 2005.
He went on to make another 100 appearances for the Giants, before spending a season at Hull FC and then ending his career with a three-year stint at York.
"I'll never forget going in to Brian's office. I'd already signed for Huddersfield. Even though I'm from Newcastle, Huddersfield is like my second home and I've always had an affinity with them and they've been big supporters of me.
"I suppose because I was young, I wasn't sure if Brian was going to activate the second year, and so I'd spoke to Tony Smith about going to Leeds, Castleford and Huddersfield.
"Brian was trying to suss out if I wanted to stay, it was a tough conversation, but I'd already made my decision I was going to go home.
"He was disappointed. They wanted me to go round again. They'd invested in me and I'd spent a lot of time with Jason Taylor the half-backs coach.
"I just thought I was a long way from home and I just thought the offer from Huddersfield was too good to turn down.
"I don't regret anything in my career, but that was quite a pivotal moment. Going back to Huddersfield as club captain.
"I could have stayed in the NRL and who knows what might have happened, but you can't have any regrets."