Bradford Bulls have 'best chance of a return to Super League in eight years' as CEO issues rallying call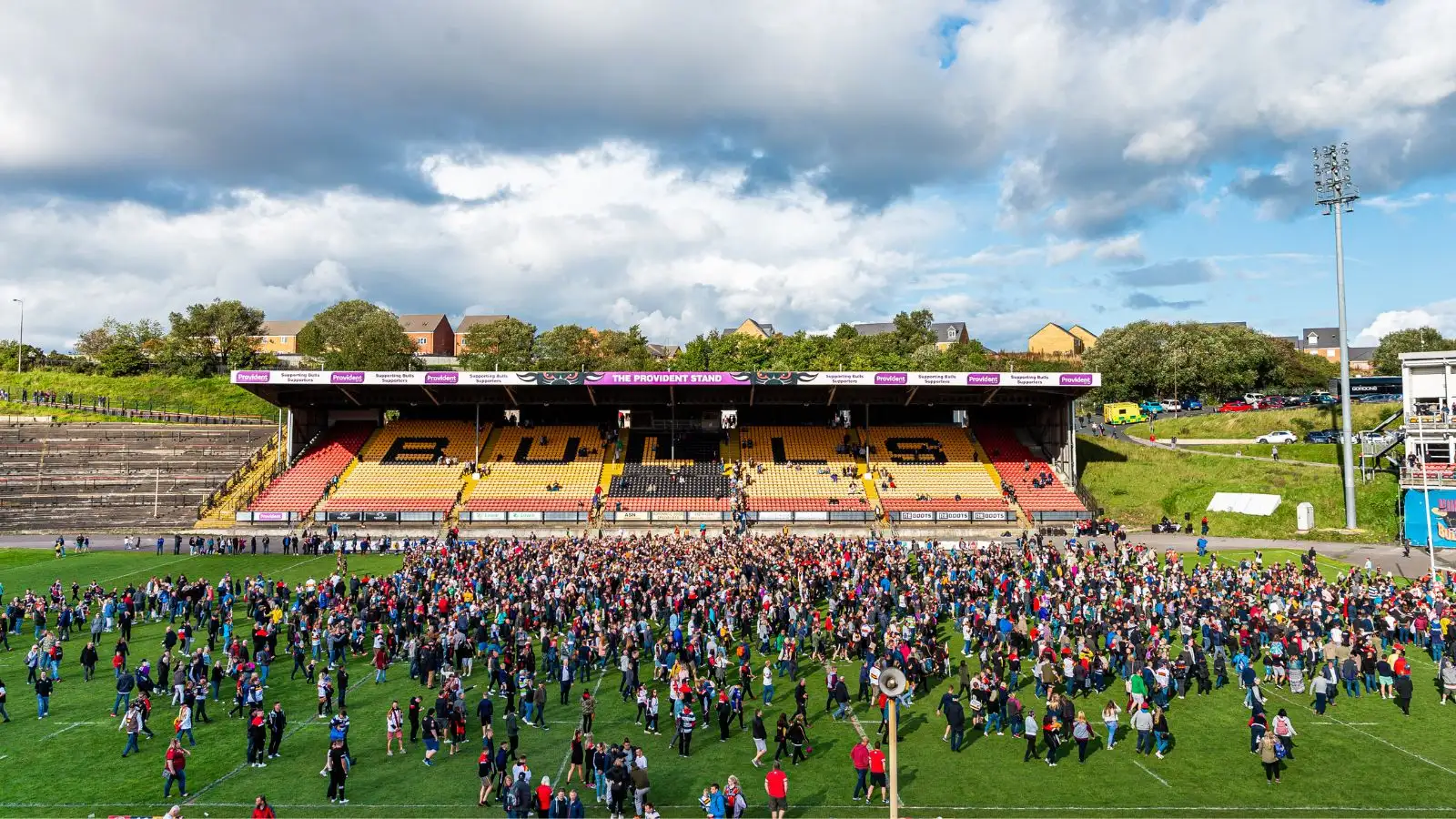 Bradford Bulls CEO Jason Hirst has issued a rallying call to supporters as the club currently hold their best chance of promotion back to the top flight in eight years. 
The side are close to securing their pre-season ambitions of a top four finish, with just four games left of the regular season.
Mark Dunning was sacked after just 10 months in permanent charge at Odsal Stadium, having found themselves eighth after 10 games in 2023.
Assistant and former Dewsbury boss Lee Greenwood has led the side since on a interim basis, guiding the Bulls to a further nine wins and a draw to climb the Championship table with only Featherstone and Toulouse above.
Chief executive Hirst has called on supporters to attend the last two remaining regular home fixtures, against Featherstone and York respectively, admitting the side have their best shot at promotion back to Super League, having not finished in the top four since 2015.
Like Super League, the Championship play-offs will include the top six after the regular season, with the Grand Final to be played on Sunday, October 15 – at the home of the highest-ranked semi-final winners.
Bradford finished ninth last year, with John Kear parting ways mid-season, and fifth in 2021, knocked out by Batley in the eliminators.
Bradford Bulls chief issues rallying call amid Super League push
In an open letter to fans, Hirst wrote: "For far too long our club has been on a downward trajectory. That has unquestionably changed this year, as can be evidenced from us successfully having our Elite Academy Licence re-instated, to us currently sitting in third place in the Championship table, with only four regular season league matches remaining.
"Our publicly stated goal this season has always been to finish in the top four following last year's ninth placed finish.
"We now find ourselves tantalisingly close to achieving that goal, in the super competitive Championship competition, which is why I now reach out to current and lapsed fans alike, to help us definitely achieve it.
"Everyone has an opinion, particularly when it comes to the Bradford Bulls, but whatever that opinion is, the fact remains that the club's first team hasn't achieved a Championship top four finish since 2015. That means we currently have our best chance of a return to Super League in eight years.
"To achieve that is, undoubtedly, going to be tough, so on behalf of the whole club, I politely and passionately ask for the help and support of not only our loyal and existing fan base, but others beyond.
"In particular, any lapsed fans, who can and want to play a part in helping us to return to Super League at the earliest opportunity."
READ NEXT: James Ford gives first interview after being chosen as the man to guide Featherstone Rovers to Super League