Big NRL inclusions, hooking dilemma, Samoa in 2024 – Five takeaways from Shaun Wane's England press conference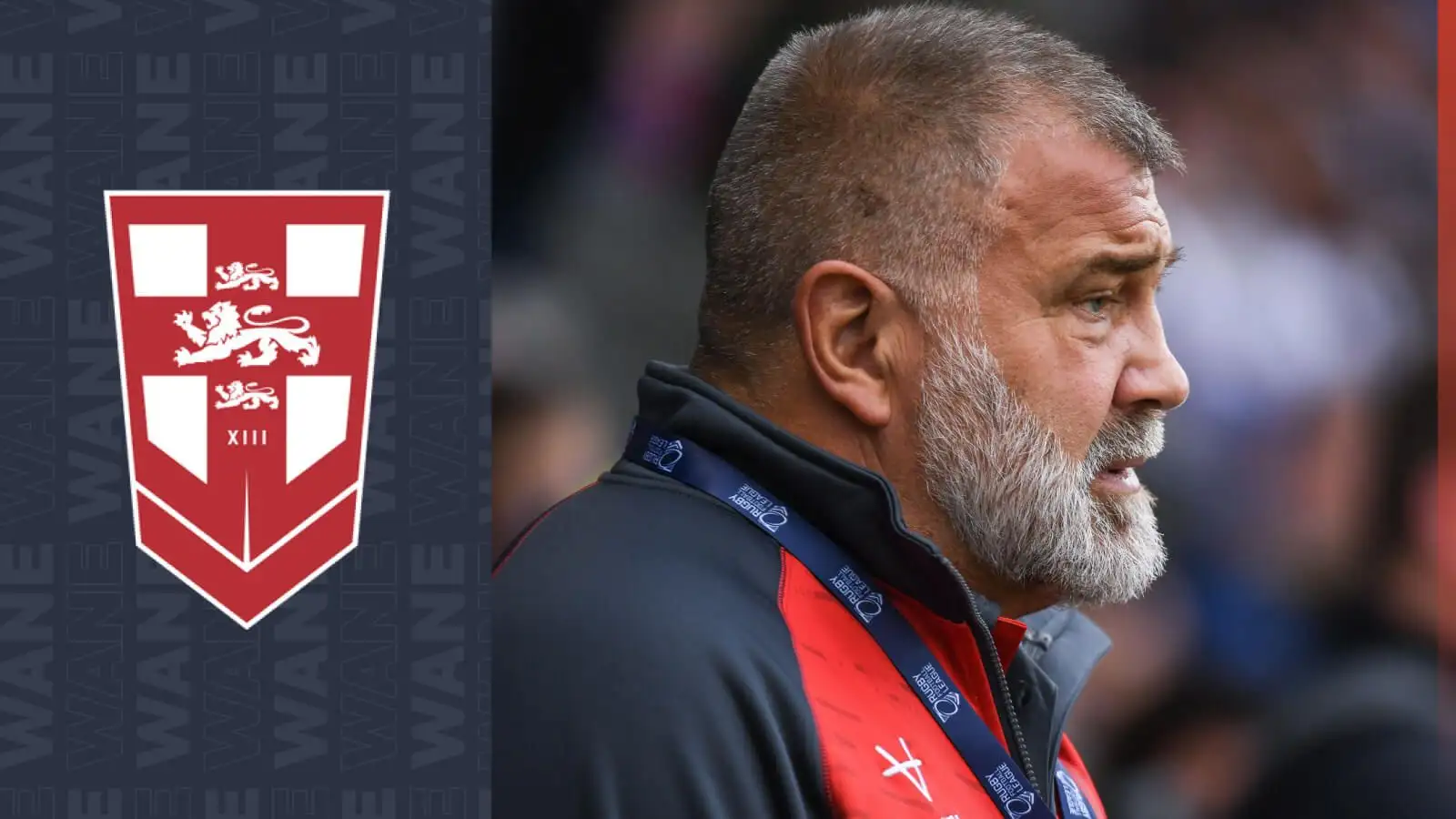 England coach Shaun Wane met with the media on Tuesday morning to formally launch this autumn's three-Test series against Tonga, with plenty of topics to discuss.
Wane discussed everything from player selection to Harry Newman's disciplinary issues and everything in between.
These were the major takeaways from the day as the return of international rugby league looms large on the horizon.
Big NRL names who will – and won't – be involved
Wane stopped short of revealing too many NRL-based players who could be in the mix on Tuesday, but there were a few hints.
Victor Radley and Elliott Whitehead will both be involved, news which will undoubtedly be welcomed by England supporters given both Radley's impact in last year's World Cup and Whitehead's continued success in an England shirt.
The England coach said he had received messages from some other Australian-based players who have put their hand up to be selected, but stopped short of naming them as he was 'sworn to confidentiality'.
One player who isn't in that bracket though is former Man of Steel, Jackson Hastings.
Hastings has made no secret of his willingness to represent England after being selected for Great Britain under Wayne Bennett, but Wane confirmed he has held no conversations with the Newcastle Knights half-back about playing this autumn.
Harry Newman's selection
Perhaps the major talking point of the day was Harry Newman's chances of being selected – and as things stand, the feeling is that the Leeds Rhinos centre could miss out altogether.
With continued talk surrounding Newman's disciplinary issues in 2023, Wane was open when admitting if he had to pick a squad today, Newman wouldn't be involved.
"If it was now… Probably not," Wane said. "But things can change over the next few weeks. He's a real talent, a good kid, I know he's not a bad kid off the field and it's something he needs to get out of his game at the minute."
The problem for Newman appears to be that he is running out of time to change Wane's mind. Leeds look almost certain to miss out on the play-offs barring a remarkable sequence of results, meaning Newman has essentially two games to show Wane he can force his way into his thinking.
Right now, he looks to be missing the cut for the Tonga series.
No warm-up games for England
England often roll into a tournament or a major test series like this one with at least one warm-up game: but this time, that won't be the case.
With a quick turnaround between the Super League Grand Final and the first test – just eight days – England will go into the first test without a hit-out of note, though there will be a fall-out squad who will provide opposed sessions in the run-up to each match.
Does it increase the risk of Wane's side being slightly under-done going into that first test, perhaps?
"It's a quick turnaround so it'll be an easy week after the Grand Final for most of the players," Wane said.
"Then we'll ramp up it up after that. There'll be no warm-up game but we have a fallout squad, and they're together two or three times a week so if a player is out, they'll be fit and ready to step in for the first test."
Hooking dilemma?
Go back two or three years and England's strongest position was arguably hooker. James Roby, Daryl Clark, Paul McShane and Josh Hodgson were all at or near the peak of their powers at the same time, meaning at least one or two genuinely world-class hookers missed out on selection for England every single year.
This year, however, there is an opening at hooker it seems. Andy Ackers and Michael McIlorum shared the role in tandem last year during the World Cup and the expectation was perhaps that McIlorum wouldn't play again in 2023 – but Wane hinted on Tuesday: "Micky will always play if I ask him to play."
Could McIlorum go round again at hooker against Tonga? It would certainly be a surprise but there's perhaps no standout candidate in terms of a leading hooker.
Ackers, Clark, Kruise Leeming, Jarrod O'Connor and Brad O'Neill are all potential options – but Wane certainly has a dilemma when it comes to finding a frontrunner, you would suggest.
2024 plans revealed?
England's 2024 opponents have yet to be officially confirmed, but RL Commercial chief Rhodri Jones dropped a significant hint about the identity of that nation during his press conference.
He said: "We're really hopeful that we'll be able to announce some 2024 autumn international content to be played up here in the northern hemisphere," before continuing: "They will be involved in the southern hemisphere Tri-Nations Down Under."
The Tri-Nations returns later this autumn with Australia, New Zealand and Samoa doing battle – and Love Rugby League understands that it will likely be Samoa who face off against Wane's men next year.
It means England's international calendar for at least the next few years is now full, with an Ashes series in 2025 and a World Cup in a yet to be confirmed location in 2026.
READ NEXT: Shaun Wane highlights standout qualities of Lee Briers as he confirms backroom staff for Tonga series