Adrian Lam backs Leigh Leopards to win more silverware after Challenge Cup triumph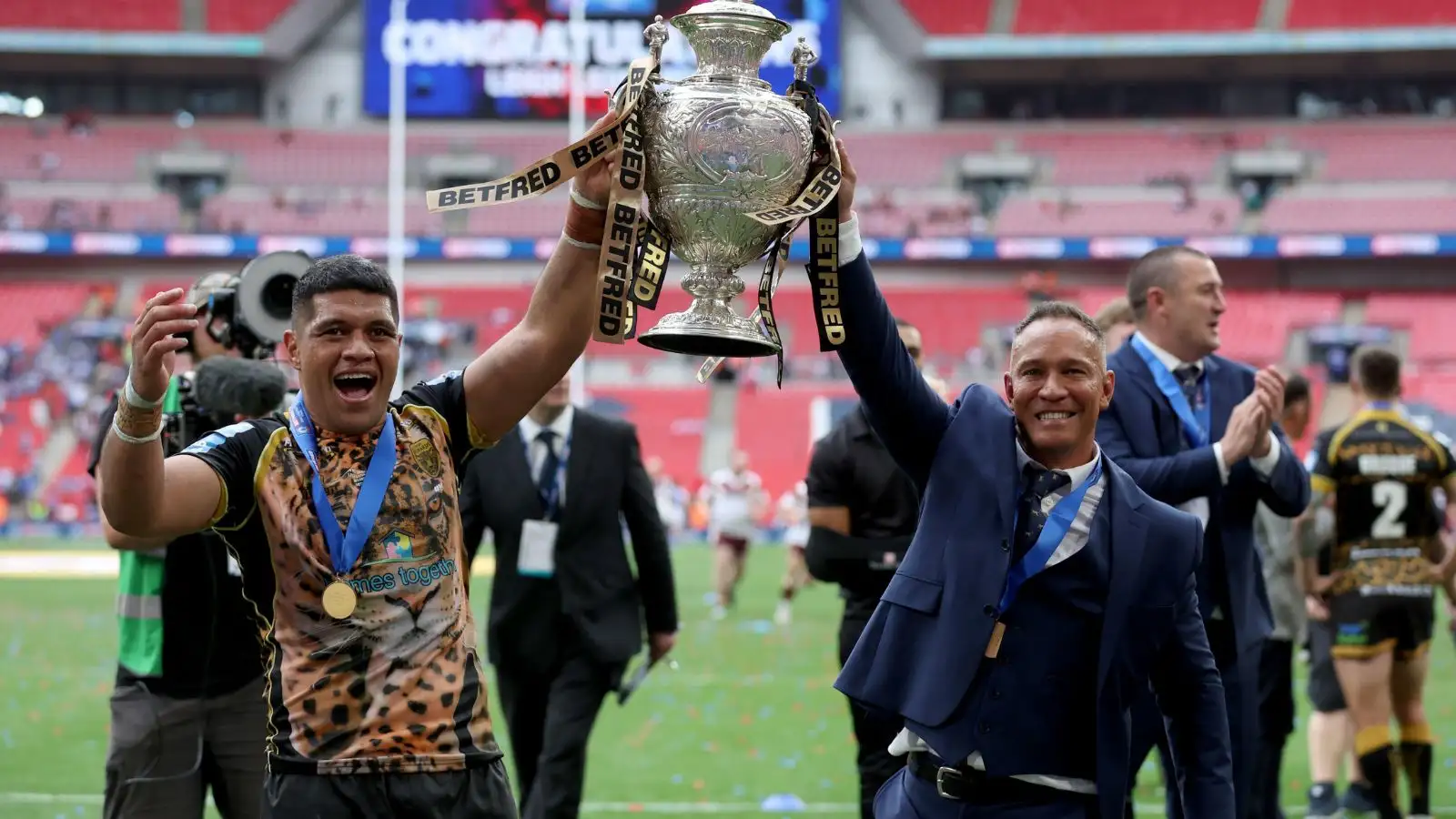 Adrian Lam has promised that Leigh Leopards' Challenge Cup triumph is just the start of what the club wants to achieve, with their ambitions very much focused on becoming a force to be reckoned with amongst the elite and full focus on lifting more silverware soon.
The Leopards beat Hull KR at Wembley in the most dramatic of fashions with the boss' son Lachlan kicking a drop goal in golden point extra-time to seal a 17-16 victory.
With it came the club's first major honour since 1982, when they last lifted a top-flight title, and a first Challenge Cup lift in 52 years.
Head coach Lam has transformed the club on the field since his arrival ahead of the 2022 season, while off it owner Derek Beaumont and his team have executed an infamous re-brand from Centurions to Leopards which has been a roaring success.
Adrian Lam: This is only the beginning
Saturday saw Papua New Guinean Lam in tears on the pitch after son Lachlan's heroics, the pair sharing a warm embrace as soon as they were able to find one another amongst the melee of celebration which ensued.
Lam Jnr was crowned man of the match and awarded the Lance Todd Trophy to ice a day which will never be forgotten by those involved, and father Adrian composed himself post-match to provide even more reason for the Leythers faithful to be hopeful of these good times continuing.
Lam Snr said: "I think in the last 18 months, we've won everything that's been in front of us. That's not being arrogant, that's just from hard work. 
"It's an incredible statistic really when you think about even the amount of new players, I think 15 new players have come in this year. 
"This is a magic moment for the club, and we feel there's more good times ahead for us as well."
Leigh Leopards coach praises bold rebrand from Beaumont & Co
Ridicule was high back in October when Leigh's rebrand was announced, and it wasn't just from outside voices.
Many of the club's own fans weren't in support of the change, meaning even more work had to go into making sure that it was a success.
Players including Edwin Ipape have already spoken about how they always remained confident in proving doubters wrong as the head coach and head of rugby Chris Chester set about assembling a squad capable of achieving what it now has done and more.
And now, 52-year-old Lam is delighted heads have slowly been turned in favour of the rebrand, proving that a leopard can change its spots.
Post-match, he added: "I had a conversation prior to the announcement with Derek about it (the rebrand), and how people were going to take it.
"It's now snowballed to a point where I was having a coffee this morning, and I saw grown men wearing leopard-skin tops and shirts.
"It helps because we're winning, but I think it's just gone viral across the whole town, and maybe across the UK now."
READ NEXT:Leigh Leopards exclusive – Chris Chester on Wembley history, infamous rebrand & a Super League top four finish