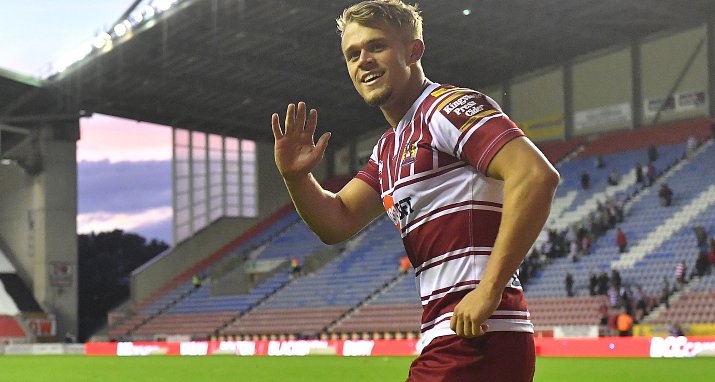 His father might have been a great for England but Lewis Tierney has nailed his mast to Scotland's colours for the upcoming Four Nations.
Tierney is the son of Jason Robinson won 75 caps for England and Great Britain.
The Wigan outside back attended the Scotland players' meeting last week as the Bravehearts prepare for the Four Nations.
Tierney qualifies for Scotland as Robinson's mum, Dorothy, was born in Glasgow and grew up in Kirkintilloch, East Dunbartonshire, before moving to Leeds.
"Grandma Dot lives near Hunslet in south Leeds but she is proper Scottish – she's not lost her accent at all," Tierney said.
"I've always known my heritage and where my family are from. If I was going to play international rugby it was always either going to be Scotland or England.
"It was an easy decision. When Steve McCormack said I had a chance of making the squad and getting on the camps, I was chuffed. It's a big thing for me."

"It was interesting to look at the plans and see it all set out in stone," says Tierney, 21, who has become a regular for Wigan this season. "It was great to see what's going on, the facilities we are going to be using, the camp we will be based at, the schedule etc. It's pretty exciting."
Despite making a try-scoring debut as an 18-year-old in a remarkable 33-32 at Widnes three years ago, Tierney has had to be patient.
He spent a season playing Championship rugby league for Workington but has been 'next man up' for Wigan this season, providing cover at fullback and wing.
Whenever any of Wigan's star backs are absent, Tierney has filled in admirably, so much so that he signed a new three-year contract last month.
He started the season at fullback while Sam Tomkins was injured and has replaced Josh Charnley and Dominic Manfredi on the flanks for Shaun Wane's title-chasers.
"Going to Workington helped me massively," Tierney admits.
"It was hard to see the future and what would come of it but that time up there definitely played a key part in me playing 17 times already this season for Wigan.
"It was a real eye-opener, playing against men. That was a big step for me after Academy rugby and gave me a big boost mentally and physically that I could handle it.
"I've moved about this season from fullback to wing and I think that's good for me as I enjoy both. I don't know which I'm best at yet – I don't really mind where I play as long as I play."