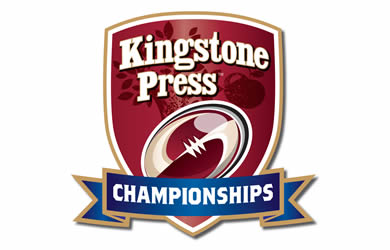 Whitehaven scrum-half Cain Southernwood and Gateshead forward Jason Payne are the latest winners of the Kingstone Press Player of the Week awards.
Southernwood helped to guide his side to a first win of the season at Dewsbury, while Payne scored a hat trick of tries in Thunder's 47-28 win over Oxford.
Whitehaven's 23-16 triumph at the previously undefeated Dewsbury Rams also earned them the Kingstone Press Performance of the Week, while Hemel Stags's James Hill's late effort clinched the Try of the Week.
Every week each coach in both Kingstone Press Championship competitions is contacted to help put the awards together.
Kingstone Press Championship Player of the Week – Cain Southernwood (Whitehaven)
Whitehaven half-back Cain Southernwood produced an influential performance in attack and defence to help Whitehaven to their first win of the Kingstone Press Championship season at Dewsbury.
"Cain is a young bloke with plenty of enthusiasm," Whitehaven coach Dave Woods said.
"They ran a stack of attack at him on Sunday so he had a lot of defence to do, but he handled that well.
"He's been trying real hard for us and just not coming up with the right decisions, but against Dewsbury it all fell into place for him.
"He's taken a leadership role on this season and is still learning and improving, but he's doing a really good job for us."
Kingstone Press Championship One Player of the Week – Jason Payne (Gateshead Thunder)
Gateshead Thunder captain Jason Payne scored a hat-trick of tries against Oxford.
Payne's treble helped Gateshead record a 47-28 victory in their first Kingstone Press Championship One fixture of the season.
Thunder coach Stanley Gene said: "Jason is our captain and leader, and he leads from the front. I just wanted him to run with the ball against Oxford because he's that strong he can bulldoze between players. He did very, very well, and Matty Beharrell provided him with some good passes.
"If Jason keeps playing like this he could really go places. He says he feels young again and it showed on Sunday."
Kingstone Press Try of the Week – James Hill (Hemel Stags)
James Hill's last-minute try secured a 20-20 draw for Hemel Stags on their visit to Oldham on Sunday.
Stags coach Troy Perkins said: "On our previous attack we'd scored from a kick to the left corner. I thought Jy-Mel Coleman would look for a similar option, but he swapped to the short side, created a three-on-two overlap 30 metres out and our centre Michael Brown executed really well to draw the man and release James on the edge.
"It was a good try, especially given the pressure of the game at that stage and how fatigued players were.
"At 16-0 down you'd normally be happy with a draw, but looking back we had a fair few opportunities to win it. We can be pleased with large parts of our performance."