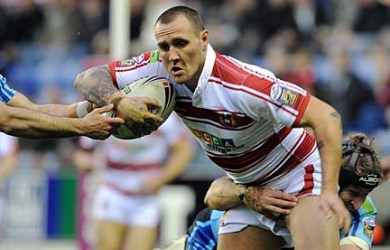 Wigan head coach Michael Maguire will decide later in the week whether to select Gareth Hock for Saturday's clash against Huddersfield.
Hock officially completes his two-year suspension from the game on Thursday and is eligible to feature in the "Big One 3" at the DW Stadium.
Maguire told the official club website: "He'll be part of the squad,whether we go with him or not, we'll decide later in the week.
"We'll see how everybody else pulls up. He's close, there's a chance but we're also aware that the team performed pretty well on the weekend. It's about whether we're going to roll that squad around.
"It's a bit of a funny situation with no 20's so you can't blood him and I wouldn't want to put him out on loan.
"We all know what Gaz can do, it's just a matter of giving him an opportunity, whether that's this week or the next couple of weeks."
"He's done everything asked of him. He's been with us for the last couple of months and worked extremely hard, with extra sessions and all the little things to learn the new style and the way we're playing."
The Warriors will definitely be without forward Chris Tuson, who has handed a one-match ban by the RFL disciplinary committee on Tuesday.