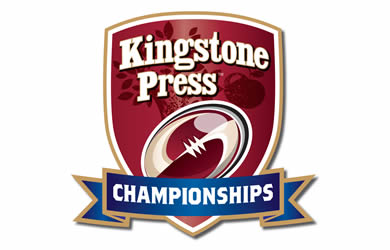 Premier Sports Performance of the Week – Hemel Stags
Hemel coach Troy Perkins hailed his side after they secured a 26-8 win at London Skolars in their first ever Championship One fixture.
Perkins said: "Every player played their part. We played with a lot of energy, our line speed was good, and I think the Skolars were a bit shell-shocked.
"We had seven players aged 20 or under, so it's great to start so well. You only ever get one chance to win your first Championship One game, and it was really important in terms of setting the tone for the rest of the season.
"However, one game doesn't make a season – we'll back to reality at training on Tuesday night."
Premier Sports Try of the Week – Ryan Fieldhouse (Halifax v Dewsbury Rams)
Halifax coach Karl Harrison said his players deserve plenty of credit for Ryan Fieldhouse's superbly worked second-half try against Dewsbury Rams during their 60-6 win.
Harrison: "It was a set play that the players had been practicing themselves in training for the previous two weeks.
"There were bodies in motion everywhere, Paul Handforth came out of the ruck, and with several decoys, he hit Ryan Fieldhouse from behind him, and he scored by the posts from 20 metres out.
"I've watched it several times on video since – it was a very well-worked try that reminded me of something Deryck Fox did back in 1986."
Premier Sports Championship Team of the Week
1 Tom Carr (York City Knights)
2 Rob Worrincy (Halifax)
3 Jessie Joe Parker (Whitehaven)
4 Elliot Cosgrove (Keighley Cougars)
5 Adam Clay (Barrow Raiders)
6 Martyn Ridyard (Leigh Centurions)
7 Scott Leatherbarrow (Keighley Cougars)
8 Sam Barlow (Halifax)
9 Paul Handforth (Halifax)
10 Keegan Hirst (Batley Bulldogs)
11 Tommy Goulden (Leigh Centurions)
12 Chris Spurr (Doncaster)
13 Ashley Lindsay (Batley Bulldogs)
Premier Sports Championship One Team of the Week
1 Mike Forgham (Hemel Stags)
2 Stuart Reardon (North Wales Crusaders)
3 Danny Davies (Rochdale Hornets)
4 Sean Morris (Oxford)
5 Shaun Robinson (Oxford)
6 Andy Moulsdale (North Wales Crusaders)
7 Steven Roper (Rochdale Hornets)
8 Louis Robinson (London Skolars)
9 John Clough (Oxford)
10 Aiden Pritchard (Hemel Stags)
11 Tyla Hepi (Gloucestershire All Golds)
12 Gary Middlehurst (North Wales Crusaders)
13 Jordan Rice (Gloucestershire All Golds)