Leeds Rhinos: Everything Rohan Smith said following 22-6 win over Warrington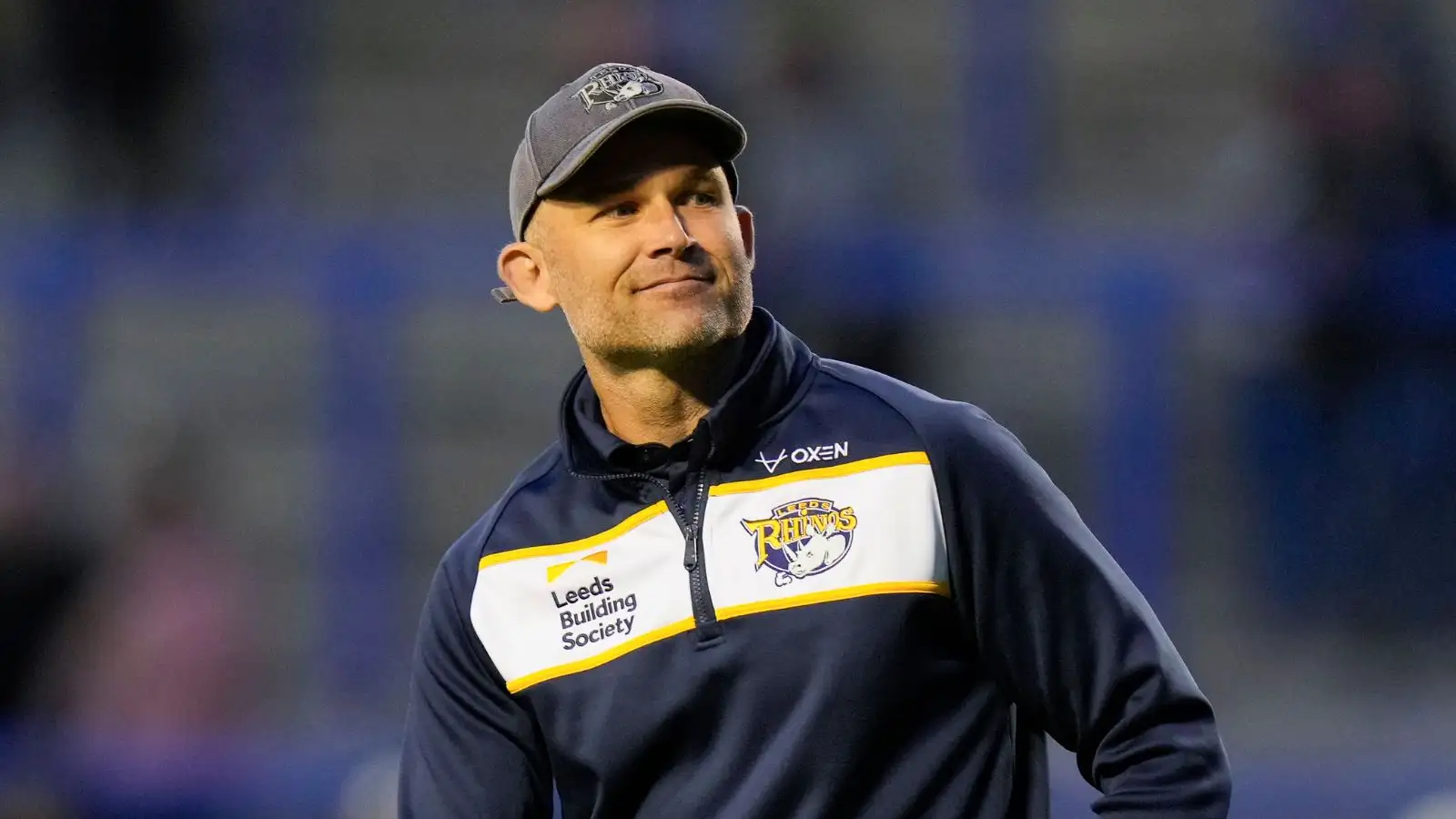 Leeds Rhinos boss Rohan Smith was a pleased coach following his side's 22-6 win over Warrington at the Halliwell Jones Stadium on Thursday night.
Here's everything the Australian coach said following the Super league victory.
How pleased are you with that win and performance? 
"It was a quality performance. I think to shut out a high-performing team who have won a lot of games this year, we didn't give them an opportunity in the game.
"It was a good, hard-fought game for the most part. But once we got hold of scoreboard, we didn't give them a look in which was really pleasing.
"I thought we defended very well in the first half particularly. Second half we scrambled hard and showed a lot of effort.
"The only try scored tonight was somewhat questionable at least, you would have to say. I really liked the scramble at the end there.
"We'd actually taken Aidan Sezer off there who was just carrying a bit of knock with a couple of minutes to go, so we were scrambling with 12 men as well. It was pleasing. They're a good bunch down there. I'm pleased. "
Are your spine starting to gel and we're finally seeing how you want to play?
"There has been passages in the last few weeks of sequences of plays where I think that's what we needed to look like and the team wants it to look like.
"It's also not just about the spine I think.
"The recent sort of form of the spine is coincided with some of our best and biggest ball carriers being back and available and doing just that with real force.
"The spine have certainly had a key part in playing how the team has performed, but the team has also had a really important to play in how the spine has performed."
How impressed were you by the forwards?
"I know a lot of people talk about forwards getting a roll on, but in most teams it's genuinely the outside-backs.
"Fusitu'a being back the last two weeks, he's a proper handful every carry. Macdonald back tonight as well on the back of Ash Handley carrying it, he's not as big as those guys but he carries it with the same force. And then Rhyse Martin breaks out of our end in a big play as well.
"The back-field carries are a real strength of ours. It's been a real team performance getting out of our end."
A return for Tom Holroyd
"It was a good, solid game for Tom tonight.
"It's been three of four weeks with the break, but he's come back and done a good solid job and it was important that he did that. Justin Sangare has been doing us a good job and he was missing tonight, we were well and truly compensated with Tom's performance."
Are we starting to see James McDonnell fulfil his potential?
"Round three he played his first game and he showed it right there, away at St Helens, he just jumped in and played 80 minutes against the defending champs.
"He's been very consistent, he's a very team-orientated guy. He gets a bit frustrated at times because he's a good ball carrier, but he sometimes doesn't get the ball because Macdonald and Fusitu'a are going to carry in yardage.
"He understands that that's his job for the team sometimes, to keep out of their way and do a great defensive job and that's the way the game goes for us sometimes and he's done that exceptionally well for pretty much every game this year.
"He's a quality young bloke, confident but humble."
How is Aidan Sezer?
"He just had a bit of a knock there.
"We used our interchanges a little bit earlier than we'd normally would based on trying to keep our middle really strong and big to try and combat Warrington's middle.
"Once the game was sort of decided on the scoreboard, with three or four minutes to go, I just decided to play with 12."
Another strong effort from Sam Lisone
"I think people are very quick to judge. By his own omission, he started a bit slow. But it's hard. You've been in the NRL, living in New Zealand and Australia for your whole life, to come to the other side of the world, to be living out of a suitcase, trying to find a house to live in, waiting for your partner to arrive, all that sort of stuff. It's a big shift.
"He played really well up until his injury, he was really finding some form and then he's bounced straight back into it.
"He did a really good job on his rehab, he came back fitter and lighter. He's got skill, he's a character and he's starting to show that character in the group and the boys love playing with him.
Jarrod O'Connor played big minutes, didn't he? 
"I was disappointed in one way that I didn't get Corey out, I couldn't find a time to get Corey out there. I thought the real key to keeping our defence strong was to be big when we needed to be big when Warrington were in the middle.
"To be really strong and physical in the middle there, Warrington have some strong outside-backs as well, I found it hard to get Corey on there because I was rotating the other bigger guys.
"Corey has done us a really good jo in recent weeks.
"Jarrod was tremendous. His dummy-half was very solid tonight and his effort and his energy to his defence is always there."
READ NEXT: Blake Austin in come-and-get-me plea amid doubts over future
FOLLOW: Keep up with all the latest on the Love Rugby League mobile app