Toulouse have Super League in their sights after 20 year wait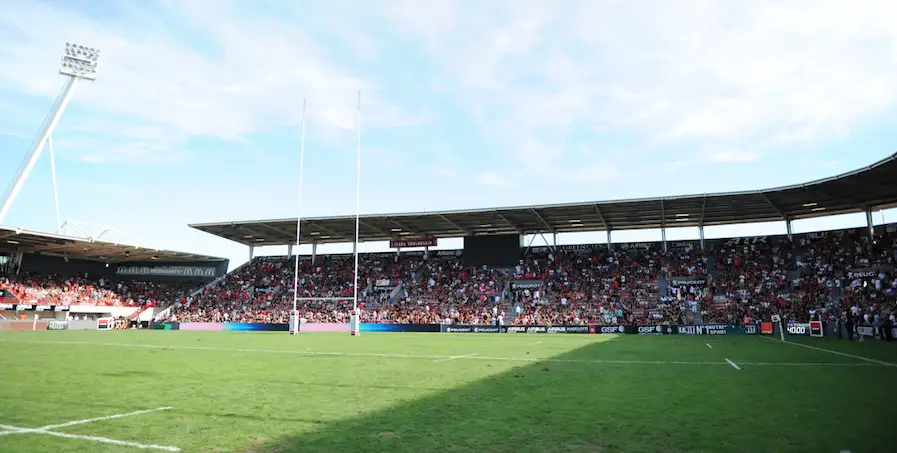 Toulouse chairman Bernard Sarrazain says the club has never been closer to achieving its goal of reaching Super League.
The Championship leaders have confirmed that they will play their play-off semi-final at the Stade Ernest Wallon on Saturday October 2, for what will be their first home game for 574 days.
They are the heavy favourites for promotion to Super League having won all 11 of the league games they have played this season, scoring more than 500 points and conceding just 106.
Sarrazain: "It's going to be a major event in our stadium. The club have been aiming for almost 20 years to reach the Super League, we have never been so close to achieving our goal.
"We want as many people as possible to participate in this celebration; we know we are sure to play our semi-final at home, and we want to make sure we stay first in the table so that we can host the final if we reach it.
"We have only played four games at Wallon so far, and it's true our last match dates back to March 7 2020. So this semi will therefore be an event more important event.
"We are counting on everyone in Toulouse to be present for the semi-final and hope that there will be a final afterwards.
"We want to end the regular season in first place going undefeated. For that, we must win on Sunday at Bradford."
DEUX: Catalans vs Toulouse – A glimpse into the future?
Toulouse first expressed ambitions to join Super League in the early 2000s, and lost out to Catalans Dragons when the RFL opted to add a French side to Super League for the 2006 season.
In 2005, they became the first French side to reach the Challenge Cup semi-finals after upsetting then Super League side Widnes in the quarter-finals, before going on to lose 56-18 to Leeds in the last four.
When licensing was introduced to Super League, Toulouse were invited to join the Championship for the 2009 season and they spent three seasons in the competition.
They were exempt from relegation and so despite finishing in the bottom two in 2009, they were reprieved – as were Leigh above them, with seventh placed Gateshead eventually demoted due to financial issues.
They fared better in 2010, finishing 8th, but finished 10th again in 2011 and not coming close to achieving the required on-field criteria of reaching a Grand Final or winning the Northern Rail Cup.
After the third season, they opted to return to the French Elite Championship for 2012 but would return to the RFL structure from the 2016 season, winning promotion from League 1 in their first season.
On this occasion, they have been far more competitive in the Championship – narrowly missing out on the top four in 2017 before finishing third and second in the most recent completed seasons.
Their form in 2021 has been ominous, despite the fact they have been unable to play any home games due to the quarantine restrictions preventing part-time clubs from travelling to France.
NO TRAVEL: Part-time teams won't be required to travel to Toulouse until quarantine restrictions are lifted
A 70-0 win over Widnes in May avenged a defeat of the same scoreline they suffered at the hands of the Vikings on their Championship debut some 12 years ago, and it was followed up by a further 66 points against both Whitehaven and Swinton.
Their narrowest winning margin this season is 15, from the 21-6 win over York in the opening game of the season; while they also won 23-6 away at Featherstone, who have won every game other than that one.
Toulouse have played 11 games and were awarded a 24-0 win after London Broncos refused to travel to France to take their season total up to 12.
If they finish first in the table, they will play the lowest ranked side in the play-off semi-finals on the second weekend.
On the first weekend, third will play sixth and fourth plays fifth in play-off eliminators to earn the right to play the sides first and second in the play-off semi-finals.
Halifax currently sit third, with Bradford fourth, Batley fifth and London Broncos sixth.
The top six has been largely unchanged for the whole season, though Whitehaven are making a late surge to try and grab the final spot off the Broncos.