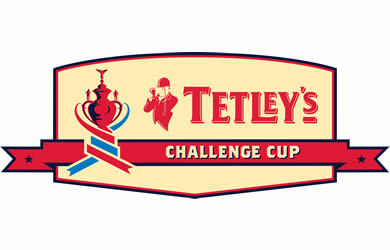 Two Championship clubs will receive a bye in to the fourth round of the Challenge Cup following the withdrawal of French league clubs.
The draw for the third round takes place tonight (Monday) in Cheltenham, with 21 of the 23 Championships clubs to join the 11 winners of the weekend's second round ties.
Super League's 14 clubs enter the competition at the fourth round stage.
Those clubs include the British Army, who progressed with a golden point 34-30 victory over Great Britain Police, and West Hull, the National Conference League champions who defeated Thatto Heath Crusaders 28-18.
Although staging the draw for the first time, Cheltenham has a proud Rugby League tradition, having been the venue for the final Test of the sport's first ever international series in 1908, England v the New Zealand 'All Golds'.
The third round draw will be made from two pools with home advantage determined by a random draw for each tie. Pool A will feature 16 Kingstone Press Championships clubs; Pool B will comprise five Kingstone Press Championship One clubs and the 11 second round winners.
Prior to the draw, five of the nine Championship One clubs will be drawn at random to join the 11 community clubs in Pool B. The remaining four Championship One clubs will then join Pool A.
In a second pre-draw, two Championships clubs will then be drawn at random from Pool A and given a bye into the fourth round: this change follows the withdrawal of the French Federation clubs. Toulouse and Carcassonne represented the French Elite League last season.
The third round draw will be made at the University of Gloucestershire's Park Campus in Cheltenham by the University's Pro Vice -Chancellor Maxine Melling and Kevan Blackadder, the Editor of the Gloucestershire Echo.
Rugby League fans across the UK can listen to the draw live on BBC Radio Gloucester by visiting www.bbc.co.uk/radio/player/bbc_radio_gloucestershire/. The draw will also be streamed live on www.allgoldsrugby.com.
The third round ties will be played over the weekend of March 15-16.
The 34 clubs involved in tonight's draws are as follows:
Barrow Raiders, Batley Bulldogs, Dewsbury Rams, Doncaster, Featherstone Rovers, Gateshead Thunder, Halifax, Hemel Stags, Hunslet Hawks, Keighley Cougars, Leigh Centurions, London Skolars, North Wales Crusaders, Oldham, Oxford, Rochdale Hornets, Sheffield Eagles, South Wales Scorpions, Swinton Lions, University of Gloucestershire All Golds, Whitehaven, Workington Town, York City Knights, British Army, East Leeds, Egremont Rangers, Hull Dockers, Kells, Milford Marlins, Normanton Knights, Pilkington Recs, Wath Brow Hornets, West Hull, Wigan St Patrick's