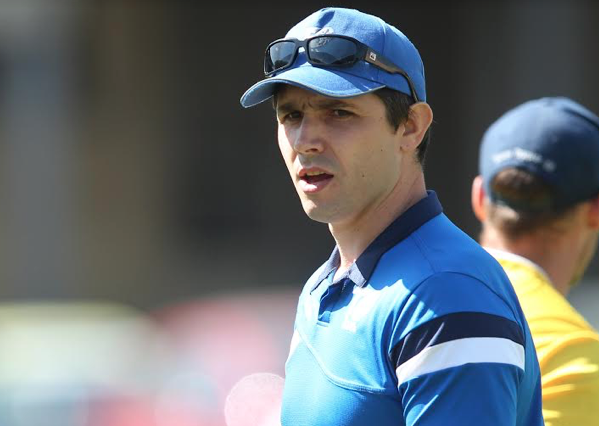 Toulouse Olympique's players are in a "happy place" according to their coach Sylvain Houles.
Who wouldn't be happy playing professional Rugby League in a beautiful city in the sunny south of France?
But it's not the climate, culture or architecture that is putting a smile on the players' faces, it is the challenge of proving many people wrong in Super League next season.
SQUAD: How Toulouse Olympique are shaping up for maiden Super League season
Houles has resisted the temptation to go shopping in Sydney for out of form, out of luck or out of contract NRL players, and decided to stick with his promotion-winning squad for next season, with the addition of some players "who have points to prove" at the top level.
The 40-year-old former French international has brought in hooker James Cunningham, centre Chris Hankinson, winger/full-back Matty Russell and prop Gadwin Springer.
They replace the departed Bastien Ader, Jy Hitchcox and Rémi Casty and although the new signings haven't really hit the headlines, Houles is confident he has made the right choice.
He told Love Rugby League: "I am very happy with where we are, what we are doing, and what we have done in the last five weeks since winning the Grand Final. We have retained many important players and brought in three great additions.
"We're nearly there, I would like one more player so we will go with 28 players in Super League next year."
Houles on new recruits
Although the recruitment doesn't mirror the big-name-star signing policies of their French Super League neighbours Catalans Dragons, Houles believes his new recruits have points to prove after failing to set Super League alight with their previous English clubs.
He added: "I believe in James Cunningham, we have played a lot of games against him and he is a great player, he knows his footy and he is exactly the kind of guy I'm all about.
"And in Chris Hankinson, I've been trying to sign him for the last five years, I know him as a man and also his story as a player. Every time I saw him play for Wigan I wanted him in my squad, he will bring so many new things to the way we play.
"With Gadwin Springer it's a little bit different, I know him and have watched him develop and I think he will be coming back to France with a little bit of revenge in mind. He has played at Super League level and he will want to show English clubs what he is all about and I like that about him, I like that kind of attitude.
"Matty Russell plays exactly the way we like it at Toulouse, he is explosive, creative and he will really suit the open spaces of the pitch at Stade Wallon.
"These kind of players will be given the chance to shine again in Super League at Toulouse and they have the right approach and appetite for what is ahead."
Ability to compete in Super League
Toulouse's refusal to pay big bucks for Australian imports could pay off in the long-term, but does Houles believe he has a strong enough squad to be competitive against the likes of St Helens, Wigan and Leeds?
"Absolutely," he said, "The 27 players I have at the moment are at Super League level.
"Most of our players have Super League or international experience so I am really pleased with the squad we have assembled.
"At the end of the day, we built a Super League squad last season just to make sure that we could gain promotion and they did exactly that.
"This squad has shown it can compete and be successful at the highest level. People might ask where are our big signings but we made them last year.
"Tony Gigot, Dom Peyroux, Joseph Paulo, Mitch Garbutt were all brought in and Lloyd White and Harrison Hansen were already here.
DELIGHT: Toulouse boss "absolutely delighted" to see Tony Gigot sign new deal
"These are the big name signings, we already have them, and they have been brilliant for us. And the added luxury for me is that these players are already embedded into our system, they know what we are all about, they are speaking our language.
"These players don't need time to settle in, they are ready to go on day one. When you move to a different country it's hard, you need time for you and your family to get to know the club, the city, the people and the different culture.
"It's a massive readjustment for players, particularly those with families and children and the language barrier can often be too big for some and they return home.
"The Super League players we signed last year have gone through all of this, they are comfortable and they can focus on their roles within the team. That is why this new season's squad will be even better, because of that experience.
"We are confident, we are ready for the challenge, we have faced a lot of challenges on our journey to Super League and achieved every one of them."
One more signing
Houles has one more signing to make before he assembles his squad this week for the start of pre-season training and he is looking for a forward following a devastating injury to one of his latest recruits.
"We would have been complete already but we signed former Catalans Dragons forward Lambert Belmas from Lezignan and two days later he snapped his achilles tendon and it is such a shame.
"I really believe in him very strongly and we will honour his contract and help him through recovery but it leaves me with one more addition to make.
YOUNG STAR: Toulouse fend off interest from Super League clubs to keep Justin Sangare
"Of course we know that it is a big step up to Super League, so many promoted teams fail to stay up but we believe in ourselves and what we are doing. We believe in our staff and our players and we know what we have to do.
"We know we have to put a lot of hours into our preparations and obviously we have stepped things up behind the scenes because it's Super League, our medical team has gone full-time and our whole operation has taken a big step forward.
"I believe that we were already very professional as a club but this is another level, we know it will be harder but we have everything in place to prepare the players for the challenge."
Follow Love Rugby League on Instagram