We have got the last interview that Justin Holbrook has done as St Helens coach.
The Australian will return Down Under in 2020 to take up a two-year contract as Gold Coast Titans head coach in the NRL.
Justin, what a way it was to go out as head coach…
"I couldn't be happier to win the Super League Grand Final. I've been here two-and-a-half years and I've loved every minute of it.
"It's been hard work falling short in the past so to finally get the win and do it in such good fashion makes me very happy."
You made 17 appearances in the NRL as a player for Newcastle Knights, Penrith Panthers and Sydney Roosters… What did you make of your time as a player?
"I was okay as a player but I just lacked top end speed. I was probably one of the better players there but in the first-grade, I just lacked that extra pace to get through those gaps.
"I loved playing and I had a lot of good times as a player. At the Roosters, I was lucky enough to play in the first ever Anzac Day game against St George Illawarra Dragons in 2002 and that game has been going every year since.
"We had a good win there and I was lucky enough to pick up the man of the match award. I was playing with Brad Fittler and Craig Fitzgibbon. At Newcastle, I played with Matty Johns and Danny Buderus so I've got a handful of games with a lot of good mates. I predominantly played reserve-grade though so I'd play before them and then watch the really good players after I had a shower!"
What made you go into coaching?
"I finished up as a captain-coach so that was sort of my initiation into coaching so when you are at semi-professional level – you play and coach as well so it was a good initiation into coaching for me.
"I juggled my way into some reserve-grade coaching which was part-time and I had a full-time job as well, so I had a few years of that so it was quite a slow progression for me but it worked out well in the long run."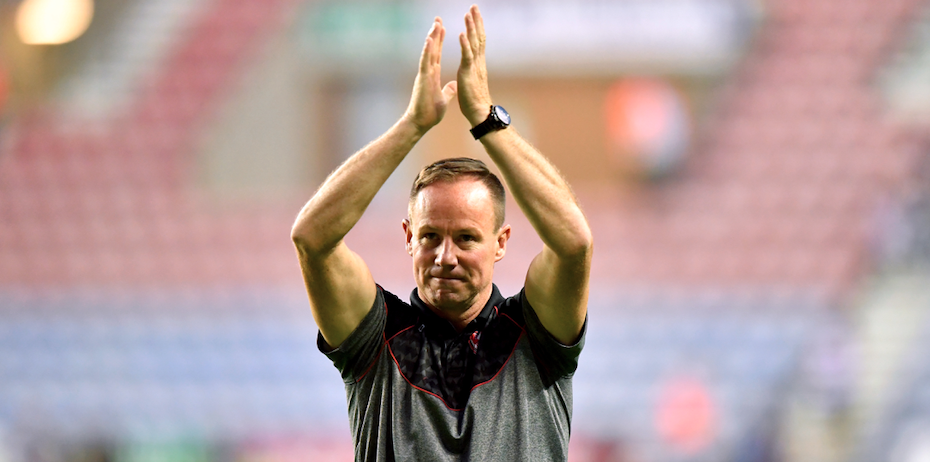 What was it like going through the coaching system at Sydney Roosters?
"I'd coached lower grades at a load of different clubs and then to get a call from Trent Robinson asking me to be his assistant was very exciting and a great opportunity.
"I had two-and-a-half years there and I was lucky enough that Rushy [Mike Rush, St Helens chief executive] flew out to Australia and was looking for a new coach to come over here. He sold me the dream and within two weeks I'd landed over here, and I was lucky enough that Trent let me leave because it was midway through the season which wasn't ideal.
"We was in first when I left and we had just won the Nines competition so there was a real buzz about the place. It was great for me learning as an assistant but I missed being a head coach.
"To get the opportunity to come here was great and within the two weeks, I ended up here at St Helens and got to coach the great Mark Percival who scored the winning try in the Grand Final."
Did you feel any pressure when taking over from Keiron Cunningham?
"I probably didn't have a lot of time to worry about that due to the fact that we played two days after we landed. I just knew that I had a great opportunity at a good club.
"Keiron is one of the best players to ever play for St Helens. Coaching isn't for everyone but I'm sure he's still a good coach and he had one of the best playing careers you could ask for, whereas I didn't.
"Coaching has worked better for me than my playing career and everyone is different. In terms of pressure, I just didn't have a lot of time and I was lucky enough to have a really good win at Magic Weekend in my first game so that helped me.
"The next game was a home game against Wigan which we won with Percival catching the ball with two minutes to go and scoring. The whole time from then on has been great."
What was your wife's reaction when you told her you got the gig at Saints?
"I'm very lucky that my wife is open and supportive. She had her own career at home, she was a national business manager and she was doing really well and we were living where she had grown up.
"The kids went to school in Cronulla so the biggest move was for her but she was great about it. She said 'this is what you want to do so lets go and do it' and I'm very lucky that she's an easy going girl.
"A lot of people give me credit for my work in the community but I owe a lot of it to her. She's the one that does all the sporting runs with the kids, the school runs and then got to know all of the people in the town."
Did your four sons play any sport while over here?
"They are part of the rugby club at Thatto Heath and they are all playing football scattered around at Pilks and St Helens Town. The littles one is play football as well in a couple of different places so they keep us pretty busy, that's for sure."
What did you make of the rivalry between St Helens and Wigan?
"We had some good wins over them but they won the competition in 2018. We beat them a couple of times but they still came here and beat us.
"I think we got them four times this year though and I love those derby games, they are massive. We beat them here on Good Friday last year and it was the first time we had beaten them on Good Friday in 11 years.
"I know both sets of fans are so passionate about it but our town to beat Wigan anytime is great but to beat them for the first time in 11 years on Good Friday and then to beat them at their ground last year was great to be involved in."
What are you expecting at the Gold Coast Titans?
"A massive challenge but I understand that. I'm really looking forward to it, I've loved every minute here but I do want to coach in the NRL and I've got a great opportunity with the Gold Coast next year.
"In terms of Kallum [Watkins], it was a tough call on him after it wasn't the best season coming in after his serious injury. He will be better for it next year."
What is the low of your time here at Saints?
"The low was definitely the way the season finished last year. We went out of the Challenge Cup against Catalans got pipped at home against Warrington in the play-offs.
"It was hard to take and it took a long time to get over that but it puts me in a good mood knowing the feeling of finally winning it."
And what is the high? 
"It was nice to pick up the Coach of the Year award but to finish 16 points clear of second in the regular season was special.
"We had that being the biggest margin in 124 years over here but it was important to finish the job otherwise we would have been falling short again. Now that we have finished, we can look back on a great season that we've had and it was a great way to finish my time here."
Listen to rugby league's new 'In Touch' show that goes out every Monday night between 6:30pm-7:30pm on Radio City Talk (1548AM).
---
More on site
New Zealand Warriors lure Wayde Egan from Penrith Panthers
Sheffield hand new deals to duo
York re-sign Jordan Baldwinson
French round-up: Holders crash out of Cup, Australian heads to Salon
Dates, times & TV schedule: Everything you need to know about the Great Britain Lions tour