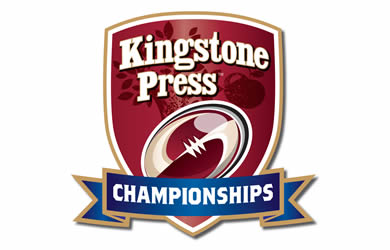 Four Kingstone Press Championship clubs are getting ready for a Sunday shoot-out – and the stakes could not be any higher.
Keighley, Swinton, Hunslet and Barrow are all gearing up for a relegation battle on the last day of the season.
York City Knights are already down after their midweek defeat against Doncaster – but any one of four other clubs could join them in rugby league's third tier in 2014.
Keighley appear least likely for the chop, two points ahead of Hunslet and Barrow and a point above Swinton.
The Cougars travel to Barrow on Sunday in bullish mood. Coach Paul March said: "We've fought all year and it's coming down to one game. There'll be a lot of pressure on us as well as them, but we're in the driving seat. We've already got our points. It's up to others to get theirs.
"When pressure comes you've just got to stay calm and do your job. We're looking forward to it."
Barrow have the worst points difference of the four teams, putting them under the most pressure.
But Raiders boss Darren Holt also remains upbeat. Holt said: "I suppose it was always destined to come down to the final game of the season.
"We have no reason not to be confident because our home form has been very good.
"It's a must win game for us now against Keighley and we may need some help from results elsewhere."
That help is most likely to come from league leaders Featherstone, who will start as clear favourites when they travel to Hunslet.
The Hawks claimed a bonus point from their clash with Sheffield last week, but need to match Barrow's result against Keighley in order to stay up.
Hunslet coach Barry Eaton said: "It's going to be a tense day all round, both for clubs that are up at the top of the table, and those that are down at the bottom.
"We're just going to go out there and give it our all.
"There are loads of different permutations, but if we win then we're guaranteed to stay up. That's how we've got to approach the game. We're just going to totally concentrate on ourselves."
Swinton boss Gary Chambers has praised his side ahead of Sunday's trip to Whitehaven.
The Lions won 22-0 against Barrow in their last outing and know that victory in Cumbria against Chambers' hometown team would ensure their safety.
Chambers said: "What our lads have gone through over the last six weeks is probably unique.
"I've come in, brought seven players in, and they've started all over again and they've had to re-learn and gel together as a team. They started to click six weeks ago and they're seeing it through now. It's been a good time for them.
"Despite where we are, with the performances we've put in we've been tough to beat. We're in charge of our own destiny, which probably hasn't been the case for most of this year.
"One more win and the lads have got what they deserve. These last six weeks have been pretty positive."
Sunday will be positive for three sets of fans, but who will be left crying into their beer? It's all to play for.