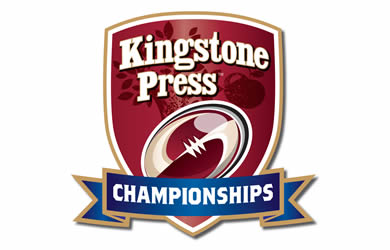 Sheffield remain at the top of the Championship table after their 21st league win of the season.
The Eagles won 30-12 away at Dewsbury with Menzie Yere, Joe Hirst, Peter Green, Vinny Finnigan and Cory Aston scoring their tries.
The Rams' consolation tries came through James Craven, Greg Scott and Karl Pryce.
In the day's relegation showdown, Hunslet overcame bottom-side York with a thrilling 33-30 victory.
Tries from Andy Yates, Lee Mapals, Thomas Coyle, David March, John Oakes and Liam Welham were just enough for the Hawks as they moved into 12th.
The City Knights, who scored through Sam Latus, Simon Brown, George Elliot and Ben Johnston (2), are now four points from safety with just three games remaining.
Another dramatic 80 minutes saw Halifax return to winning ways, after a recent run of two defeats and a draw.
Their 29-24 success over Batley came after late tries from Craig Ashall and Wayne Reittie.
Ashall and Reittie both got a brace on the day, and they were joined on the Fax scoresheet by Ben Heaton.
Miles Greenwood, John Davies and Greg Johnson (2) were the Bulldogs' scorers, and they remain in fifth-place on 51 points.
Results:
Barrow 36-18 Workington
Dewsbury 18-30 Sheffield
Doncaster 29-26 Swinton
Halifax 29-24 Batley
Keighley 12-24 Featherstone
Leigh 44-6 Whitehaven
York 30-33 Hunslet
Championship One
North Wales closed the gap on Championship One leaders Oldham to four points, after a 54-10 win at home to Oxford.
The Crusaders, who have two games in hand on the Roughyeds, were helped on their way by a Leon Brenon hat-trick.
Their other points came through Simon Stephens (2), Stephen Bannister (2), Rob Massam (2) and nine conversions from Tom Johnson, while Scott Robinson scored both of Oxford's two tries.
Eighth played ninth at the Prince of Wales Stadium as Gateshead gained their second away victory of the season, by beating Gloucestershire 36-34.
Thunder, who were leading 18-nil after 32 minutes, let the All Golds back into the game, and their win was indebted to Ben Hardcastle's 78th minute try – that he converted himself.
Gateshead's other scorers were Paul Stamp, Chris Heil, Callum Cockburn, Luke Hardcastle and Nick Johnson, while Pat Smith (2), Phil Cowburn, Steve Parry and Curtis Cunningham crossed for Gloucestershire.
In the day's only other Championship One fixture, Michael Worrincy scored a hat-trick as London won 40-18 away at Hemel.
The Skolars, who scored their other tries through Dylan Skee (2) and Joe Price (2), move on to 29 points – the same as third-placed Rochdale.
The home side's scorers were James Howitt and Eddie Mbaraga (2).
Results:
Gloucestershire 34-36 Gateshead
Hemel 18-40 London