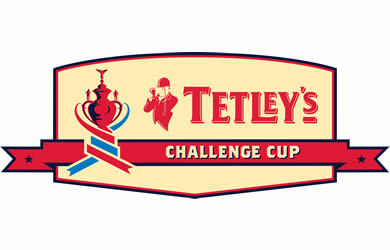 The Challenge Cup third round has always been one of the most anticipated dates in the rugby league calendar.
Amateur clubs who have made it through the first two rounds go up against semi-professional sides, with the potential prize of a Super League club being drawn in the following round.
In the past this has made for a number of shocks and upsets, and Six Tackles has chosen some of the most famous third round results:
Chorley Chieftains 12-27 Thatto Heath (1996) – Thatto taste glory at Victory Park
St Helens-based Thatto Heath, the junior club of the great Alex Murphy, enjoyed their most famous ever win away at Chorley.
Then known as the Chieftains, Chorley had only just regained professional status, but the result was still a big shock.
Thatto Heath's reward was a trip to Spotland, where they were beaten 54-8 by Rochdale Hornets.
Bramley 12-18 Leigh Miners Rangers (1999) – Miners steal the show at Headingley
Under coach Ian Taylor, a Leigh Miners team including the likes of Richard Henare, Mark Meadows and Andy Collier beat then professional Bramley at Headingley.
Current Super League club Hull KR met Rangers in the fourth round, easing to a 52-nil win.
Chorley Lynx 8 Woolston 22 (2001) – Woolston set up dream tie with Wolves
Woolston produced a rampant second-half performance to add further woes upon a Chorley outfit who had not won in their previous 29 matches.
Current Woolston coach Lee Westwood was in the Rovers side that day, and he actually earnt a move to the Lynx on the back of his performance.
In the fourth round Woolston were rewarded with the ultimate prize – a trip to neighbours Warrington Wolves.
The Super League side eased to a 48-6 victory, but it was a day the amateur club will never forget.
Wath Brow 13-12 Workington (2003) – Hornets prevail in Cumbrian derby
Carl Rudd landed the all-important drop goal as Wath Brow edged then National League Two side, and near-neighbours, Workington Town.
Workington outscored Brow two tries to one, but poor goal-kicking meant that the crowd of nearly 3500 saw the amateur club go through to the fourth round, where they would lose to Batley.
Halton Simms Cross 15-8 London Skolars (2003) – Simms Cross send Skolars spinning
In the same year as Wath Brow's upset, Widnes-based Halton Simms Cross also caused their own third round shock.
Despite trailing at half-time to newly instated semi-professionals London Skolars, they came back to set-up a David and Goliath tie with Wigan Warriors in the fourth round.
Brian Capewell landed a penalty and a drop-goal as the Super League side crushed Halton 82-3.
Doncaster 0 Siddal 26 (2010) – Doncaster left humiliated by Siddal
Halifax amateurs Siddal ran in five tries without reply to knock out then Championship One side Doncaster.
Full-back Brad Attwood scored twice for the current National Conference Premier side, who succumbed to Batley 34-2 in the fourth round.
See the 2014 third round draw here.
As part of the Road to Wembley, Love Rugby League will be at the Keighley v Wath Brow fixture.