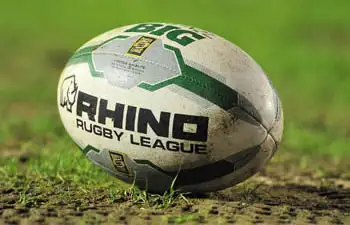 Siddal have avenged last year's NCL grand final defeat with a 42-4 win over Leigh Miners Rangers at Widnes' Select Security Stadium.
In the process, Gareth Greenwood's men set the record for both the biggest winning margin and the highest points total in NCL Grand Final history.
Prop Iain Davies starred off the bench with a hat trick as Siddal led 18-0 at the break.
Sean McCormack picked up the Man of the Match award, while Shaun Garrod was his typically influential self, getting over for a timely second-half score.
Siddal started on top as halfback Kyle Ackroyd slipped through a gap ten metres out to open the scoring after eight minutes.
Gavin Stead converted and Siddal were almost over again from the restart, Stead just hauled into touch by the covering defence after a 50-metre downfield burst.
But Siddal were tested soon after, defending four successive sets on their own line.
However, they held firm in remarkable circumstances and Davis got his first of the match within minutes, Stead with the goal.
That soon became 18-0 as Davies grabbed his second, reeling in an offload and then running straight over the top of three defenders to score by the posts, leaving the excellent Stead with the easiest of kicks, setting up a comfortable half-time advantage.
Siddal led by 16 points at the same stage last year, but any thoughts of a repeat fightback by Miners were dashed within four minutes of the restart as Garrod ripped and tore his way over, Stead's goal making it 24-0.
Though Will Ashworth managed to open Miners' account with an excellent individual effort, chipping through the defence before dotting down, that proved to be a mere bump in the road for Siddal.
McCormack scored from a superb Gareth English offload with 18 minutes left, before Davies barged over to complete his hat-trick three minutes later.
Stead's flawless kicking performance continued as the West Yorkshire outfit went 36-4 up, before young forward Jack Georgiou dived in on the last play of the game, English converting.
Siddal: Walker, Blackburn, McComb, White, Stead; Garrod, Ackroyd; Ambler, Sanderson, Smith, Hinsley, Garratt, Smithies. Subs: McCormack, Georgiou, Davies, English.
Leigh Miners Rangers: Ashworth; Fenlon, Gittins, Peet, Crompton; Groves, O'Brien; Gray, Farrimond, Kay, Nicholson, Cox, O'Boyle. Subs: Hellam, Astley, Bower, Digby.