Sam Burgess: Denver Test has been a success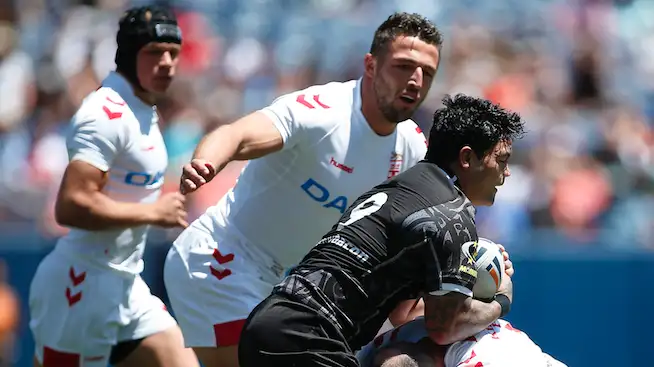 Sam Burgess said England's Test against New Zealand in the United States was a success and is proud to have played a part in it.
England put on an entertaining show to beat New Zealand 36-18 in emphatic fashion in Denver.
There were 19,320 in attendance at the Mile High Stadium and Burgess says the trip to the United States has done the sport some good.
He said: "It was great to be there and it was a good chance for us to play together again as a team.
"I know the game has had a lot of critics but I thought both teams played with passion, heart and effort and that is what Test football is all about.
"The game was very physical. I don't know what it looked like on TV but it was very physical. They have got some big boys and it got fiery. The Kiwis have had a point to prove and England were on the back of a World Cup campaign so it was always going to get a bit fiery, but I thought it was a great game of football.
"It was a good team effort. I thought we worked hard for each other because we only had two forwards on the bench and some of our smaller guys carried the ball really well for us. We got some breakaway tries and defended well when we needed too."
Burgess, who plies his club trade at South Sydney Rabbitohs in the NRL, played the full game in the back-row for England.
Several NRL clubs were reluctant to let their players feature in the Test due to it being played at high altitude but Burgess said he felt tired but okay.
He added: "I'm pretty tired!
"It was a tough game and the first 20 minutes was as fatigued as I have ever been in a game, but it's been a great week and it's been successful.
"Wayne (Bennett) asked me if I could play 80 minutes and I thought it would have been a big ask but I pushed it out and managed to get there."