Rumour Mill: Warrington target Josh McGuire upgrade; Saints decision on former Samoan star; Hull KR eye another full-back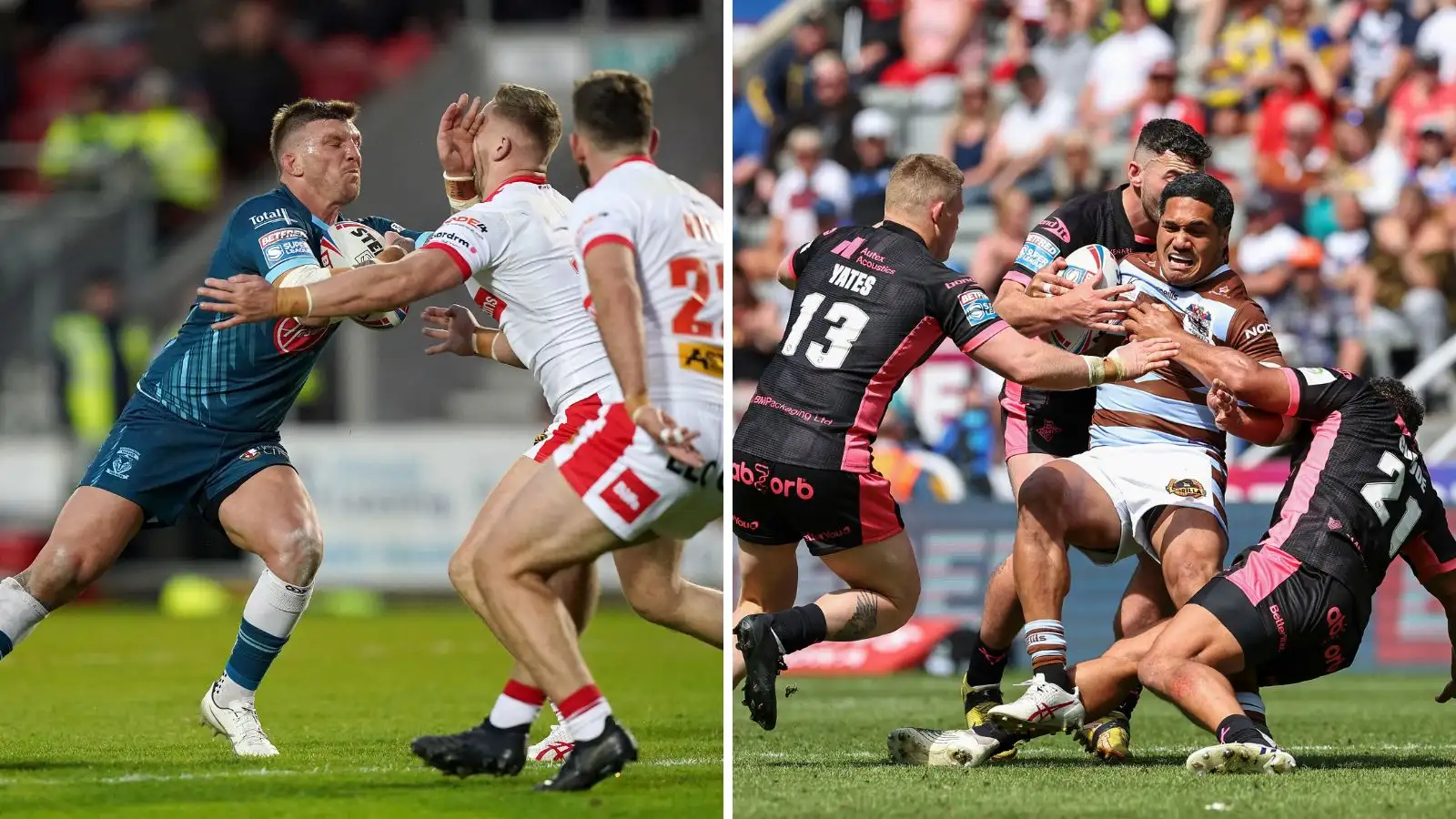 Here's six of the best Super League transfer rumours in our weekly Rumour Mill, including futures for Josh McGuire, Tyler Dupree and Sione Mata'utia.
Adrian Lam confident of retaining star man
Leigh boss Adrian Lam says he is confident of retaining star playmaker Lachlan Lam beyond the season, with his current contract coming to an end.
The ex-Wigan boss brought his son Lachlan to Leigh midway through last season, playing a major role in their promotion to Super League for 2023.
Adrian has made no secret of his player's desire to return Down Under in his career. But he remains confident that he will be a Leigh player in 2024.
"He's contracted for the rest of the year and he's up for renewal," Adrian said.
"We've been down a long path over the last four weeks to finalise that, we're hoping it won't be too far away.
"He does want to play back in the NRL at some stage, I think that's fine and I've supported that decision from the day he got here. I think any NRL club that took him now would be advantaged by that.
"I wouldn't mind him for another year or two, so let's try to convince him of that before he heads back to the NRL."
Paul Wellens keen to keep overseas forward
St Helens coach Paul Wellens says talks have been 'positive' with off-contract overseas back-rower Sione Mata'utia.
The former Australia and Samoa international has made 46 appearances for the Saints since arriving at the club ahead of the 2021 season, and has become a consistently strong performer in the competition.
There has been speculation of him possibly returning to the NRL next year – but Wellens is hopeful of being able to retain the forward.
"Obviously Sione needs to sort out in his own head whether it is the right decision," Wellens said.
"There are numerous factors he needs to think about but it is just really important that we, as a team, allow Sione that time.
"He is a really important, brilliant player and a really respected member of the group and because he is all of those things, we need to be patient and give him that time (to make that decision)."
Super League transfer rumours: Tyler Dupree future confirmed
Hull Daily Mail have reported that Tyler Dupree is set to remain with Salford, despite his agent previously handing in a transfer request for the England international.
Hull KR and Wigan had both been linked with the forward, with Matt Peet coy when asked about his side's interest.
But the sought-after 23-year-old looks to stick out his contract with Salford until the end of 2025, with the Red Devils informing other clubs that he is not for sale.
St Helens international set for Super League switch
St Helens prop Dan Norman looks set to be joining Leigh for 2024, reports Examiner Live.
The 25-year-old Ireland international is without a deal for 2024 at the Totally Wicked Stadium, and has been limited to just one Super League appearance in 2023.
Norman, an ex-London Broncos and Widnes forward, has featured just 15 times for the Saints since his move in 2021.
Josh McGuire future speculation
Warrington boss Daryl Powell has admitted that he is looking into the player market, with growing speculation around Josh McGuire's future following his monster 12-match ban.
One name they have been linked to, Penrith back-rower Scott Sorensen, seems unrealistic given he has plenty of suitors interested in the NRL and Super League simply cannot compete with the riches on offer.
Newcastle Knights are thought to be leading the race for the New Zealand international, with The Mole reporting that Sorensen has attracted big money offers from Penrith's NRL rivals.
He admitted to being open to interest from Super League but given he is a late bloomer in rugby league terms, it may be a case of the most lucrative offer being the victor, which makes it difficult for the Wolves.
Would they take a gamble on making a 30-year-old back-rower with less than 100 appearances a marquee player?
The other NRL names they were previously linked to when Thomas Mikaele left were Parramatta Eels forward Makahesi Makatoa and St George Illawara's Josh Kerr, who has since agreed a deal to join the Dolphins from 2024.
The changes to the salary cap rules relating to marquee players has created some further room for Warrington to spend in 2024.
Bizarrely, one of their marquee players is Toby King – currently on loan at Wigan.
He seems almost certain to be back at the Wolves next season, as the new marquee player rules mean that only £50,000 of his salary will count towards the salary cap – giving Warrington a £100,000 saving to spend elsewhere.
Hull KR linked with Super League full-back as Coote's replacement
Barely a week on from signing Jack Walker to deputise at full-back, Hull KR are being linked with another – Niall Evalds, reports Hull Live.
Now at Castleford, Evalds was a hot prospect in the game during his time at Salford and won the Lance Todd Trophy in his first year at the Tigers in 2021.
But injury problems and the Tigers struggles have seen him only feature 17 times since the beginning of 2022, scoring only two tries, a far cry from his exploits at the Red Devils where he notched 111 tries in 160 games.
The number one shirt is likely to be taken by Peta Hiku at Craven Park next season, with Lachlan Coote set to depart at the end of the year.
Walker's signing until the end of the season gives him a chance to claim stake on being a back-up, but Evalds may also be being thought of by Willie Peters as a winger.
And Peters has since confirmed his interest in the Castleford full-back.
TOBY KING: Wigan boss on loanee's future amid Warrington return reports
FOLLOW: Keep up with all the latest on the Love Rugby League mobile app