The world-famous abbreviated bridge at Avignon which only half-crosses the river Rhone is a perfect metaphor for the current state of Rugby League in France.
Rugby á Treize has made recent massive strides forward upon solid foundations but without support to take things further, the game could tumble over the edge with a huge splash and go under completely.
Nobody is more aware of this than the buoyant Avignon-born Christophe Jouffret, former Catalans Dragons' Chief Executive and current advisor to his home-town club 'The Bisons' who are riding the crest of a wave of form in the Elite One championship.
One of the leading administrators in the French game for the past two decades, Jouffret believes Rugby League is about to bridge the gap between semi-professional near-anonymity and its rightful position among the leading sports of football and rugby union in France.
The appointment of former Australian Deputy Prime Minister Troy Grant as new Chairman of International Rugby League and his avowed intention to bring the RL World Cup to France in 2025 has given Jouffret genuine optimism that a French renaissance is around the corner.
"Why not?" he told Love Rugby League. "Rugby League was once huge in France, why can't it be huge again?"
Despite the best attempts of the Vichy government (in collaboration with rugby union and the Nazis during World War Two) to eliminate Rugby League, the game flourished in the 1950s and the very first World Cup was held in France in front of huge crowds.
However, a subsequent combination of mismanagement and in-fighting among the game's chiefs saw Treizistes hit freefall in the French sporting pecking order and the sport was in danger of disappearing altogether until Catalans Dragons (and now Toulouse Olympique) brought about hopes of a revival.
Jouffret was there at the birth of the Dragons 21 years ago, a moment he describes as "pivotal" for the game in France.
"It was so ambitious at the time but it has been the best thing that could have happened for the game here," he said: "And now Toulouse are pushing forward too and they won't stop until they get into Super League.
"Another World Cup could be the next great development for Rugby League in France," added Jouffret: "It will put a window for the world upon our game. All of the important political and commercial decision-makers will be aware of our sport and that is exactly what we need.
"We have got all of the facilities, some of the best stadia in the world and I know that many football clubs would love to host games. Just imagine a game of international Rugby League at such a fabulous venue as the Orange Velodrome in Marseille.
"But for me the most important thing for our game is to be represented in our capital city. We need to build our links with the political networks in Paris, it is the place where all the major decisions are made and it is good to hear that the new chairman of the IRL has a political background and contacts within the French government.
"Troy Grant will be an incredible asset to the French Federation with his international political connections and links with government in Paris."
The new IRL chairman has said he relied upon advice from Australian coaches Wayne Bennett and Trent Robinson for guidance on the best way to "regrow" the game in France and Jouffret (who worked alongside Robinson when he was coach at the Dragons) said: "It has been one of the greatest gifts that Rugby League in France could have hoped for to get Trent Robinson here as a player then a coach at Toulouse and Catalans Dragons. He is now a Director of Rugby for the French national team.
"He is very passionate about France and he will do all he can to help us. His knowledge is incredible, he is fully aware of the good points and the bad points in this country and he is the kind of man who can fix a lot of things."
Jouffret is rightly proud of the Bisons' incredible rise in Elite One standings this year. Virtually nailed-on for a top-six finish, the Bisons need fear no-one in the play-offs following a series of stunning wins including an 11-try annihilation of Toulouse Elite.
The Bisons succumbed to league-leaders Carcassonne last weekend but Jouffret remains convinced his team can be contenders for the title this year.
He said: "The staff and the players are really excited about how the season is going. We already had a good team at the beginning of the season but we have added Pat Moran and of course Tony Gigot and my son Louis, they have brought that added touch of professionalism.
"We are not embarrassed to say we should be in the play-offs because we are playing really well now. We're scoring lots of tries and our defence has improved so we know we can compete. For sure Lezignan, Carcassonne and the Catalans will be the favourites because they have been playing at consistently high levels for many years.
"But play-off football is all about one game, anything can happen in 80 minutes and we are not worried about playing against anyone, there is a great spirit at Avignon.
ROUND-UP: Carcassonne top with four to play, coach war of words and best wishes to president Lacoste
"I was at training earlier this week and once again we were doing the Covid tests on players and it's difficult but nobody is complaining. Thankfully all of the tests were negative again and we must appreciate what the players are doing.
"They are all taking extra care of themselves, they can't go out with friends and family to socialise if they want to continue playing. They are making huge sacrifices for their clubs and their team-mates and while it is a horrible situation we are in it has created a great bond between the players."
Jouffret's pride in his hometown team extends beyond the boundaries of the Parc Des Sports, he believes the whole region of Provence provides an invaluable pool of players to the game.
He added: "I want to say how proud we are in Provence to have sent a lot of our players to the Catalans club. This region has provided so many, the list is too long to mention, right from the very first when the Dragons began, Renaud Gigue joined them in 2005 and now he is back here at Avignon as our head coach.
"Vincent Duport, Tony Gigot, Ben Garcia, there are too many to mention, and the latest seems to be Matthieu Laguerre who had that incredible performance on his debut for Catalans. He isn't from Avignon, he's from Marseille but he is Provencal and we are very proud of him.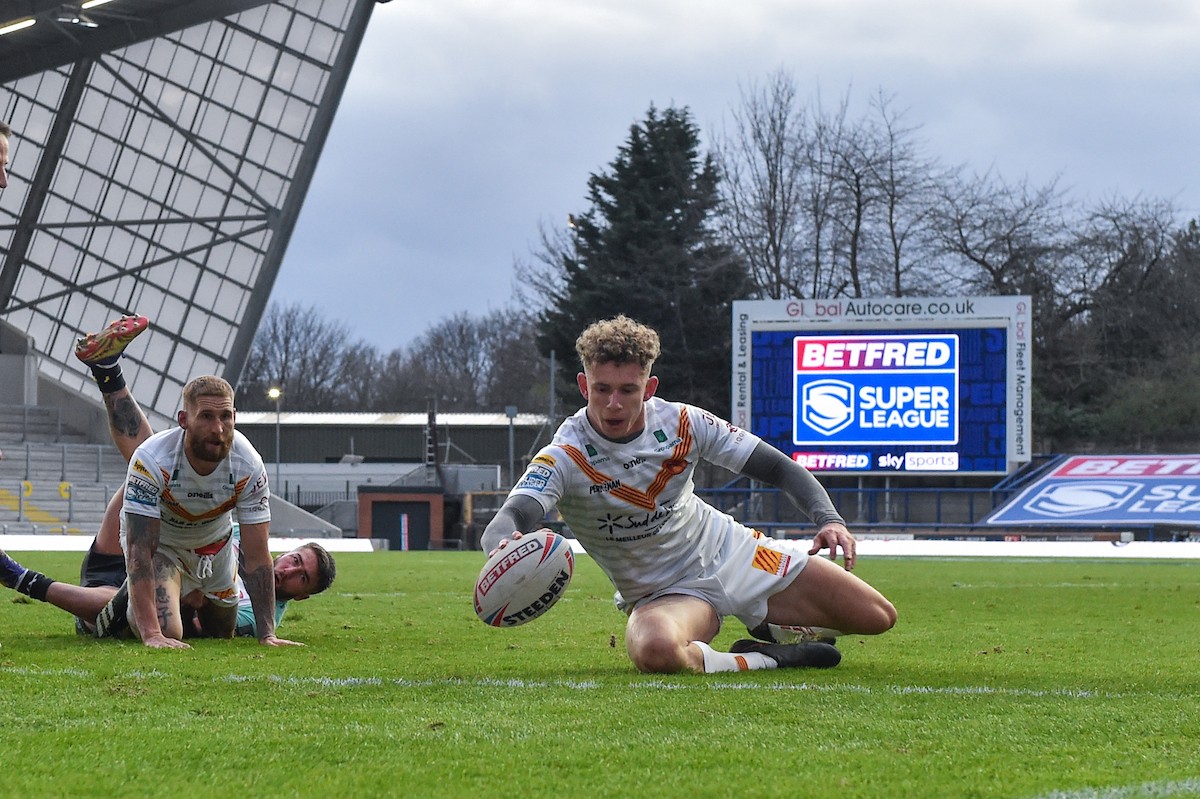 "There are lots of small clubs in Provence, people in little villages working hard to educate young Rugby League players so I'm sure in the next few years we will see many more Super League players who come from this region."
Exposure for French Rugby League has been boosted recently by an upsurge in live streaming of Elite One games and Jouffret believes it is a rare hidden bonus from the pandemic.
He said: "I think what happened this season with Covid ensuring no supporters are allowed in the grounds is that there has been a boost in viewing figures for on-line games.
"Anybody with a laptop, anywhere in the world, is now able to follow French Rugby League and watch live games.
"For the past few months we were the only ones in the world able to play. It was a closed season in England and Australia so lots of people were watching our Elite One games.
"We were so worried about our sponsors not getting the exposure they would like because supporters aren't allowed in but they have probably had more exposure than normal because now they are being shown around the world.
"These people who put their money into our clubs are the lifeblood of the game and it is fantastic that they can have their names broadcast to so many people all over the planet.
"They have continued to put their faith in us and now they have had some reward."
Jouffret believes the reward is coming soon for the French game. The words of the famous song begin: "Sur le Pont, d'Avignon, l'on y dansé, l'on y dansé" which translate as "On the bridge of Avignon we're all dancing, we're all dancing".
The Rugby League community in France will be dancing soon if it is successful in its bid for a World Cup.
And then the gap might finally be bridged across previously troubled water for Rugby á Treize.
ALSO READ: Anthony Mullally: The thought of winning another Grand Final after 2017 was like Everest