Rob Burrow was a key part of Super League's most dominant Leeds Rhinos side, which won eight titles between 2004 and 2017.
However, he also had a huge impact off of the field too and found admiration from all across the sport.
But nothing was stronger than the bond he had with his teammates, here's a selection of what the Rhinos' 'golden generation' have said about him:
Kevin Sinfield on Rob Burrow
"Little joker, great character and tough." 
Over the past few years, the friendship between Kevin Sinfield and Burrow has been heart-warming to see.
The incredible fundraising efforts from Sinfield have raised funds for the MND Association, as well as Burrow, his friend. 
And this quote shows that this friendship has been strong for years, with Sinfield talking about his personality, as well as his strength on the field. 
Sinfield and Burrow, along with Danny McGuire were ever present for the Rhinos for over a decade, and since they've hung up their boots, their bond seems to have remained strong. 
Both on and off the field, Burrow clearly had a huge impact on Sinfield.
Kevin Sinfield smashes £1.5m in latest fundraising challenge for Rob Burrow
13 wholesome pictures of Kevin Sinfield completing run for Rob Burrow
101 miles in 24 hours: Kevin Sinfield embarks on gruelling run for Rob Burrow
Danny McGuire
"As soon as he went, nobody could lay a finger on him, he was so quick and elusive, like a whippet running all over the pitch."
McGuire had played against Burrow from a young age, and he knew what he was about. 
The pair formed a formidable partnership in the half-back positions throughout the years, it wasn't uncommon to see McGuire on the end of a move which was started by Burrow. 
McGuire has never hidden his admiration for Burrow's style of play, his bravery, and his personality. 
This is another example of a friendship within the Rhinos camp which their success was built on. 
Jamie Peacock
"Rob is the world's nicest bloke, he's a great friend."
Yet another example of how highly Burrow is thought of within the sport. 
Jamie Peacock played rugby league for two decades, captained his country and won Super League titles at two different clubs. 
He would've met characters along this time and for Burrow to stand out to Peacock in such a way says everything about his personality. 
The phrase 'band of brothers' has been used, since the golden generation has retired, and this is just another display of just how close they are.
Ryan Hall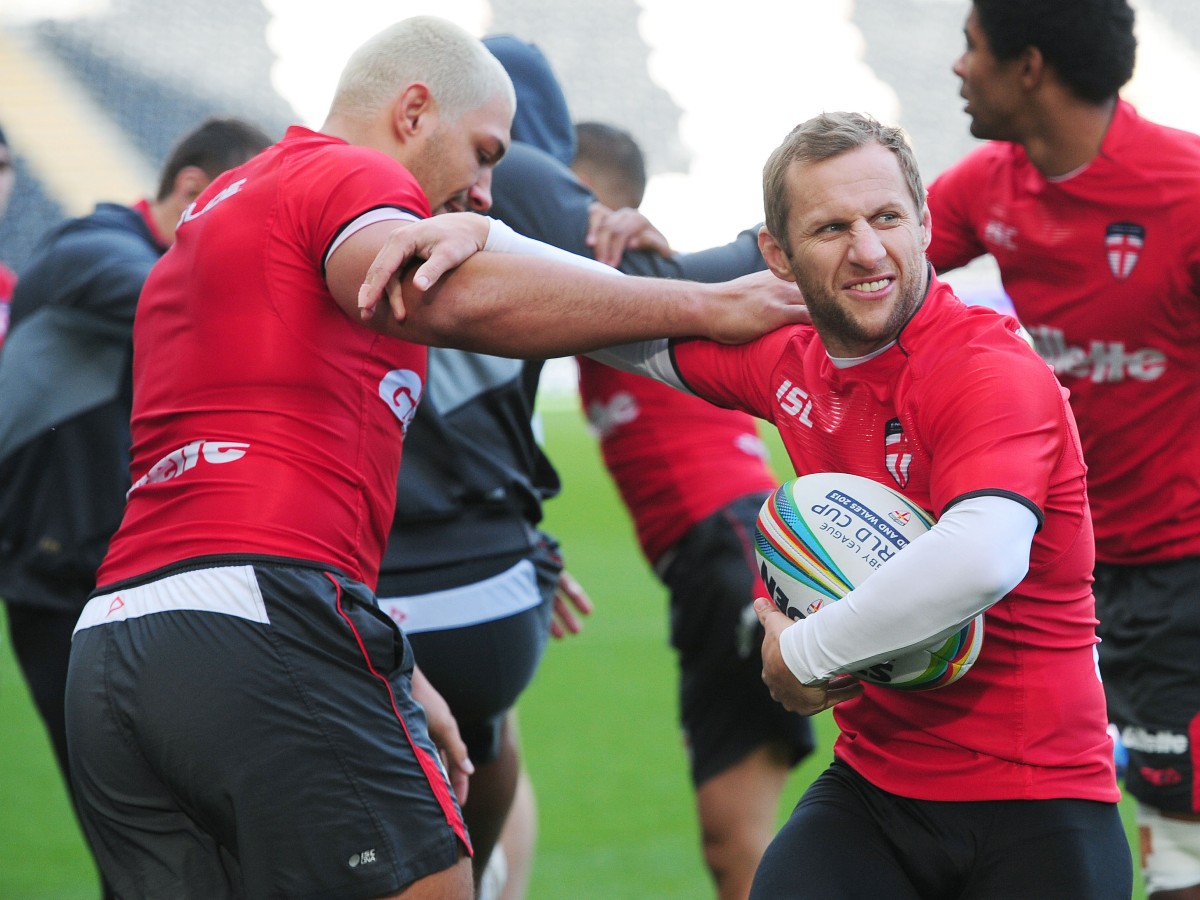 "For him to do what he does, he defies everyone before the word go, but to be the personality that he is along with it… I've never understood it, and I've never wanted to understand it, so I just let it be."
Ryan Hall was one of the players to come through the Rhinos academy a few years after Burrow and co, but it's been clear to see the bond which he had with Burrow. 
Playing side by side in six Grand Final wins, Hall shone a light on the affection he had for Burrow both as a person, and as a player. A running theme. 
Burrow was clearly a role model for young players such as Hall coming through the academy, a trait which saw him go on to coach the academy side after retiring.
Keith Senior
"When I was watching him in training, it was mesmerising at times."
Keith Senior was a key part of the Rhinos side that dominated Super League for around a decade, becoming a regular figure in the centres.
He couldn't speak any higher of Burrows talents, what we all saw on a matchday, the Rhinos players clearly saw day in day out in training. 
For a player as experienced as Senior to be mesmerised, it shows how impressive Burrow really was. 
Barrie McDermott 
"I'm proud to be his teammate, I'm privileged to be his friend, Rob Burrow is a rugby league giant."
The word giant isn't often used to describe someone who stands at just 5'5, but it is the perfect adjective for Burrow.
Barrie McDermott perfectly summed up Burrows contribution to the sport, as he defied all the odds to write his name in the history books.
Again, McDermott pointed out how good of a friend Burrow has been to him, showing that he had an impact both on and off the pitch on the biggest of players.
Adrian Morley
"I knew he was very talented; I just couldn't see him making a career out of such a brutal sport. He made me eat my words."
Adrian Morley played for the Rhinos until 2000, and despite never playing a game alongside Burrow, he saw the talent that the young half-back had. 
However, like many others, Morley had doubts about whether Burrow could make it, questioning if he'd be strong enough to make it in such a tough game. 
In the end Morley ended up on the long list of people that Burrow proved wrong. 
Jamie Jones-Buchanan
"I think of him as the Bart Simpson to my Homer, sometimes I just wanted to strangle him."
Another brilliant analogy from Jamie Jones-Buchanan, and it just shows how Burrows personality shone around the camp. 
He was known as the joker of the squad, his 'cheeky' personality always seemingly causing mayhem around Kirkstall training ground.
It's been clear to see the bond which the Rhinos players had, and Burrow has been central to that, it even led to JJB using his testimonial game to raise awareness and funds for Motor Neurone Disease. 
JJB confirmed that Burrow was the class clown at the Rhinos.
Daryl Powell (Coach)
"Size was never going to be an issue for him because he was such a brave human being. But when he put his foot on the pedal, there was nobody close to him in terms of what he could do on a rugby field."
Daryl Powell coached Burrow just as he was bursting onto the scene, and he noticed his abilities straight away. 
Powell turned Burrow from an academy prospect into a first team regular, paving the way for a successful career.
These are just a few of the hundreds of plaudits Burrow had received throughout his career. To be held in such high regard on and off the pitch really shows the impact that Burrow had on his teammates.
Players, coaches and fans alike all across the sport had a great respect for Rob Burrow, which isn't something that happens too often.
MORE: How it all started: A look back at how Rob Burrow established himself as one of rugby league's household names