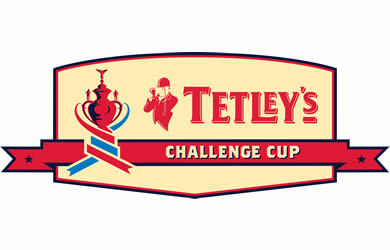 Halifax-based Elland capitalised on Woolston's lack of cutting edge, with a 20-6 win in the Challenge Cup first round.
Richard Crawshaw's brace of tries proved the difference, with the Elland centre picking up the Love Rugby League Man of the Match award.
The first 40 minutes saw an armwrestle between the two sets of forwards, but it was the backs who made the breakthrough on the stroke of half-time.
Elland stand-off Brad Radcliffe showed good footwork to break the line, and full-back Steven Brocklehurst was in support for a simple finish.
Due to Phil Taylor's conversion the second period began with the away side leading 6-nil, although it was Rovers who were on the front foot.
The home side had three consecutive sets on the Elland line, but were not clinical enough, and minutes later the Yorkshire side made them pay.
A Woolston knock-on gave Elland attacking field position, and fast hands saw Crawshaw crash over for his first of the game.
Taylor failed to add the extras though, meaning the home side were only two converted tries away from a possible lead.
This was soon reduced to one after a superb solo effort from Woolston winger Christian Taylor, who evaded touch with a kick and chase from halfway before sliding in bravely to ground the ball.
Rovers scrum-half Danny O'Brien successfully converted.
With the clock ticking the next score was to be key, and it was the visitors who claimed it.
Junaid Malik, a black and amber veteran of 20 years, was the man to cross after more crisp attacking down the Elland right.
The kicking duties fell on prop Cayci Pearson, and although he missed, there was still time for Crawshaw to score his second from an interception.
This time Pearson was successful, for a final score of 20-6.
Woolston treasurer Dave Whalley paid tribute to the two sides.
"Considering the weather, it was a really good game," said Whalley.
"Well done to Elland, they showed how tough they are to beat."
Woolston
James Rosson
Lewis Stockton
Tom Keevil
Daniel Keogh
Christian Taylor
Billy Maunder
Danny O'Brien
Chris Mellor
Mark Jones
Sean Conway
Lewis Hoarty
Andy Addison
Danny Griffiths
Phil Stevens
Steven Brocklehurst
Gareth Webb
Richard Crawshaw
Tom Harnett
Oliver Fairbank
Brad Radcliffe
Phil Taylor
Cayci Pearson
Chris Cullimore
Judd Fairbank
Luke Read
Jonny Simpson
Jack Fairbank
Greg Broadbent
Steve Booth
Oliver Brodzinski
Junaid Malik