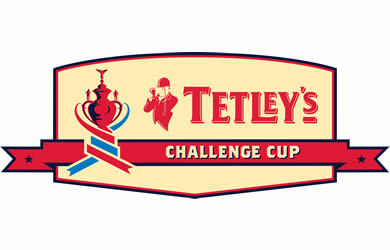 National Conference Premier side Wath Brow are through to the Challenge Cup third round – but only just.
Opponents Elland, of NCL Two, pushed the Cumbrians all the way, but ultimately bowed out of the famous competition.
Brow's try scorers were centre Fran King and winger Peter Caddy, who won the Love Rugby League Man of the Match award.
Close behind Caddy was Elland prop Judd Fairbank, who alongside the rest of his team – which included three other Fairbanks – put in a tireless defensive effort.
The Halifax-based club's only lapses were at the beginning and end of the first half, as for the most part the heavy pitch helped them put the Hornets off their stride.
The opening score went to King, who crossed the line with his first touch by easily beating a weak tackle on the right edge.
King, who was successful with two out of three kicks at goal, then saw his conversion dragged wide by the increasingly swirling wind.
With set completion a rarity for both sides, Brow did not extend their lead until the stroke of half time, when Caddy was freed on the right wing.
His pace was too much for the covering Elland defence, and the Hornets were 10-nil up at the break.
Their Yorkshire opponents started the second half well though, and began to put concerted pressure on the home defence for the first time.
From a superb Phil Taylor kick they got their reward, as winger Gareth Webb collected the bouncing ball and stepped inside Brow full back Jamie Devine.
Goal kicking prop Cayci Pearson added the extras, and at 10-6 it was game on.
For all their efforts Elland could not break down the Hornets defence again, and despite a frantic last few minutes, in which King kicked a penalty, the win was Wath Brow's.
Hornets head coach Ian Rooney is pleased to be in the next round, where Championship and Championship One clubs await, whilst Elland counterpart Karl Fairbank was also positive after the match.
"It was key that we scored the first points in the second half, and credit to the players for doing that," said Fairbank.
"We got nothing from the referee all day, so I'm really proud of the lads for coming so close."