A brave, risky move: How Matt Peet has transformed Wigan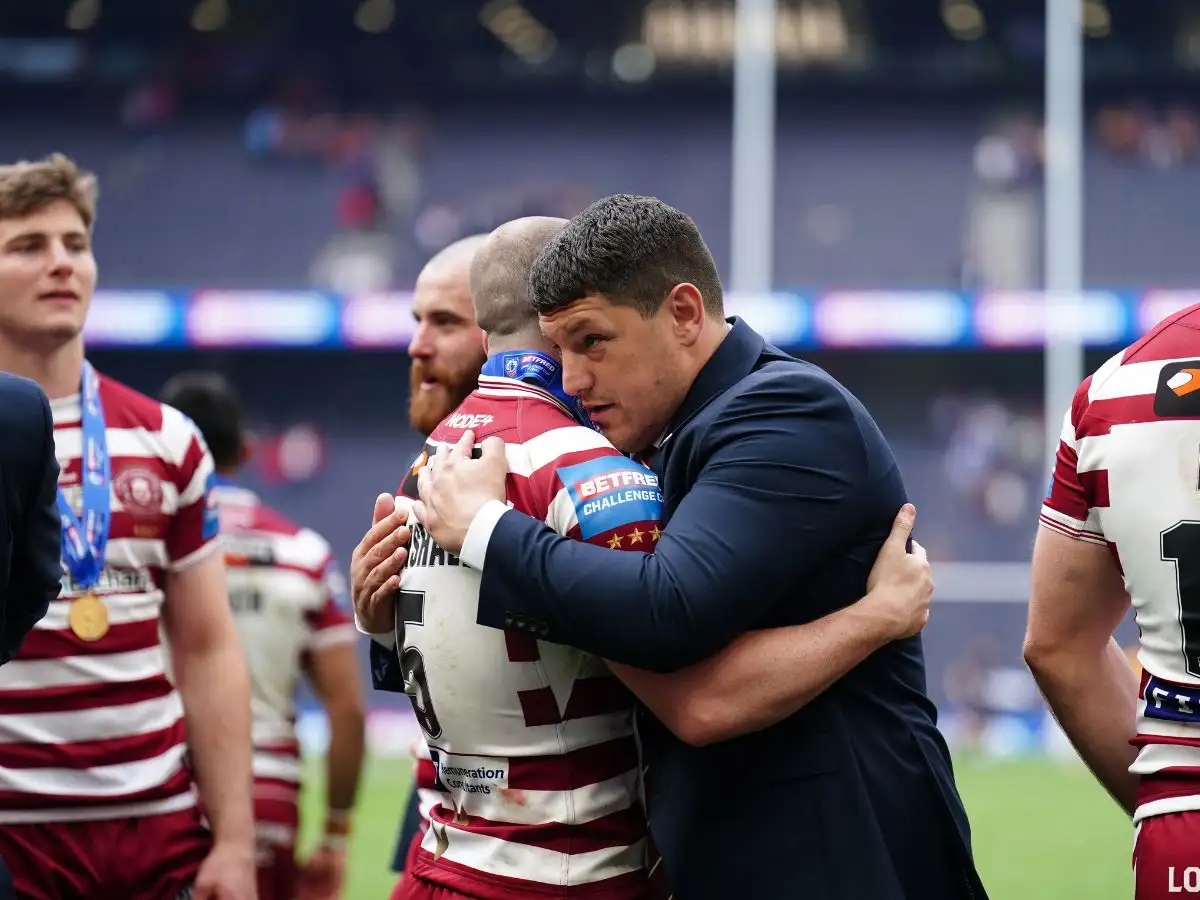 Wigan coach Matt Peet has transformed the culture at the club by making some "brave" and "risky" changes, according to winger Liam Marshall.
Peet has already landed the Challenge Cup trophy in his first season in charge and is now hoping to guide his side to the Super League Grand Final as they chase champions St Helens at the top of the table.
Marshall has played for Peet since his teenage days in the Wigan academy, and says the head coach has been bold in his bid to bring about change.
"What Matty and the staff have brought in is that we do training three days in a row and then we don't have the captain's run the day before the game," Marshall reveals on the latest Love Rugby League Podcast.
"It was a bit of a tough sell at the beginning of the year for some of the lads, but it is working and we are enjoying it. 
"Our different training schedule to the norm is testament to him. He has come in with his own values, beliefs and strategies and we have bought into it. 
"It is a brave, even risky move trying to change things as much as he has but it has been successful and he has got the best out of the players."
Matt Peet has helped me evolve as a player and a person, says Liam Marshall
Marshall is Wigan's second top try scorer this season behind Bevan French and says he is personally benefiting from his strong understanding with Peet.
"I've known Matty since I started on trial at Wigan at 17, 18" he explained.
"He's been involved in my journey since then and has been really good, he has taken this role and made it his own. Lee (Briers) has been great too and if Lockers (Sean O'Loughlin) tells you to do something you do it. 
"Matt has been big on building the bonds off the field as well as on it. In pre-season we had a lot of meetings where we spoke about things that wouldn't necessarily be said. We addressed issues straight down with no secrets chats or individual meetings. 
"We have weekly culture meetings where we discuss different topics, not just things on the field, things around training or anything we think needs nipping in the bud, or things we feel lads should be applauded for. 
"It is just an honest, open workplace which is helping us on the pitch."
PODCAST: Liam Marshall on almost giving up on rugby league, England hopes & Peet's Wigan transformation
FOLLOW: Keep up with all the latest on the Love Rugby League mobile app and podcast