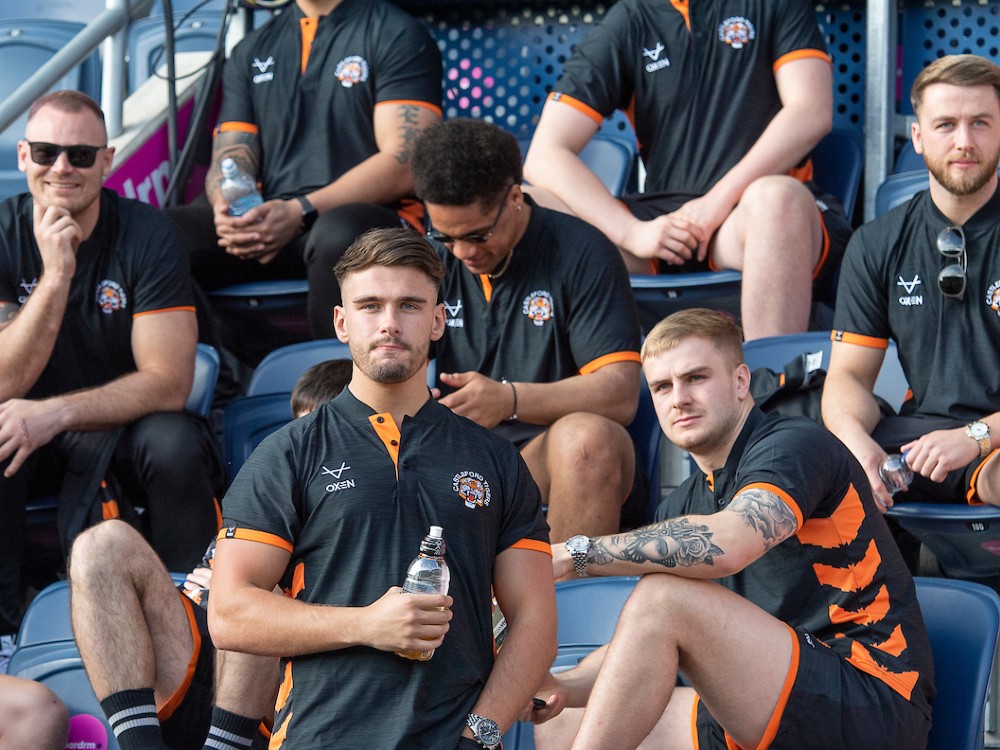 Love Island star Jacques O'Neill left team-mates baffled when he attempted to microwave a tin of beans at Castleford training, but is more "clued up" than people think according to captain Paul McShane.
O'Neill quit the Super League club to take up the chance to star on the ITV reality show, and has the backing of the Tigers according to his skipper.
"I'm watching bits of it but it was the point where I saw him snogging someone's face of that I had to turn it off," McShane reveals on this week's episode of the Love Rugby League podcast.
"I'd just had my tea and thought I can't watch this any more."
McShane, a close friend of O'Neill, took the player under his wing after O'Neill signed for Cas as a teenager.
"I spent a lot of time with him from when he was 16 and I took him into training a couple of times until he rode his pedal bike up the motorway the wrong side and I washed my hands of him for a bit then," the 32-year old McShane recalls.
"Then I was friends with him again and he put a tin of beans in the microwave at training, an actual full tin of beans, so then we were on the rocks again.
"You have just got to back him. He's a great kid and I hope he does well. Him and his family sacrificed a lot at a young age to move down from Barrow and settled in Normanton so I hope he does well for him and the family."
Keeping it under wraps
Jacques O'Neill, 23, did his best to keep his shock career switch under wraps with his professional rugby team-mates, who initially reacted with disbelief when the rumours started.
"It was a drop of the hat thing, it all had to stay under wraps and I don't even know if the club knew much about it," McShane adds. "It was just like 'you're kidding aren't you?'"
LOVE RL: Keep up with all the latest on the Love Rugby League podcast and mobile app
McShane claims to watch less of the show than some of his team-mates, but claims he has seen enough of O'Neill's move to the small screen.
"I was shocked that he could read messages when they got texts! It was like a proud dad moment. He isn't the brightest but he is a clued-up kid and if he wanted to come back to rugby he would slot straight back into it.
"Hopefully he sets his family up for life so all I'm doing as a mate and a team-mate is backing him, but if he keeps kissing people I'll probably vote him out.
"Me being a chubby little bald fellow I'd probably not get invited into anything like that. Jacques is the one who had the confidence to do it."
PODCAST: Paul McShane on play-off goals, England & Love Island