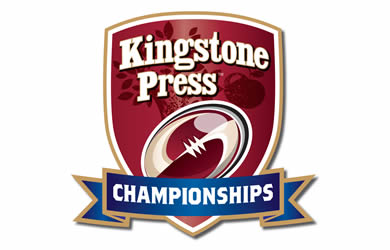 Kingstone Press Championships Performance of the Week – Whitehaven
Whitehaven overturned the formbook and recorded their first win of the season at previously undefeated Dewsbury Rams.
The Cumbrian side had fallen to defeats at Keighley and Leigh in their opening two Kingstone Press Championship matches, but produced their best performance of the season to earn a 23-16 win.
"We did really well against Leigh for 20 minutes and then had a big dip and came back at them, and it was the same against Keighley," coach Dave Woods said.
"We spoke about that on Thursday and looked to address a few things.
"This time they really stuck with it and didn't let that performance dip at all.
"It was a really good one to 17 man team effort from the boys."
Kingstone Press Championship Team of the Week
1 Tommy Johnson (North Wales Crusaders)
2 Will Sharp (Featherstone Rovers)
3 Steve Tyrer (Halifax)
4 Greg Worthington (Featherstone Rovers)
5 Etu Uaisele (Featherstone Rovers)
6 Danny Jones (Keighley Cougars)
7 Cain Southernwood (Whitehaven)
8 Luke Ambler (Halifax)
9 Scott Spaven (Doncaster)
10 Jordan Hand (Whitehaven)
11 Liam McAvoy (Workington Town)
12 Mike Kelly (Doncaster)
13 Aaron Brown (Dewsbury Rams)
Kingstone Press Championship One Team of the Week
1 Sean Morris (Oxford)
2 Essad Al-Zubedi (Hemel Stags)
3 Aston Wilson (Hunslet Hawks)
5 Ben Dent (York City Knights)
6 Matty Beharrell (Gateshead Thunder)
7 Danny Thomas (Gloucestershire All Golds)
8 Austin Bell (York City Knights)
10 Jack Aldous (York City Knights)
11 Josh Crowley (Oldham)
12 Jason Payne (Gateshead Thunder)
13 Ashley Bateman (South Wales Scorpions)