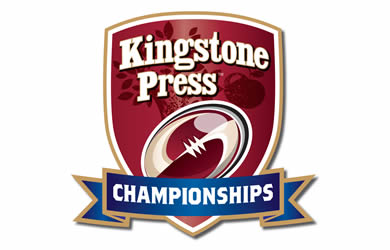 Kingstone Press Championships Performance of the Week – Barrow Raiders
Barrow Raiders scored two tries in the final quarter to complete a 24-18 victory away at current champions Sheffield Eagles.
In what was the first game back at Owlerton Stadium for the Eagles, Dan Toal and Liam Harrison scored the tries that gave Anthony Murray his first win as a senior coach.
Murray said: "It was a massive effort from the boys.
"We went there and I think we adapted to the conditions and environment a little bit better than Sheffield did.
"We won't get carried away but what this will do is give our players some confidence.
"We have a real young side, and they will take a lot of confidence out of winning at a team like Sheffield."
Kingstone Press Championship Team of the Week
1 Gregg McNally (Leigh Centurions)
2 Vinny Finigan (Batley Bulldogs)
3 Ben Hellewell (Featherstone Rovers)
4 Tom Armstrong (Leigh Centurions)
5 Paul White (Keighley Cougars)
6 Danny Jones (Keighley Cougars)
7 Liam Campbell (Barrow Raiders)
8 Joe Bullock (Barrow Raiders)
10 Matthew Haggarty (Dewsbury Rams)
11 Liam McAvoy (Workington Town)
12 Matty Dale (Featherstone Rovers)
13 Mark Applegarth (Batley Bulldogs)
Kingstone Press Championship One Team of the Week
1 Sean Morris (Oxford)
2 Callum Mulkeen (Oxford)
4 Sam Gee (Oldham)
5 Andy Ballard (Hunslet Hawks)
6 Pat Smith (York City Knights)
7 Benn Hardcastle (York City Knights)
8 James Houston (Hunslet Hawks)
9 Craig Cook (Gloucestershire All Golds)
10 Jason Boults (Oldham)
11 John Oakes (Hunslet Hawks)
12 Lamont Bryan (London Skolars)
13 Chris Vitalini (South Wales Scorpions)