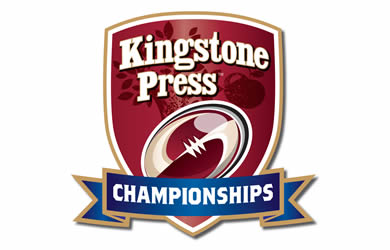 Kingstone Press Performance of the Week – Leigh Centurions
Leigh Centurions set a new club record of 15 successive victories with their 54-12 against Sheffield Eagles.
Centurions coach Paul Rowley said: "There was a lot of attention on the game and a big focus from Sheffield to spoil that party.
"There was a bit of pressure on but the boys responded in best possible fashion. They were outstanding from start to finish: they were tough, skillful, and then walked away humble.
"For me, every billboard in Leigh should be plastered with this occasion. It's 110 years of history and it's absolutely huge."
Kingstone Press Try of the Week – Richard Wilkinson (Doncaster)
Scrum-half Richard Wilkinson finished a stunning 80-metre move to register Doncaster's sixth try in their 40-10 victory over Rochdale Hornets.
Paul Cooke, Liam Welham and Nev Morrison were all involved in a sweeping move after Rochdale lost possession near the Doncaster line.
Doncaster player-coach Paul Cooke said: "Richard is a young boy with some real ability.
"We've had him in and out of the team, but he's training hard and deserves his opportunity.
"We'll dip his toes in the water this year and look after him, but he's quick, smart, talks well and was good in defence against Rochdale as well."
Kingstone Press Championship Team of the Week
1 Dave Scott (Doncaster)
2 Will Sharp (Featherstone Rovers)
3 Danny Lawton (Keighley Cougars)
4 Tom Armstrong (Leigh Centurions)
6 Paul Cooke (Doncaster)
7 Anthony Thackeray (Dewsbury Rams)
8 Jamie Acton (Leigh Centurions)
9 Sean Penkywicz (Leigh Centurions)
10 Adam Gledhill (Batley Bulldogs)
11 Gary Middlehurst (North Wales Crusaders)
12 Brett Phillips (Workington Town)
13 James Lockwood (Featherstone Rovers)
Kingstone Press Championship One Team of the Week
1 Ben Reyonds (York City Knights)
2 James Saltonstall (York City Knights)
3 Sam Te'o (Gloucestershire All Golds)
4 Jon Ford (Oldham)
5 Dale Bloomfield (Oldham)
6 Pat Smith (York City Knights)
7 Tommy Connick (Oxford)
8 Brad Brennan (York City Knights)
9 Jack Lee (York City Knights)
10 James Howitt (Hemel Stags)
11 Ryan Mallinder (York City Knights)
12 Josh Crowley (Oldham)
13 Eddie Mbaraga (Hemel Stags)